Virtually bespoke with total production countable on just two hands, Arturo Magni's Sport 1200S was a reverent styling based on the MV Agusta 750S.  Though the SACS-cooled Suzuki 1200 took flak from European cogniscenti, it turns out the drivetrain was a perfect choice.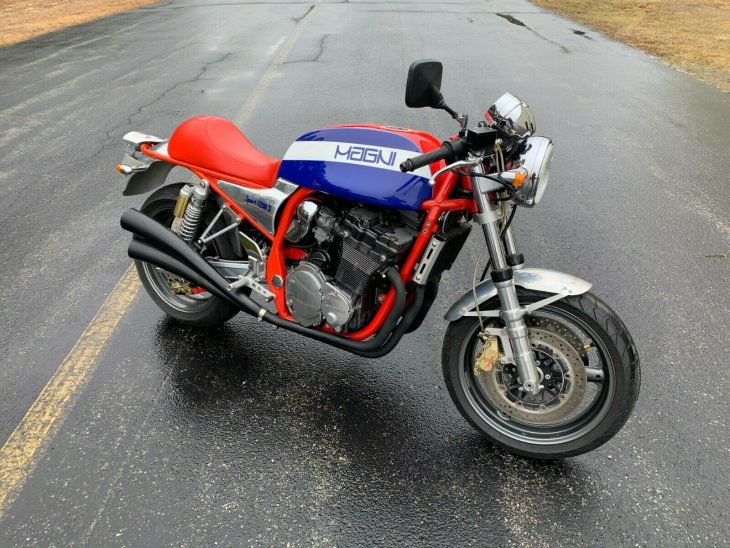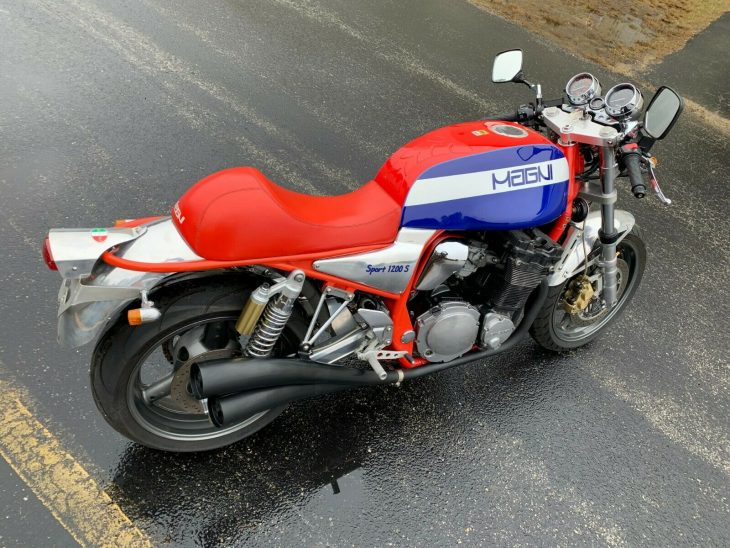 The first in a series of Magnis to pay homage to – MV Agusta's 750S –, the Suzuki-based Sport 1200S used Magni's typically beautiful frame, this time finished in red.  Ceriani forks mount big Brembo brakes, and the swingarm is a historical dual-shock arrangement.  Owners got their money's worth just in the craftsmanship of the alloy tank, fenders, and side covers.  Suzuki's late oil-cooled engine was handed down from the GSX-R generation, tuning relaxed in concert with an increase in displacement, and promised 98 hp with the more important 68 ft.-lbs. torque.  And Suzuki's reputation for staying in the ring when beatings were handed out.  Maybe not Agusta music, but the sculptural 4-into-4 exhaust must've made an auditory statement.
Not sure how this Magni came to have 17,000 km, maybe before it was imported or with dealer plates.  Either way, it shows like the exotic it is, nothing detracting from Magni's metal artistry despite being college-age.  From the eBay auction:
This is an extremely rare (probably nonexistent in the U.S.) handmade model. The Sport 1200S is a machine that recreated the style and presence of the MV 750 Sport. The Magni hand crafted chrome-moly frame, Ceriani forks and Brembo brakes and a pair of Showa shocks at the rear. The engine breathes through a set of signature black curved four-into-four megaphone exhausts. The alloy swingarm was taken from the GSX 1200 Inazuma. Engine modifications included a 1mm overbore to give 1156cc, mild cams, and a 9.5:1 compression ratio, making 100hp. This example is a 17,000 km example that is extremely clean and has been lovingly owned and cared for – this an incredible handbuilt exotic, which is simple to service at any Suzuki or independent mechanic.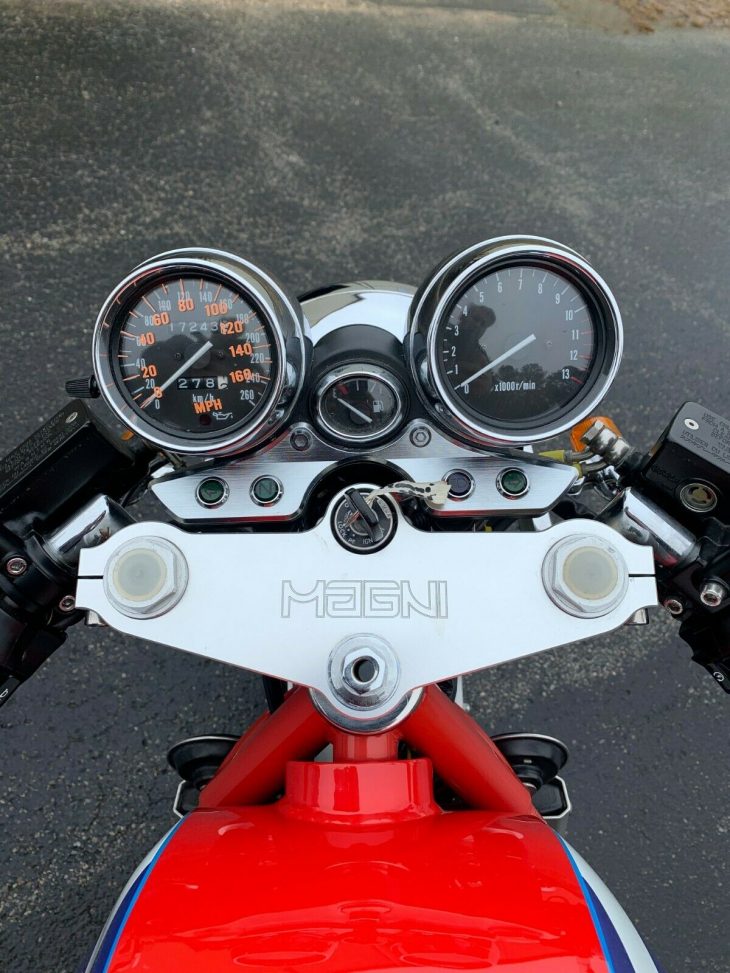 Magni went back to MV Agusta for drivetrains after the Sport 1200S, but continued to commemorate the 750S successfully.  Not bad company, the Suzuki-powered Magni is in the second row with Honda, Moto-Guzzi, and BMW.  Though not Magni's raciest model, the Sport 1200S is a lovely tribute to the 750S, a peculiar combination of rarity and easy maintenance, and might pique the interest of a Suzuki fan as well.
-donn