Midway through Cagiva's management, Ducati addressed the junior rider markets, and developed SuperSports based on the 750SS, cylinders sized for 398cc.  The factory saw the folly of shipping them to regions without progressive licensing laws, so they never arrived stateside.  Performance didn't start a grey market-frenzy however, and a 400SS sighting is a singular experience.  Appearing complete and original, this junior Ducati might be a great collector.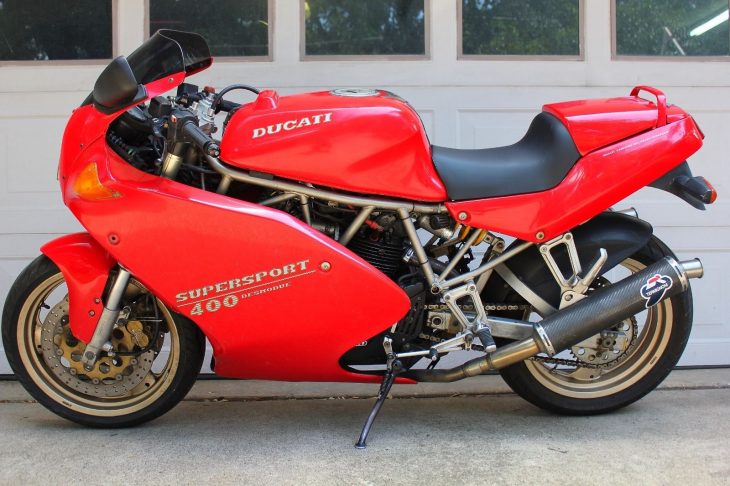 Mostly aimed at Japan and U.K. ( with Italy getting a 350SS ), the 400SS was almost all of the larger SS, with gold trellis frame, recent belt-driven desmosdromic valve train, upside-down forks, and 6-speed transmission.  The air-cooled two-valve engine is carburetted and claims 42 hp.  A skwosh larger than most 400's, the Ducati has more adult ergonomics and  a bit more weight than a scaled down junior.  Expenses were spared on the Marzocchi suspension, and most specifications show the 400SS having a  single front brake, but this one has been equipped with dual disks.
Though it's unclear whether this machine was ridden after being imported, it looks very good considering the 24,000 miles shown in the auction ( might be kms ? ).  Road title will have to be arranged, and some front turn signals sourced, but it has had recent valve maintenance.  Carburetion woes have been addressed with Keihin replacing the factory Mikuni's.  The owner says this in the eBay auction:
This bike was only sold in Japan in the early 1990's and was imported to the US some time later. This bike runs and rides good, is lightweight, and sounds amazing!! The bike has new grips, speedo cable, Keihin racing carbs, K&N filters, good tires, Termignoni carbon fiber exhaust. Had heads rebuilt and valves shimmed and new belts less then 1000 miles ago. There are some minor blemishes in the paint, nothing major, still runs and rides fine. I have the clear Japanese paperwork on the bike, no US title yet as it just became old enough to get one (25 years old). This is a great show piece, I doubt you will ever see another one in North America, even at rare bike shows. This is a great piece for any Ducati collector!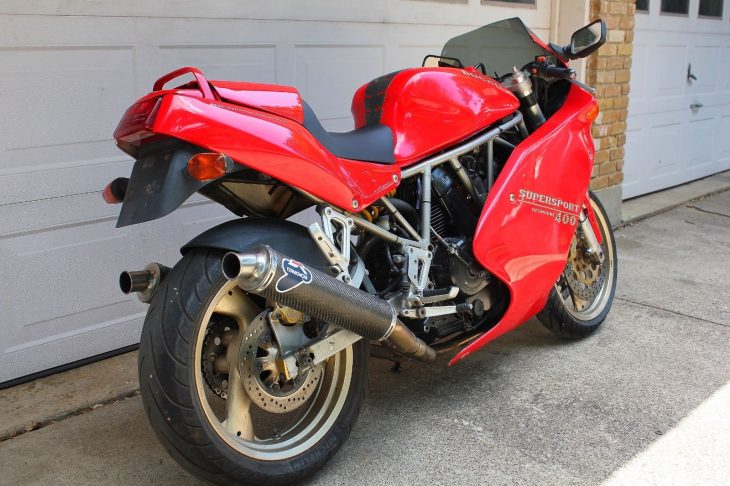 The engine and brake modifications indicate this may have been a fan's bike even before its boat ride, and may be a much better performer than a stock 400SS.  A winner if it runs as it should and registration can be arranged.  Rarity is off the scale and fun factor right up there.  A little freshening up of the cosmetics and you'll have an interesting page from Ducati history...
-donn