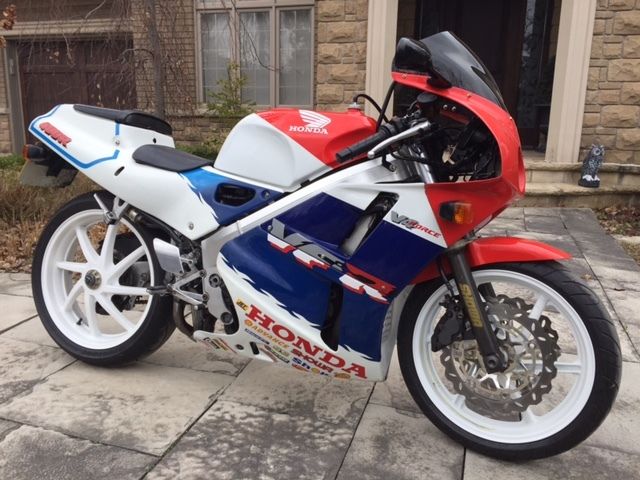 Hot on the heels of this Featured Listing VFR400R that sold in just 3 hours, we find a Canadian NC30 that is looking for a new home. Since these models have never been officially imported into the US as a federalized vehicle, we have to source them from somewhere else. Therefore, allow me to introduce you to our closest neighbor and economic partner, Canada! Home of ice hockey, maple syrup, and of course all the rare models that never quite make it to the US – such as today's fine 1991 VFR400R.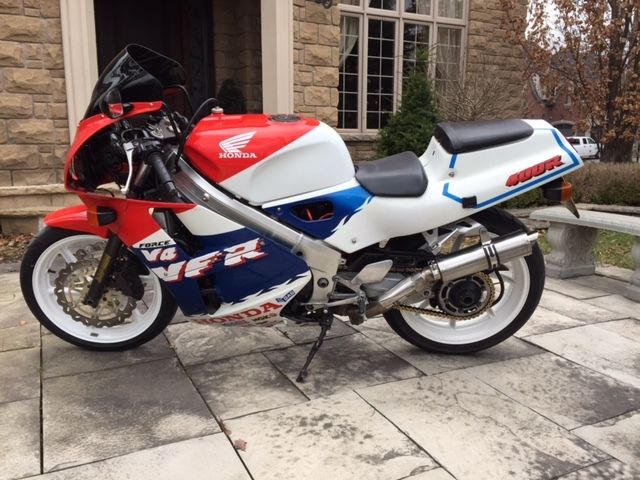 As stated often in these pages, the VFR400R is the total package. It looks fantastic, like the baby brother of the RC30 (which it is). With dual headlamps, aluminum perimeter frame, sexy quasi-racer (biposto) bodywork, and single-sided swingarm, this bike simply has presence. But beauty runs deeper than some glossy livery. Thumb the starter and revel in the whine of Honda's immaculate V4 with gear-driven cams. There is simply no other sound in the world like it. And with a redline into the 14,000 range, the turbine power delivery belies the nearly 60 HP these bikes produce. In all, these are the real deal – using compact geometry and light weight to the ultimate advantage of speed.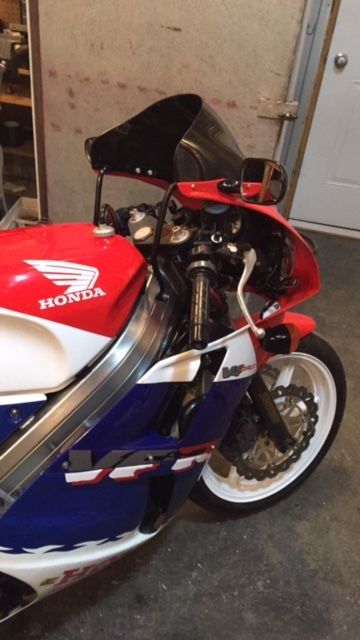 From the seller:
1991 VFR 400 (NC 30) with 55000 km on the clock in very good condition. Bike is super clean and mechanically ready to hit the road. Chain, sprockets, rotor and pad thickness as well as tire wear all within specs and beyond. Well degreased, corrosion gone at 95%. Just done: powder coat on wheels, front fender, tank and upper cowl. Bodywork is chinese but has a nice snug fit and quality finish. The machine has a few age related marks but no battle scars or tell tale signs of severe crash. It has been thoroughly inspected. Valves clearance has been checked at 52000 km and were within specs. This bike is an absolute hoot to ride, super light and incredibly responsive, and the sound…..:-). Comes safetied if delivered in the province of Quebec. Can be shipped throughout North America.

Although the bike has 55000 km it runs like an absolute charm, this engine obviously has Honda's legendary reliability and is bullet-proof.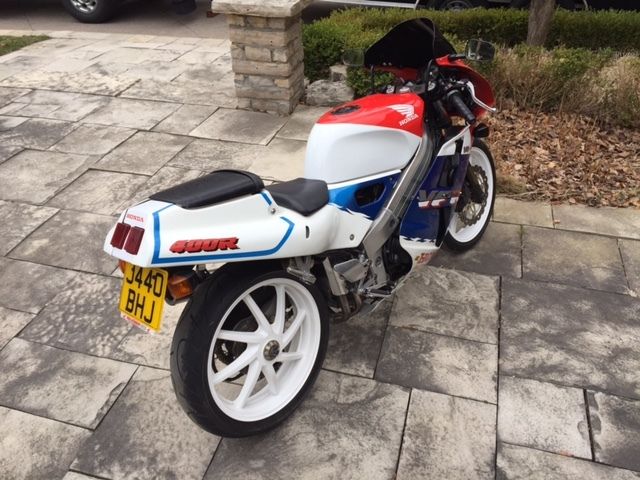 As an import, this NC30 is an all Kilometer deal. Clocks are in KMs, and there are 55 big ones racked up over the years. That equates to some 34,000 odd miles. Higher mileage compared to many VFRs that we see, but not a deal killer. For a high-strung, rev-happy motor, these V4s are surprisingly durable. Maintain them well, and they will keep on giving. The seller does indicate some work has been completed, which is a plus. The plastics are not original, but they look reasonable from the photos. Serious buyers might want to ask more questions and obtain additional details before completing a long-distance purchase, but that is nothing out of the ordinary in these situations.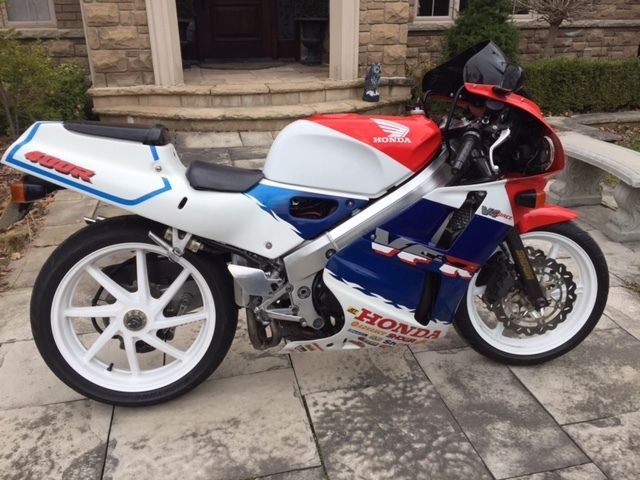 The best part of this deal – for our US readers at least – is that the seller is familiar with shipping bikes over the border. That means less unknowns for the buyer if the bike is coming State side. Registration becomes the new issue in your chosen state, so do your homework ahead of time lest you be left with a really clean, really cool living room specimen with no plates (I wouldn't argue if this were my track day bike, but some collectors might be giving out some dirty looks). The seller is looking for $6,800 or best offer for this Quebec-based beauty. That is right in the ballpark for one of these models, if not a little high for the overall condition. If you missed our last NC30, you might want to move more quickly on this one. Good Luck!!
MI