Update 4.12.2017: Sale confirmed with seller. 3 hours from published to sold! Congratulations to buyer and seller!
If you have a rare sportbike for sale, model years 1980ish to 2004ish, consider our Featured Listing service for $59. Email me to see to get started: dan@motoringblogs.com
People often tend to think great visual design is the exclusive domain of the Italians. But that is not so, as witnessed by this beautiful VFR400R. This NC30 – along with its big brother, the RC30 – have flowing lines and a purposeful stance. Visually, these models are as striking as a 916 or F4. This is no accident, as the NC30 was patterned with endurance racing elements; what is there needs to be there, and little more. Not merely a design exercise, the NC30 stands out as a fantastic working machine; form follows function, and these bikes function as good as they look.
The NC30 follows all the right rules in motorcycle design. It is incredibly compact, despite an aluminum perimeter frame wrapped around the V-4 powerplant. The motor is a real gem, making noises that only Honda fours and gear-driven cams can make. If the soundtrack doesn't put a smile on your face, the power delivery and rev range on this 400cc turbine certainly will. The single sided swingarm is there to facilitate tire changes on the endurance racing model, but the aesthetics on the street version really make it stand out. So too, the twin headlamps really define the front of the bike and give another nod to it's racing heritage.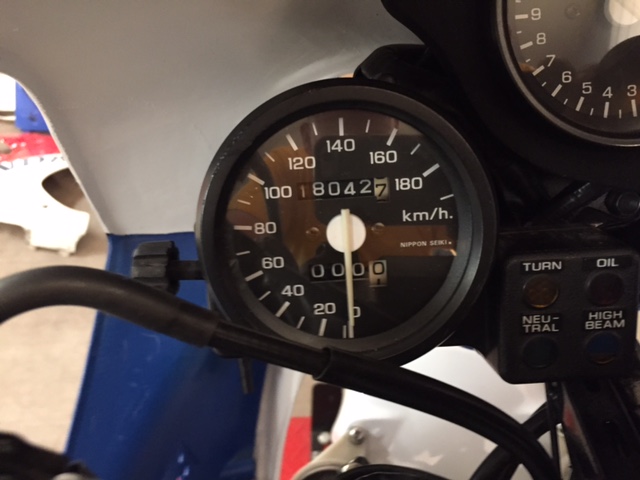 From the seller:
1989 VFR400R $6,500

I purchased this bike a few years ago and have enjoyed having it in my garage both as a project and as something unique to look at.

The list below details what I have done to recommission the bike. Oddly, I have never ridden it (the pleasure for me was spending time in my garage).

Included with the sale is the OEM body work, rear foot pegs, mirrors, front turn signals, and some other bits along with a shop manual.

Bike was brought to the US by a serviceman who was able to title it in NM. I bought it with that NM title and was able to transfer to AZ though I wouldn't assume that your state will be as accommodating as mine.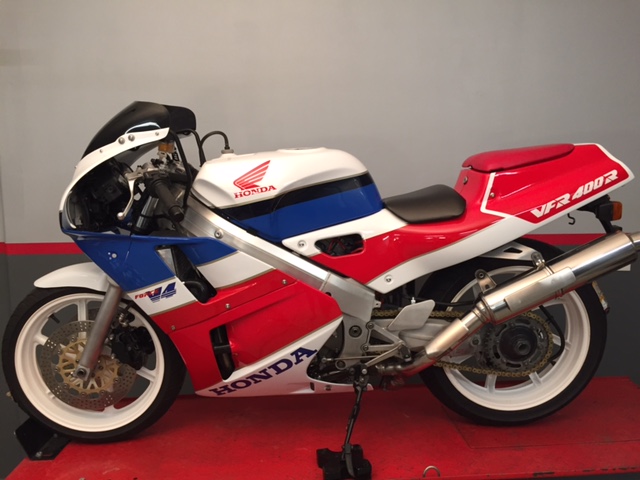 What's been done:
New bodywork with new fasteners
Seats re-covered
Rims powder coated
New Shinko Podium tires front and rear
New fork seals and oil
New Galfer brake pads front and rear
New brake lines front and rear
Caliper seals replaced front and rear
Master cylinder rebuilt front and rear
New throttle, choke, clutch cables, (forgot to order a speedometer cable)
New stator, regulator / rectifier
Carburetors rebuilt with new o-rings, bowl gaskets, and intake boots
New radiators and hoses
Rebuilt water pump
New exhaust gaskets
Suspension linkage greased
New chain (never found a chain guard)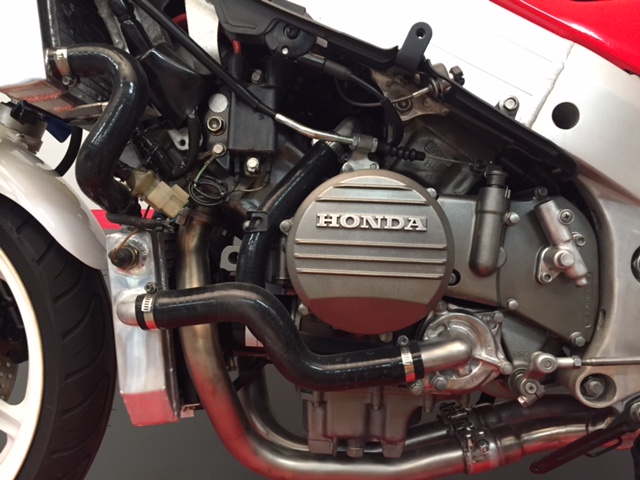 This appears to be a well-loved and oft drooled over VFR. The seller clearly took care of the machine and the list of new parts is impressive (check out the pile of receipts). Although I'd rather ride than wrench, I have a lot of respect for those that like to immerse themselves in a project such as this one. The win-win is a uber-clean, refurbed VFR without a whole lot of additional miles. This one shows approximately 18k (about 11,000 miles) on the KM clocks. As the VFR400R was never officially imported into the US, there was no need for Honda to federalize it (i.e. 17 digit VIN, speedo in MPH, US-specific emissions, etc). This may create issues for you when it comes time to register the bike, although this one has a history of US titles in both New Mexico (previous owner) and Arizona (current). If you live in a more restrictive state (i.e. CA), you may need to do more homework unless you "know a guy."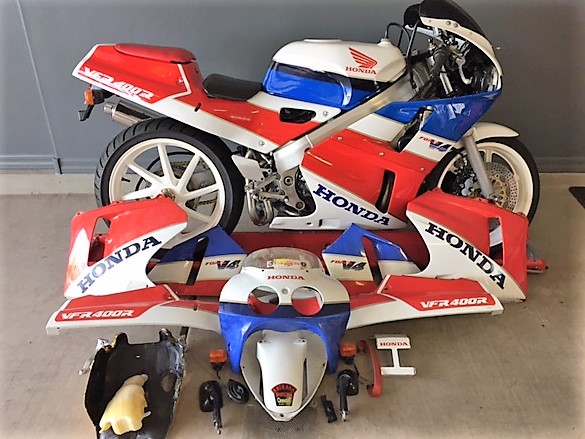 This Featured Listing 1989 Honda VFR400R is available directly from the seller. Contact Jason if you are serious about this striking grey market import. At $6,500 the price is very competitive – and given that these NC30 Hondas are pretty rare in the US, you might want to act quickly. Rare collector bikes in this condition do not hang around long. Give Jason a call and add one of Honda's finest models to your collection!
MI