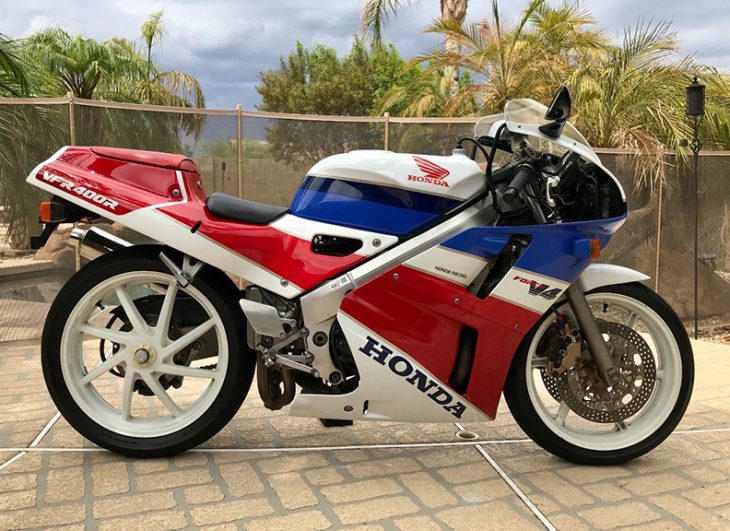 With values of the VFR750R RC30 through the roof, the VFR400R NC30 has become the affordable go-to for fans of Honda's V4 homologation specials. Styled like a 4/5 scale model of the RC30, the NC30's dual headlamps, aluminum beam frame, and Pro-Arm single-sided swingarm ape the bigger bike's look and function. Significantly the engine shares its V4 configuration, gear-driven cams, and 360° "big bang" crankshaft with the RC30.
The big bang firing order helps give the later Honda V4s their characteristic flat droning exhaust note and supposedly improves corner exit grip, compared to a more traditional 180° firing order that evenly spaces the combustion events. Even if you're not pushing the limits of traction, the big bang engines offer a very wide, forgiving powerband.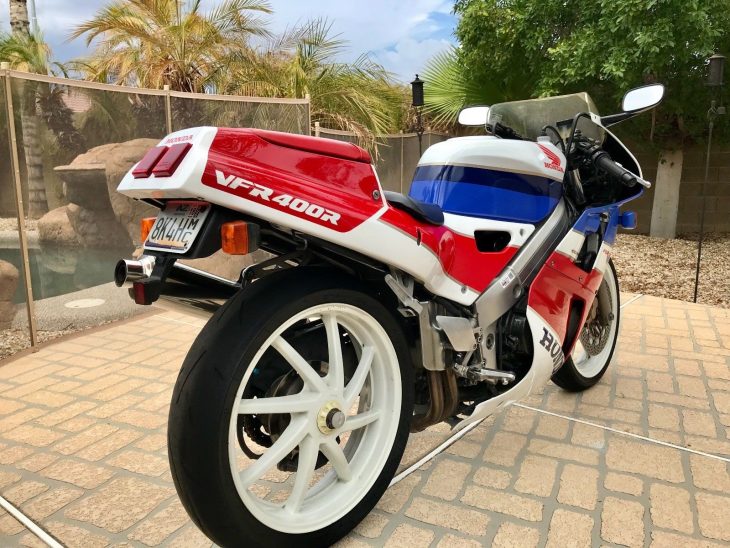 On paper, the Honda VFR400R doesn't seem like it'd impress a modern rider. Just 400cc? Are you joking? Well no. First of all, it has a dry weight of around 300lbs, so the 59 horses don't have very much mass to haul around, which is reflected in the bike's surprising 130mph top speed. Most importantly, the NC30 was designed to offer some of the best handling available at any price, and is still considered to be one of the all-time greats.
I was lucky enough to ride one of these recently and it was an absolute pleasure: famously agile handling meant the bike was intuitive, east to ride, and plenty of fun, even though I wasn't pushing its cornering limits. If you're slightly terrified trying to use anything approaching maximum revs on a modern sportbike, you'll be happy to know that the NC30 is both flexible at low rpm and happy to spin to its 14,500rpm limit. In fact chasing the redline was pretty much required, since I was working to keep up with a friend who was riding an MV Agusta F4R…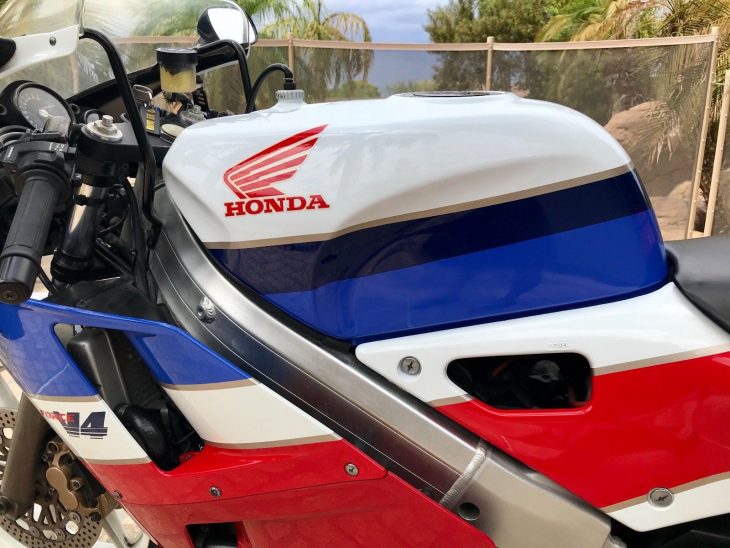 From the original eBay listing: 1989 Honda VFR400R NC30 for Sale
Up for auction is a beautiful 1989 Honda VFR400 model NC30. Hands down the most desirable color scheme. Gas tank is mint condition with zero rust inside the tank. The bike was legally imported into the United States. The bike has a clear Arizona US title with the proper 11 digit VIN number (title and frame number match). Bike starts right up runs perfect with no oil leaks. The bike is all original and is a true pleasure to ride pulling through all gears very hard. With a 14,000k rpm red line the bike will leave you with a smile on your face for days. Please view all the images as there are few scratches and scuff's throughout the bike. Also please keep in mind that this is all OEM factory Honda fairings and not the cheaper aftermarket stuff.The bike is all sock minus the stainless steel brake lines. All the electronics including horn, turn signals, high / low beam, and Killswitch all work as they should. This bike is being sold locally and I encourage all bidders to come down and view the bike in person or send a local mechanic on your behalf to view for you. Rare vintage Japanese bikes don't come up often and this is a beautiful example with no disappointment.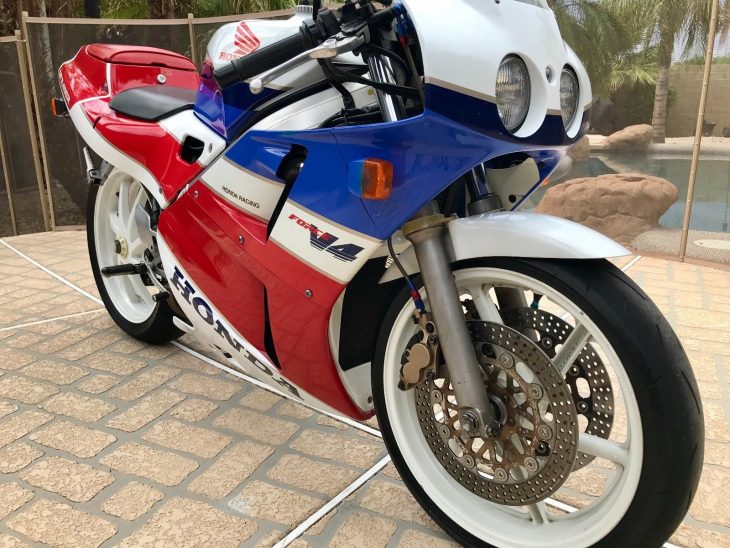 These days, it isn't too hard to find an NC30 for sale: the spike in RC30 prices and the fact that these have hit the 25 year mark has seen an influx of Japanese market bikes. So the trick isn't so much finding one for sale, it's finding a nice one for the right price. This one looks very clean and original, with the usual wear and tear you'd expect on a bike of this age that's actually been ridden often enough to accumulate the 27,000 miles indicated. The stock exhaust is a little quiet for my taste, but it does mean you can hear the cool whine from the gear-driven camshafts… There are still several days left on this auction and bidding is a bit slow so far, possibly owing to the mileage. But this is a Honda, and the fact that it isn't museum-quality just means you might get to ride and enjoy this cool little machine for
-tad