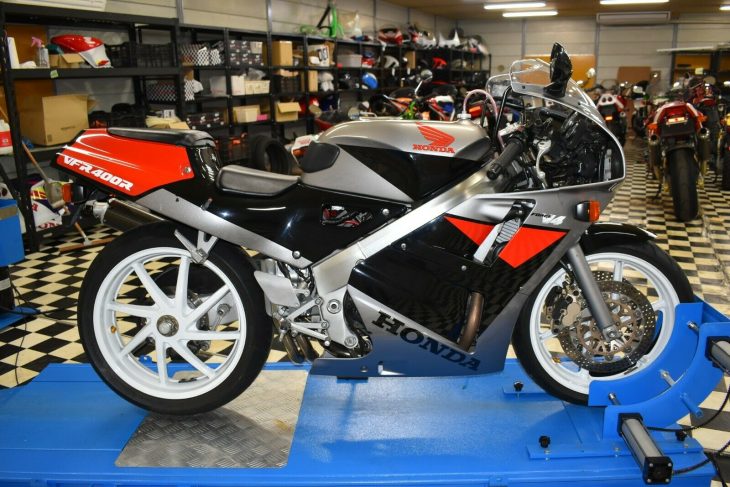 If you haven't seen Honda's legendary RC30 in person, it's easy to mistake the smaller, 400cc VFR400R NC30 for that iconic homologation machine. The smaller headlights of the more widely produced NC30 give the game away, although it shares very similar looks, like an RC30 that was put in the dryer on high heat for a little too long. Most importantly, it retains the distinctive single-sided Pro-Arm swingarm that looks trick and simplifies rear-wheel changes under racing conditions.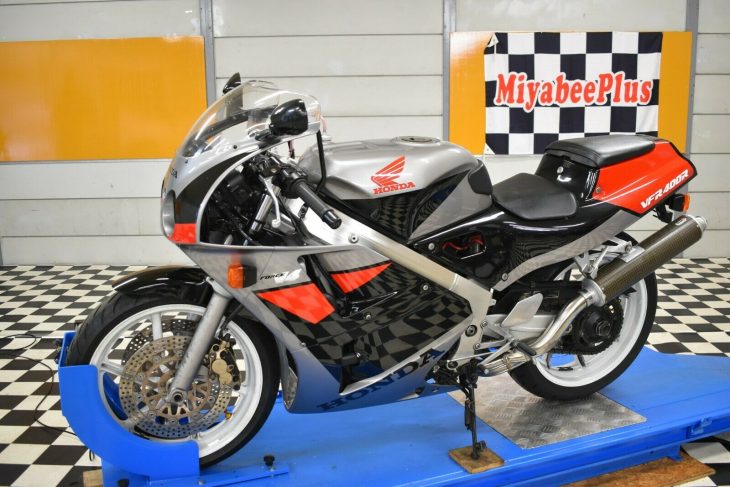 Both bikes share the same engine V4 engine configuration, with gear-driven overhead cams and the same 360° "big bang" crankshaft that improves traction at the rear wheel. The NC30 is physically smaller than its bigger sibling, but is also significantly lighter at about 400lbs wet, compared to nearly 490lbs for the RC30. That means that the NC30's 60hp or so can still move the bike along smartly, and the bike is famous for its agile handling.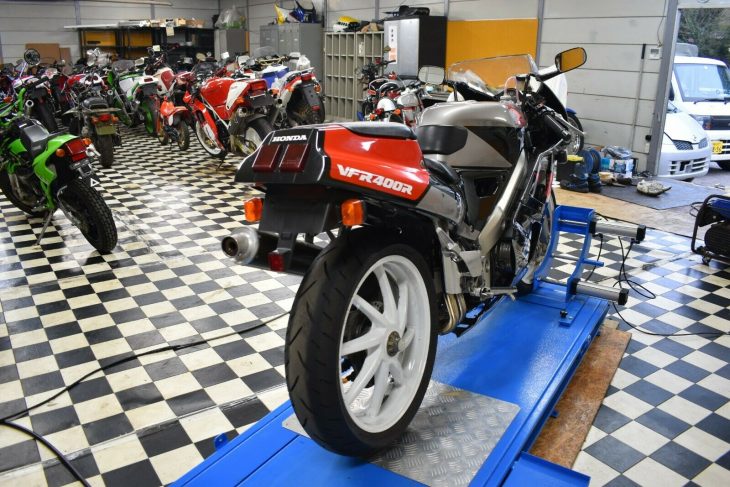 The non-standard muffler of this example does feature a cool carbon-kevlar weave pattern that looks pretty evocatively 80s, but also betrays a bit of grindage on the leading corner of the can itself, and on the bend of the pipe as it snakes around the rear wheel. Extremely exuberant cornering, or evidence of a minor low-side crash? It's hard to tell from the pics, but it doesn't look like there's any other damage to the frame, fairing lower, or brackets to indicate what's gone on here. There's also a bit of corrosion on the front fork lowers, but that's to be expected on a bike that's spent most of its life in a salty, humid environment.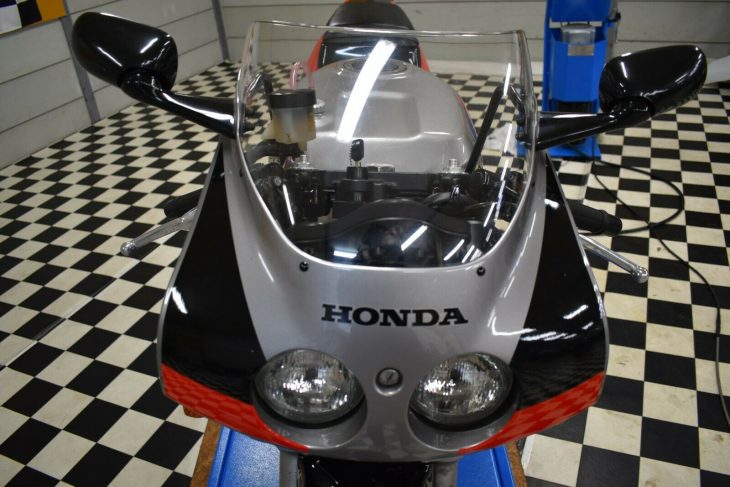 From the original eBay listing: 1989 Honda VFR400R NC30 for Sale
Rare bike from Japan! VFR400R NC30

VIN: NC30-1007049

Year: 1989

Mileage:  4,500km (2,795 miles)

Condition: There's tiny scratch, tiny crack on cowling. There's broken a little bit at back side of right side cowling.

But still looks VERY GOOD condition, Original paint. Muffler is aftermarket product. 

Of course, running very well. There is no American title. But Japanese registration, bill of sale and import documents are included.

We have more detail of pictures and movie for this bike. Please contact me feel free if you interested. This bike is currently stored in Florida, so there is no hassle to import in the United States. After a successful bid, go to Orlando, Florida to pick up and arrange a delivery. Please note that shipping fee will be charged separately.
This is newly-imported, and stashed in Florida, the very epitome of a permissive DMV. It just needs an enterprising new owner to brave the bureaucratic nightmare of their local DMV and give this sharp little bike a new home. I prefer the more common red/white/blue colors, but the miles are extremely low and the bike looks very clean, minor rash on the exhaust aside.
-tad