The Honda RC30 needs zero introduction.  The looks and performance are the stuff of legend.  As more and more collectors compete for a limited number of bikes on the market the prices inevitably rise.  We often hear enthusiasts in the hobby lament this as it means they might not get a chance to experience the machine.  The wonderful thing about this hobby is that even though specific models might be rare, there are always alternatives to explore.  In this case it the RC30s baby bother, the NC30.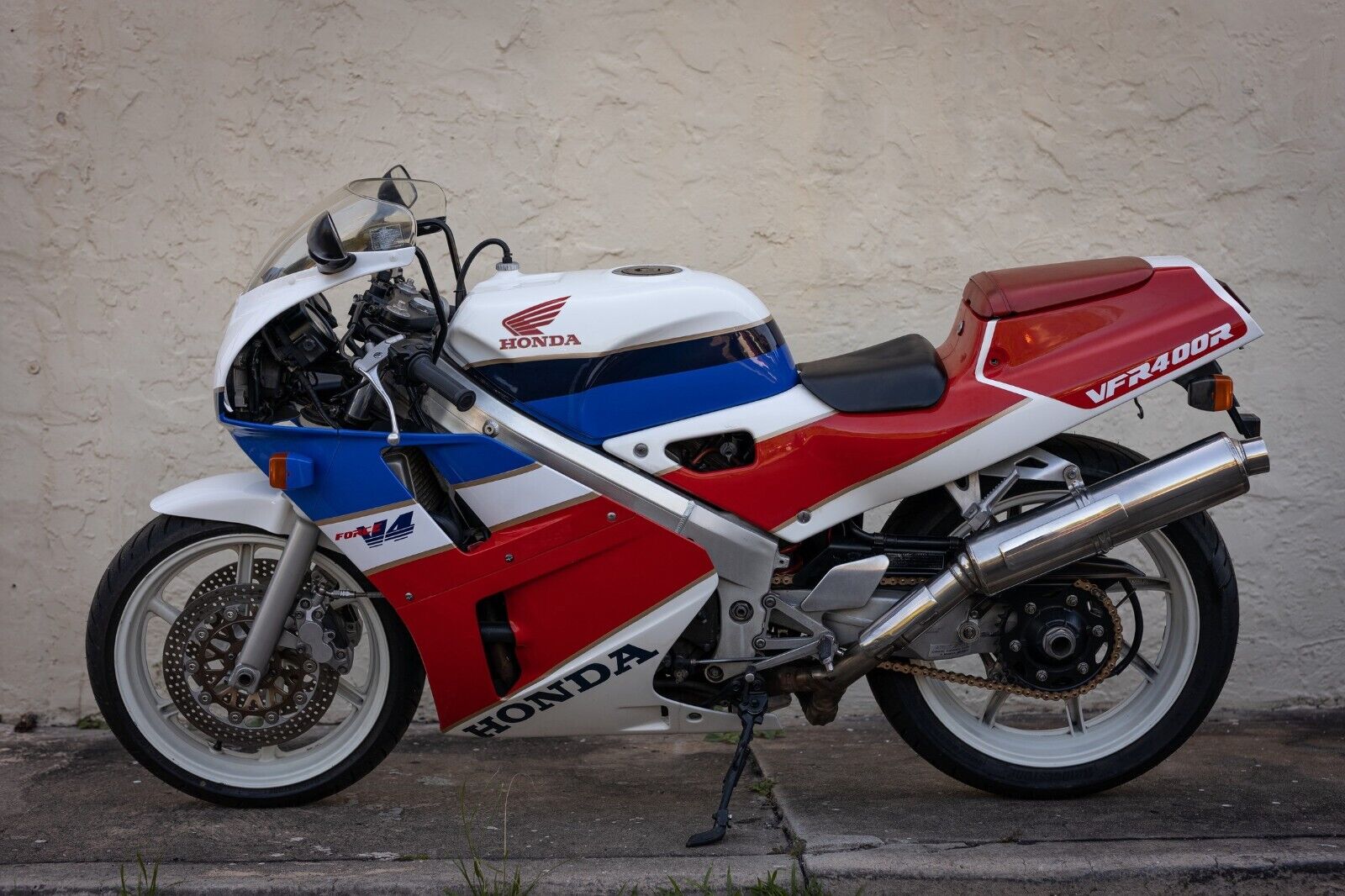 The 400cc class of sport bikes from the late 80s and early 90s offer some amazing technology, packaging and overall fantastic riding experiences.  These were not built as the budget, or entry level motorcycles of today.  These were built to fit into engine size restricted classes and to offer buyers real performance.  Most offerings remained as JDM options.  It was determined that the US and European markets would not see the value in these smaller bikes.  Hindsight has told us that this was probably true.  The 600cc class is dead in the USA and most modern sport bike riders are only focused on absolute power and speed.
Today these are available for import and are being brought over for collectors and riders alike.  Known for extremely high redlines (some north of 17,500 RPM) and sublime handling it is no wonder many buyers are taking advantage of this opportunity.  Parts availability should be of little issue as Honda is very good at supporting vintage motorcycles.  For the price point it would be hard to find something more unique, reliable and with a usable performance envelope.
Honda's Street-legal race bike. This exquisite 1989 Honda VFR400R NC30 has been thoroughly sorted and is a fabulous rider. Runs incredibly strong, no smoke or leaks. 100% of the electrical and lighting work. See videos below! A fully documented restoration was performed a year ago, and has been on museum display since. Clean title, in hand. Original exhaust is excellent and free of any scuffs or dents. Brand new battery, fluids, and tires. 48k kilometers (30k miles) A wonderful collector piece of Honda's HRC racing history.

The VFR 400 series were explicitly a scaled-down version of Honda's racing RC30 models and only intended for the Japanese domestic market. The VFR400, like the RC30, used straight-cut gears to drive its camshafts, which made a characteristic whine that became associated with pure speed.

With a redline of 14,500 RPM, the top speed was 130 MPH. Riders loved the NC30 for its razor-sharp handling and its wide spread of power, which had plenty of torque without the peakiness of most highly tuned fours.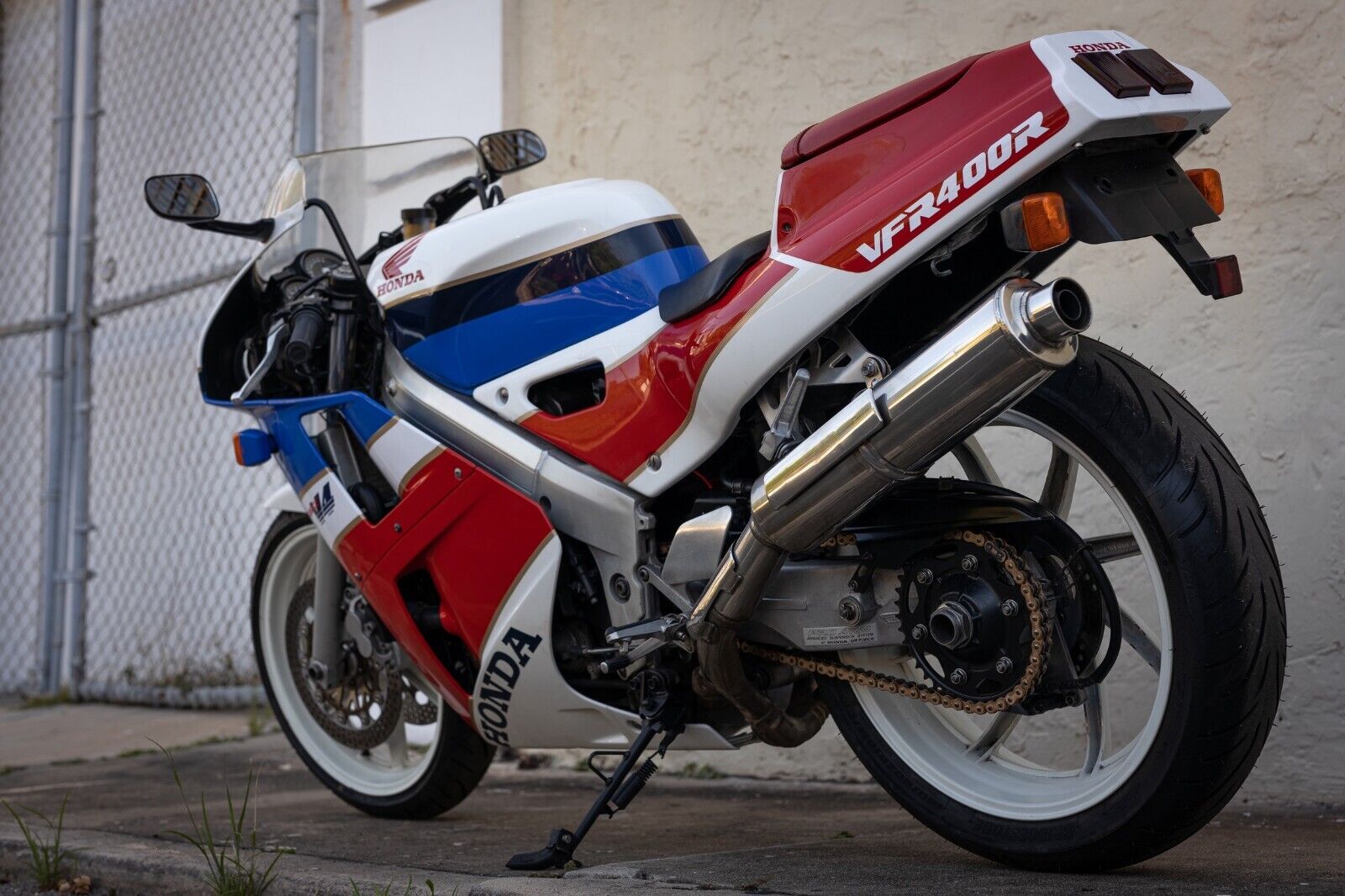 This bike looks to represent a great opportunity for someone that wants a bike that is equally good to look at as it is to ride.  Relatively high mileage will mean riders are the buyers, not matter how many time the seller uses the word collector in the listing.  That is not a dig as these are wonderful out on the road.  The 400cc market is very hot right now because more and more riders are embracing the slow bike fast ethos.  It will get even hotter when the new Kawasaki 400cc four cylinder sport bike hits showrooms.   The Buy It Now price of just under $12k seems reasonable for the condition and current market.  A buyer would be wise to press the seller for more details on the mentioned restoration as that could potentially be a great selling feature.