Warning!
This post is in our archives. Links in this post have been updated to point to similar bikes available to bid on eBay.
Looking very much like their very desirable VFR750R, the Honda VFR400R shares similar engine configuration, style, and that distinctive "PRO ARM" single-sided swingarm. The sophisticated V4 featured straight-cut gears in place of a chain or belt and drove twin overhead cams. Early VFR400s used a 180° crank, but the NC30 shared it's 360° "big bang" configuration with the VFR750, giving the bike a distinctive growl to go with the cultured whine of the gear-driven cams.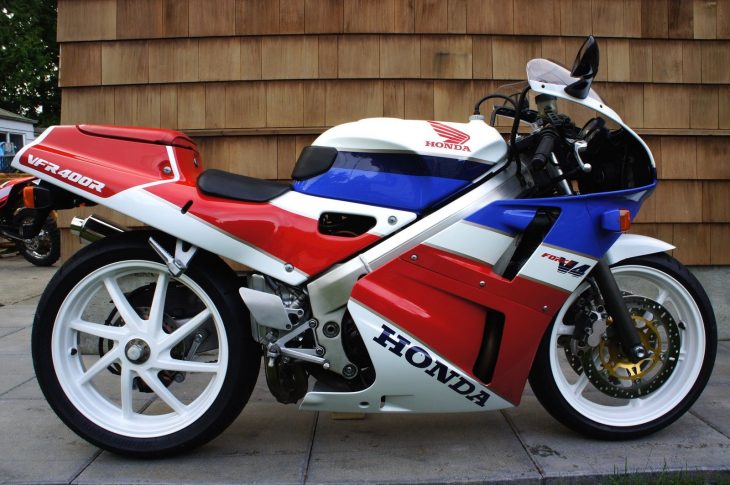 A big-bang engine groups its combustion events close together, in stead of spreading them out evenly. In theory, this gives improved traction, as the tire has a chance to recover grip in between pulses, although that may not be a huge advantage in a bike with just 59hp and 30ft-lbs of torque… Power was modest, but had just 350lbs dry to push, and was spread across a very wide, forgiving powerband.
These bikes didn't sell well when new, which wasn't really shocking: a period literbike could be had for similar cash and that huge increase in power could cover for a lot of sins on the road and on track. But that was hardly the point, and Honda only needed to produce a limited number to qualify them for racing. Originally intended for the Japanese market, a few made their way to the UK and mainland Europe as "parallel imports," these used to be very a very affordable way to pick up sophisticated Honda tech, but prices for these have been rapidly increasing of late, now that the RC30 is well out of reach for many collectors. Bidding on this example is north of $9,000 at this time, with the Reserve Not Met.
From the original eBay listing: 1989 Honda VFR400R for Sale
The VFR400R(NC30) is known for its handling, turning quicker than most other 400s on the market. You don't have to ride the NC30 to know that it is right. Everything about it just looks right. The scaled-down version of the RC30 is perfect in it proportions and in its detail. The reduction in size makes it neater still.

The engine gives the impression of that of a larger machine. Peak torque is at 12,000rpm, but it doesn't drop off, giving a long, flexible spread of peak power. It will hold any top gear cruise speed up to 100mph, will pull wide open in top from 2,000rpm and runs without a hiccup to 15,000rpm.Asked whether the quality of engineering is worth owning, the answer would be yes. The build quality is nearly as good as the RC30.

This bike is in excellent un-restored condition with very low miles. I approach all my bikes with the idea of preservation over restoration. When purchasing a bike what I look for is low miles and all original, this bike fits those traits very nicely. Please examine the pictures very closely. You can see it has not been restored but it is an excellent original condition. There is some minor chips and patina showing that it is a 27 year old bike. The bike was recently cleaned from top to bottom. Everything was cleaned, all fluids changed, brakes bled and then put back together ready to ride. Here's a list of a few things that were done.

Wheels powder coated, forks rebuilt, new rotors and pads front and rear plus brakes bled, new tires Bridgestone T30's. All the plastics were cleaned and polished and the small cracks were welded on the back side so they won't crack any more than they already are. All the gauges and cockpit pieces were cleaned and polished. Brand new chain and sprockets
The seller also includes this helpful startup video of the bike being offered, and the original listing includes plenty of additional photos if what we've included here doesn't satisfy your NC30 lust. Aside from a few minor cosmetic imperfections mentioned by the seller, this is a very nice motorcycle and 6,000 miles is barely broken-in for a Honda, so this one is ready to display or ride, whichever strikes your fancy.
-tad