Warning!
This post is in our archives. Links in this post have been updated to point to similar bikes available to bid on eBay.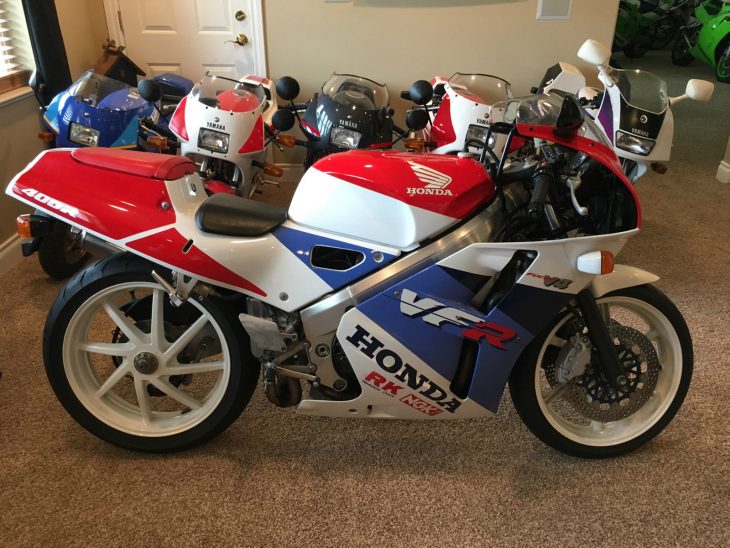 A little brother in terms of displacement and a virtual twin in terms of style, Honda's NC30 packs the same technological punch as the famed RC30 in a smaller package. And like the RC30, the NC30 was designed to homologate a motorcycle for racing, although in this case it was for classes with a 400cc capacity limit. Here in the USA, the 400cc sportbike class is barely represented at all, with examples only occasionally appearing as the result of intrepid collectors or Canadian smugglers sneaking bikes in across our northern border. In the US, they were basically bikes without a racing class, and expensive ones to boot: they had all the complexity, and therefore cost, of their bigger 600 and 750cc brothers, without the straight line performance.
Sure, they handled with all the agility you'd expect but, when a 600cc sportbike is considered "a great first bike" you're not going to find many takers for a 400. Of course, it was another story entirely outside the USA and especially in Japan, where tiered licensing and heavy taxes on bigger bikes meant a great deal of interest in the 400cc class as roadbikes and the relevant racing series, and bikes like the CBR400, GSX-R400, and ZXR400 competed fiercely.
So what are we looking at in terms of that reduced performance? Well you're not taking quite as big a hit as you might expect: the NC30 produced 59 claimed horses, versus the RC30's 118, 313lbs dry versus 400lbs, and a top speed of 130mph versus 153. So you've got a bike with almost half the displacement but with far more than half the performance, mostly due to that very light weight. What's possibly far more surprising than the performance differential between the two are the relatively low numbers for the famed RC30… Both machines featured six-speed gearboxes and the NC30 got a 360° "big bang" crank to match its bigger brother along with gear-driven cams, so you get the distinctive V4 soundtrack and wide powerband that helps make them such popular trackday bikes overseas.
From the seller: 1991 Honda VFR400R NC30 for Sale
For your consideration is a GORGEOUS almost mint condition 1991 Honda VFR400R NC-30 with only 10,823 Kilometers (6,725 miles). Bike is very clean and well taken care of. Bike would be flawless except for the crack in the lower fairing under the bike. It has been repaired. Has a three tiny paint chip marks in the tank, and the left rear fairing has a rub mark on it from transportation & shipping (see pics.) This NC30 has 100% original OEM Honda fairings and components and is completely stock except for a few racing sponsor decals that can be easily removed. This bike would make an ideal candidate for restoration or enjoy it in its original condition… Bike has been serviced with new battery, new oil, coolant and filters serviced. Runs like the day it was new. A Utah state title in my company name will be presented to the buyer.
This particular machine appears to be in the same sort of condition as the seller's other offerings: not completely perfect, but in low mileage, extremely well cared-for condition. There are a couple of minor cracks in the fairing that are clearly indicated by the seller, and wear is limited to some minor surface corrosion and discoloration. Not museum-quality perhaps, but a very good-looking machine for someone who plans to occasionally ride the bikes in their collection. With the RC30 now out of the reach of ordinary enthusiasts, prices of the NC30 are on the rise as well and offer up a similar style and experience at an affordable price. For the moment at least.
-tad