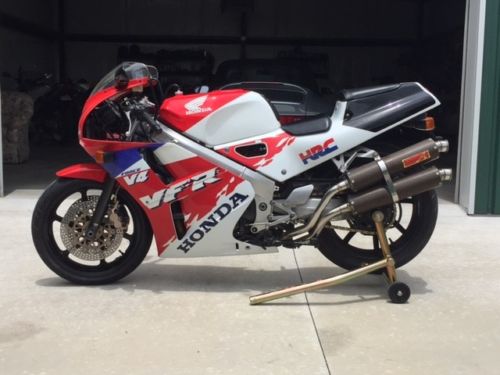 The diminutive brother of the legendary 750cc RC30, the Honda VFR400R did not let its small displacement soften its hard-edged pedigree. By now, we have repeated all the tropes about tiered licensing and the popularity of small engines overseas ad nauseam, but the Honda mini v-fours are stout enough to stand apart from their reputation.
The pictures of this example leave something to be desired, though the ad says there are more available upon request. From what we can tell, it is in very good shape, but its owners have not been shy about riding it. For a closer look, swing by the Barber Vintage Weekend, where the seller says he will have the bike on display.
Adding to this bike's appeal is a set of fresh-looking modern tires, and what appears to be a full aftermarket exhaust system with carbon mufflers.
From the eBay listing:
VFR400R, Type 8. Bike will be on display at Barber Vintage Weekend, Vintage Japanese Motorcycle Club paddock. If you are in attendance, please stop by. It is hard to beat eyes on. If not, advise of additional pictures required. If in the market for an NC30, you probably do not require a history of the model. You know what they are. This is a nice specimen. Have original tool kit. Also owners manual and parts manual if you happen to be fluent in Japanese. Also listed locally. I can help arrange shipping but purchaser is responsible for shipping costs. Bike is located in NE Georgia and has clear Georgia title. 850-830-8141. Cheers, Bob
Mileage listed is in kilometers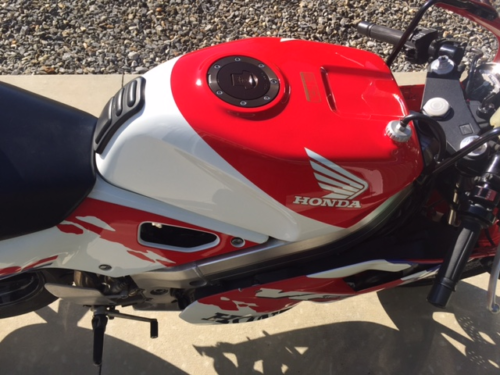 Over its life, this 60-horse ripper has covered about 16,000 miles, which shouldn't scare anyone familiar with Honda's bulletproof gear-driven cam v-fours. Buy-It-Now is set at $7,500, which is on the high side of average for these machines.