For Sale: 1993 Honda VFR400R NC30
Update 4.23.2011: This bike has been relisted. Link updated. -dc
Next to 250cc two strokes (NSRs, Gammas and the like), the 400cc four stroke class has got to be one of the most popular import entries on RSBFS. And what's not to like? Decent power, stratospheric redlines and fantastic handling all wrapped up in mini-GP bodywork – coupled with decent exclusivity. In short, these are what gray-market import bikes are all about.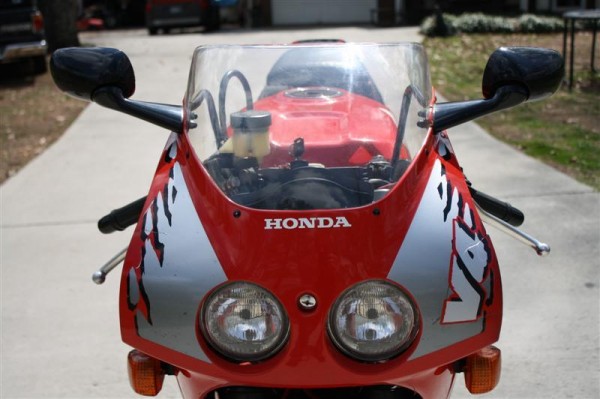 Today's bike, a '93 VFR400R, has not apparently had life on easy street. Unlike many of the 400s we see on these pages that are pampered and fawned over, this particular VFR was the victim of trackdays and road rash. The seller has made no attempt to hide the damage, and the bike is still quite presentable despite its unfortunate history.
From the seller:
you just can't imagine the sorrow i feel writing this.this is most likely the last NC30 i will ever have had the privilege to own. i've owned several over the years and i swore that i'd never sell this last one.unfortunately that time is here.

the bike-
almost a tragedy really.i don't have any history on it. previous owner should have used an old EX250 to get his trackday jollys but choose a VERY nice original 1993 model NC30 and crashed it during said trackday.
new bodywork, or china knock or even a respray to me were out of the question.i think i patched it up pretty good.
subframe is not and was not bent. the upper fairing/ windscreen bracket was tweaked a bit but it's back to perfect or so…
approaching from 15 feet out you'd hafta start looking to see the flaws. once up on it of course. there they are.
having said all that-
this is a fine example of an iconic motorcycle.

buy it. ride it. look closely- bid often.
godihatethis.
So the good, the bad and the downright ugly are out in the open. Still, this *is* a VFR400R, which continues to be a desireable import model, right? As stated earlier, this is a popular class of bike on RSBFS, as evidenced by this post HERE, or HERE, or HERE, or HERE, or HERE!
If you peruse those earlier posts, you will find some bikes in fantastic condition and others in not so fantastic condition. You will also find a price range that is downright reasonable for a cutting-edge sportbike these days. Which brings us to the brass tacks on today's offering: This auction has a starting price of $3,000 with reserve on. Given the condition of the bike, I predict that the auction starting price and the auction ending price will be close together, and so it all comes down to how high the seller has set the reserve.
Check it out yourself by and jumping over to the auction. And after you see all of the details, let us know what you think. Good luck!
MI