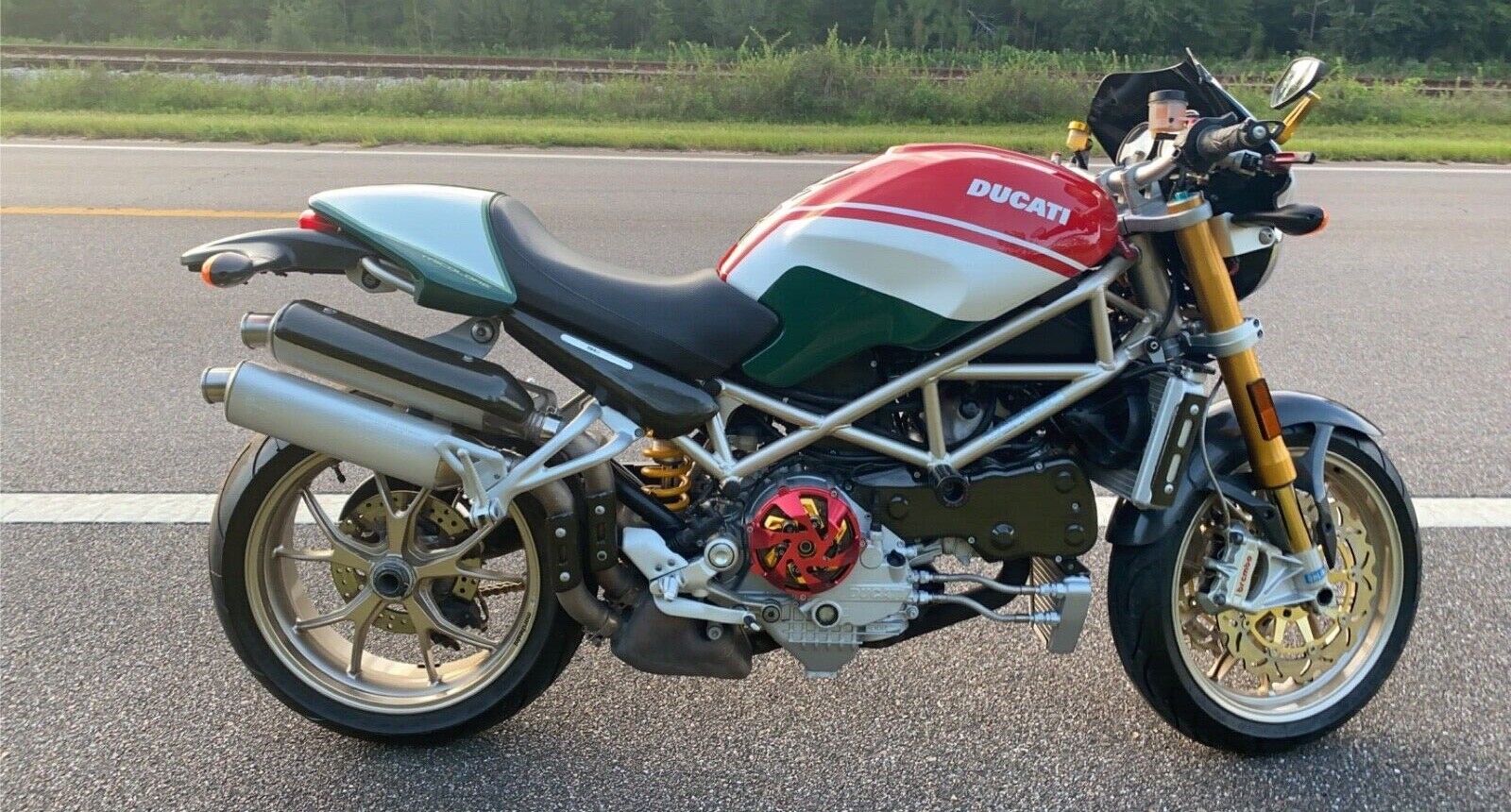 In the early 90s Ducati stunned the motorcycle community with the launch of the Monster.  The combination of sporty frame and simple engine was an instant hit.  It became to define the naked segment for years.  Latter in the production run Ducati added the four valve, liquid cooled superbike powerplant to the mix and kicked off the idea of the super naked bike.  When talking about the original silhouette the S4RS was the pinnacle of specifications.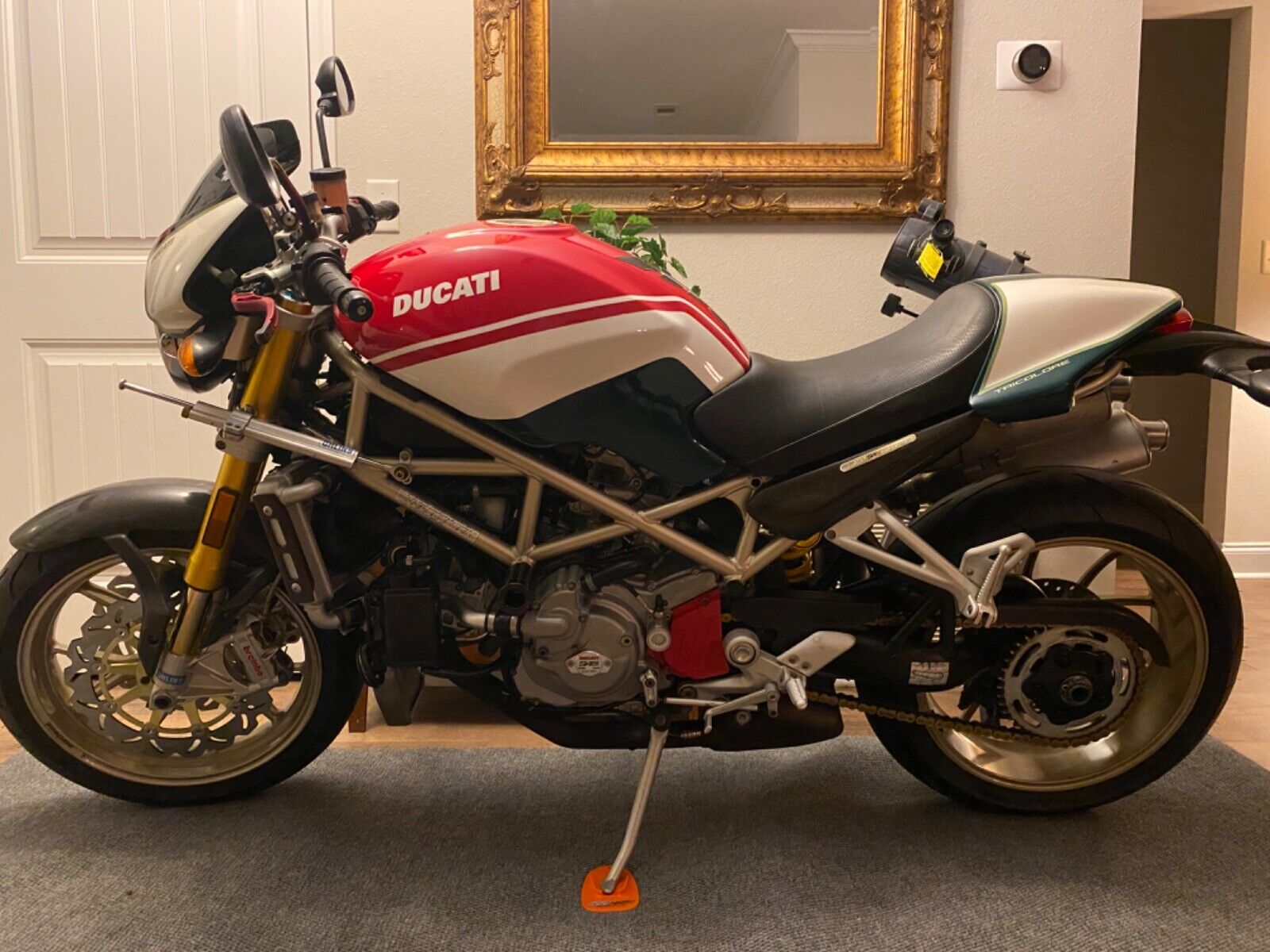 130 horsepower was plenty to motivate the 390 pounds of machine.  Radially mounted Brembo calipers ensured the bike would stop as well as it could.  Light weight wheels were controlled by Ohlins superbike suspension.  If one was just to read the technical details they might be confused into thinking they were reading about a full fledged homologation race bike, and not an upright two seat naked bike.
These S4RS came with a plate representing the limited production of the model.  The Internet has debated if that is 400 bikes for the USA, the world, or if it was more of a marketing stunt by the Italian manufacture.  Either way the numbered edition is really just icing on what is unquestionably a desirable cake.
2008 Ducati Monster S4RS Tricolore. Only 400 of these were made…250 US models and 150 Euro models. This one is #224 with only 6350 miles.
Has some aftermarket parts but pretty much stock.
*Upgraded Rotors
*Ohlins Frame mounted Damper
*CRG Levers
*CNC handlebar Rear Mirrors
*Gel Grips
*Zero Gravity Windscreen
*Cox Radiator Screen
*CNC Clutch Cover
*Billet Pressure Plate and new Springs
*Frame Sliders
Tires have less than 400 miles on them.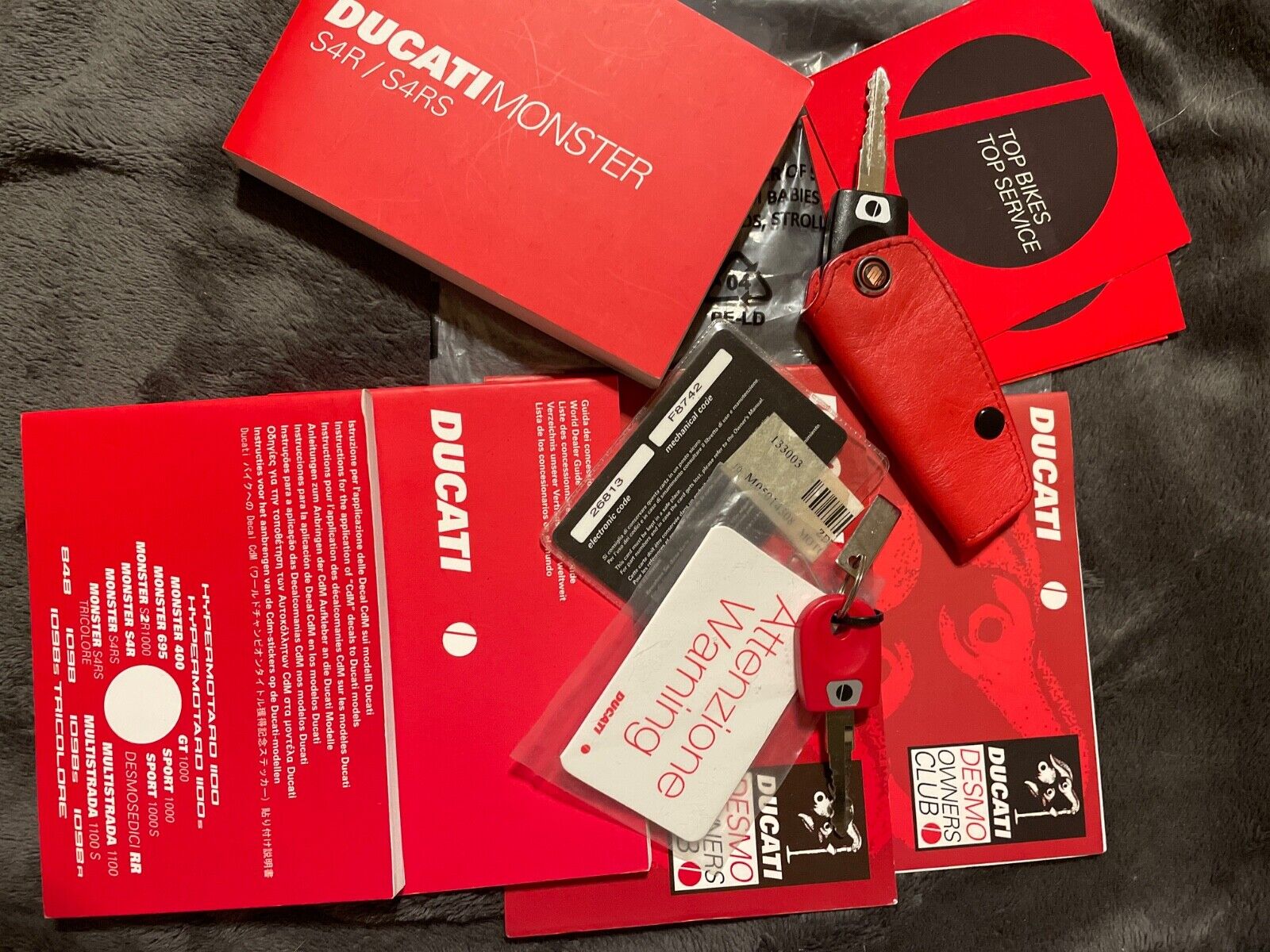 As of writing the opening bid of $6500 has not been made, but surely there will be interested parties.  At the end of the day this is as good as it got for the early Monsters.  Largest and most powerful engine, best suspension specs and all wrapped up in the most desirable color combination.  These will no doubt continue to be sought after bikes, and the most money will be with 100% units.  This has some typical and period correct modifications, but nothing that the next owner can not easily correct should they choose.  There is no mention of the last belt service, and new owners should budget a couple of hundred bucks for this if it has not been done.  Pictures show the proper manuals as well as the infamous red key are included.