Update 1.31:2023: This bike has SOLD! Congratulations to buyer and seller! -dc
Be sure to check out Bob's other Featured Listing: 1986 Suzuki GSX-R 1100!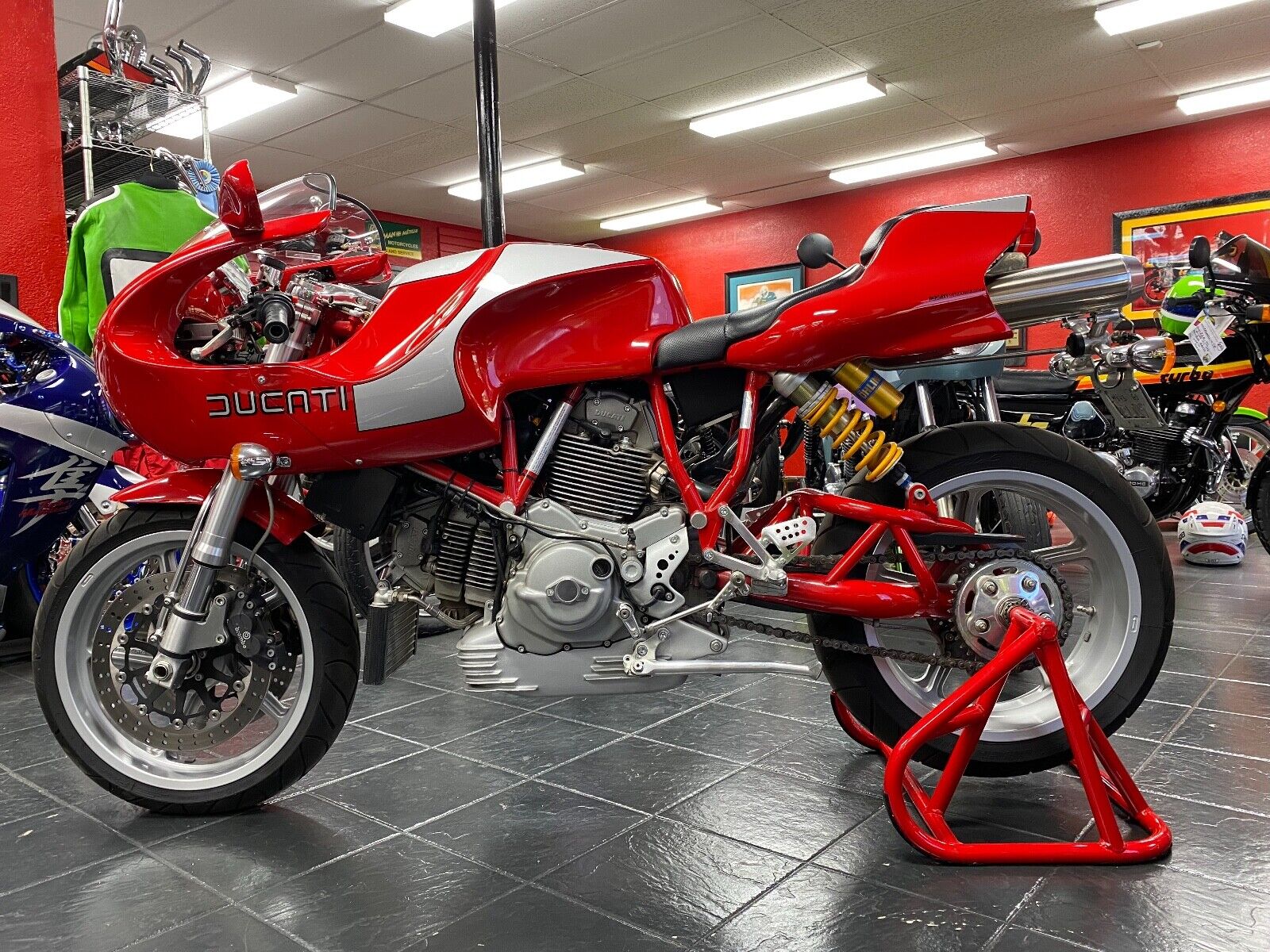 Offering what is – today – perhaps one of the most unique, stunning and collection-worthy motorcycles available, Ducati created a media storm by offering the re-imagined Mike Hailwood replica to internet-only buyers in the wee hours of the year 2000 (the first lot of 1,000 which subsequently sold out in minutes). Dubbed the Ducati MH900e (the "e" stood for Evoluzion), many consider this bike the greatest stroke of pen from oft-maligned designer Pierre Terblanche. Highly sought after and rising in valuation year after year, the MH900e is one of those limited edition bikes from Ducati that always generate tremendous interest.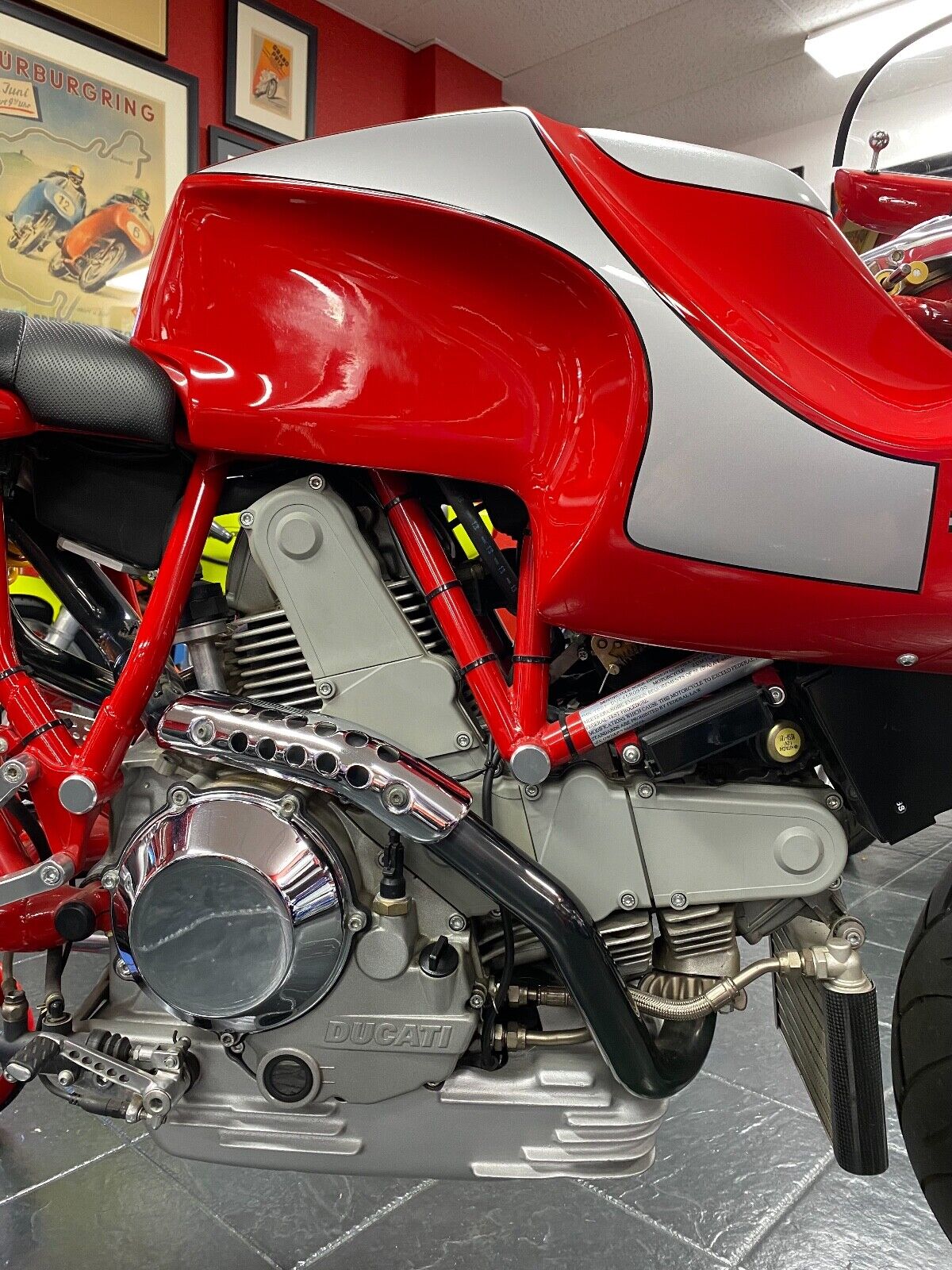 The MH900e also began an interesting trend from the Bologna bike maker, expanding the use of the 2-valve desmo twin and ushering in the era of the Sport Classic series just a year after MHe production concluded. But the MH900e started it all, viewed as a modern homage to race winning hero, Mike Hailwood. Rumors have it that the MHe nomenclature was to work around licensing royalties involving the Hailwood name, but Ducati subsequently settled the matter retroactively with Mike the Bike's widow.
From the seller:
COMING OUT OF MY PERSONAL COLLECTION OF OVER 150 VINTAGE, CLASSIC, AND RARE MOTORCYCLES (GLOBEMOTORCYCLES.COM) IS MY 1 OF ONLY 2000 PRODUCED 2001 DUCATI MH900E MIKE HAILWOOD LIMITED PRODUCTION. SHE IS ALL ORIGINAL WITH THE EXCEPTION OF THE UPGRADED STAINTUNE EXHAUST AND YES I HAVE THE FACTORY PIPES.

THIS FLAWLESS EXAMPLE HAS ONLY 4000 ORIGINAL MILES. IT HAS ALWAYS BEEN A CROWD FAVORITE AND WILL MAKE A GREAT ADDITION TO YOUR COLLECTION AS IT DID MINE. I AM TORN ON THE PROSPECT OF GIVING UP THIS BEAUTIFULLY DESIGNED, PIERRE TERBLANCHE CREATION BUT I AM JUST RUNNING OUT OF ROOM. I ENCOURAGE YOU TO HAVE A LOOK IN PERSON AS THE PICTURES DO NOT CAPTURE THE REMARKABLE DETAILS AND APPEARANCE THE MH900E HAS TO OFFER.
More from the seller:
I HAVE BEEN COLLECTING, RESTORING, REPAIRING, RIDING, AND RACING MOTORCYCLES SINCE BEFORE GRADUATING FROM AMERICAN MOTORCYCLE INSTITUTE "AMI" IN DAYTONA BEACH FLORIDA IN 1980. I HAVE OWNED OVER 2 OF THEASE BIKES AND THIS IS ONE I NEVER PLANED ON SELLING, BUT I AM OUT OF ROOM. SO DON'T MISS OUT ON YOUR CHANCE TO OWN ONE OF MY AMAZING BIKES.

BID WITH CONFIDENCE DON'T MISS OUT ON A MUSEUM QUALITY PART OF HISTORY. THESE SPECIAL PRODUCTION MODELS APPRECIATE OVER 15% PER YEAR. TELL YOUR WIFE IT'S A BETTER INVESTMENT THAN YOUR STOCKS AND HER JEWELRY, SHOE AND HANDBAG COLLECTION 🙂 THE BIKE CAN BE VIEWED DURING THE AUCTION IN PERSON OR VIA FACE-TIME OR SKYPE. CLEAR TITTLE IN MY PERSONAL NAME SHOWING ACTUAL MILES.

PLEASE ASK QUESTIONS I AM SURE I LEFT OUT SOMETHING ELSE. DON'T MISS OUT BID HIGH AND ADD HER TO YOUR COLLECTION.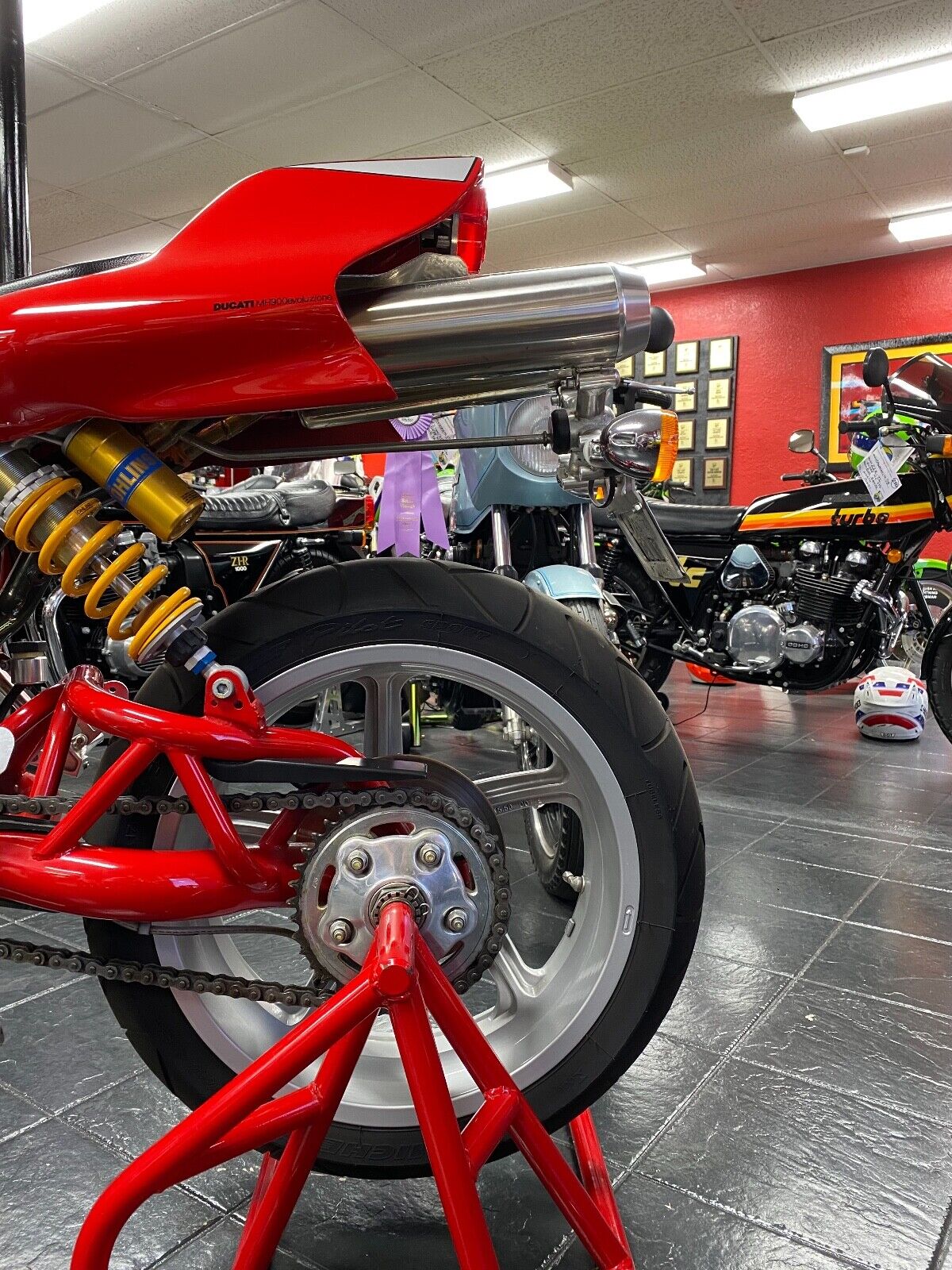 While the L-twin was standard Supersport or Monster level on performance (meaning about 80 HP and all that great low-end torque), the remainder of the package was all super special and stylized. Features abound on the MH900e, and little details can open up whole new discussions. Take that single-sided swing arm, for example. Sure, it was done on the 916, but certainly not like this. Ditto for the high, under seat exhaust, poking out of the tiny tail like a double-barrel shotgun. What about the asymmetrical shock placement or even the rounded cases or chrome headlight bezel – all nice, subtle touches that somehow work well together. This is artwork you can ride, or more like a genuine performance motorcycle that you can park and enjoy as art.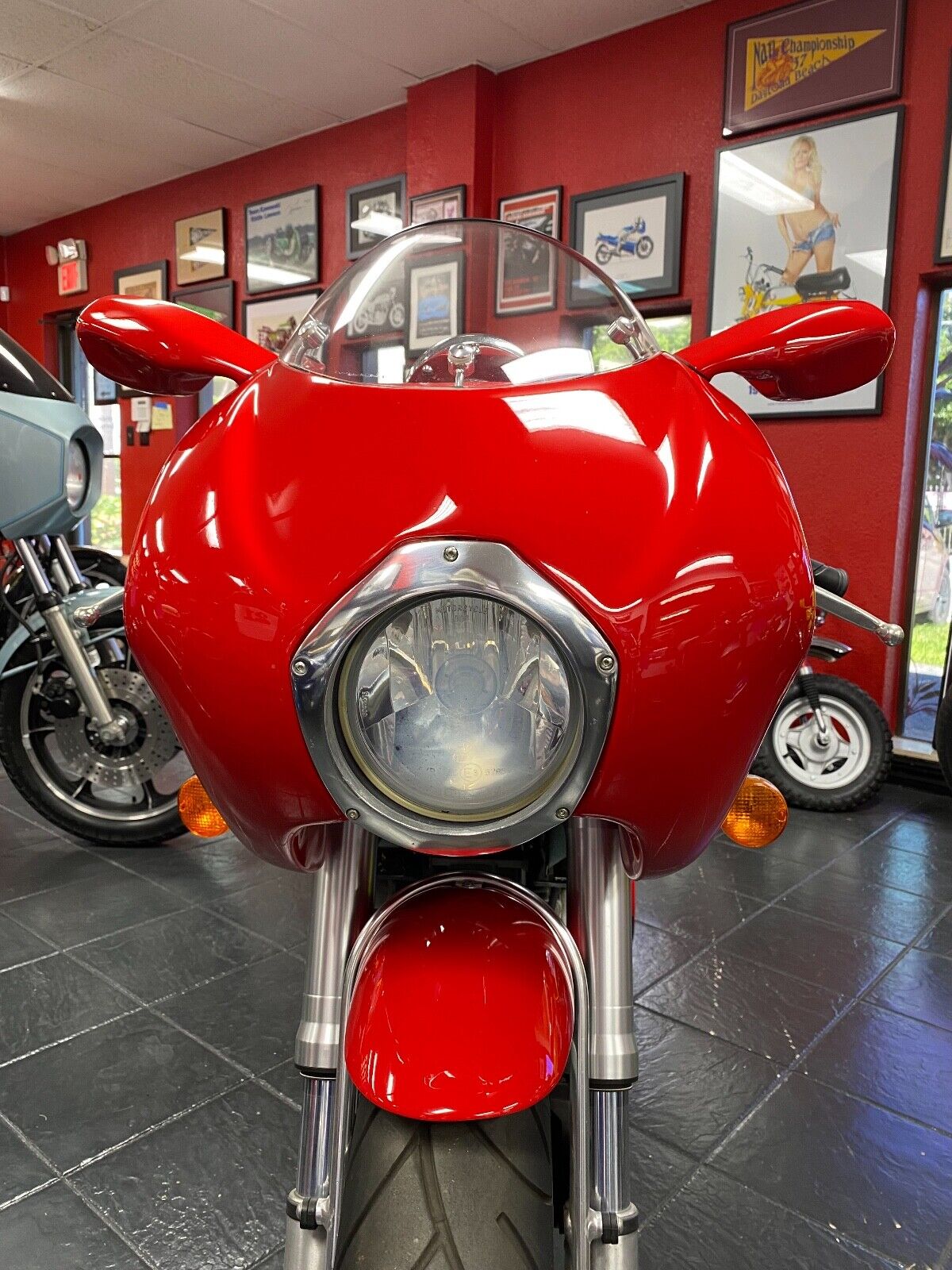 This auction is going on right now, and is currently climbing through the low $20k mark. There is a reserve in place, and a Buy It Now option for $28,000. With only 2,000 units produced across a two year span (2001 & 2002), the MH900e will always be a collectable item. This bike looks to be extremely clean, has very low miles, and the seller has offered up some excellent pictures. Check out all of the action on this beautiful bike right here. Good Luck!!
MI