While Europeans have always been neck-deep in the whole Moto GP-thing as embodied by bikes like the Aprilia RS250, here in the US where flat-track and drag-racing are king, fans of whippy two-stroke race-replicas had to work a bit harder to get their fix, at least before the advent of the internet… But even US motorcyclists are generally familiar with the RS250, even if they've never heard of the Suzuki RGV250 that donated it's engine and transmission.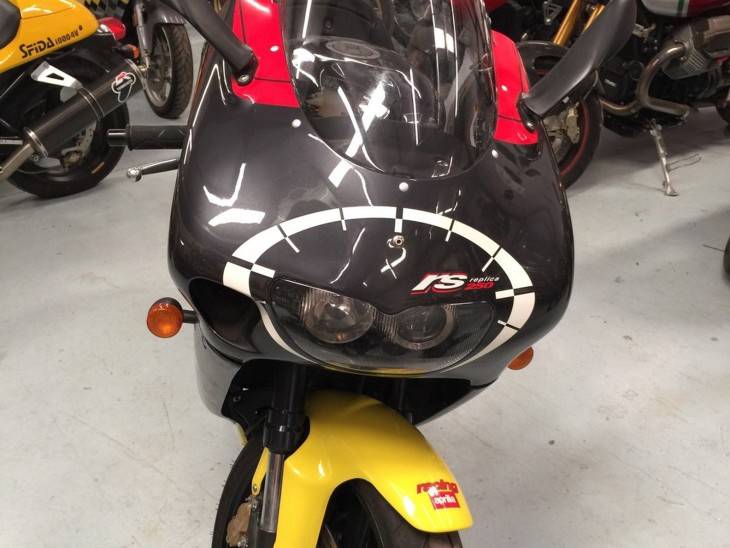 Introduced in 1995 and styled to mimic Aprilia's dominant 1993 race bike, the RS250 was kick-start-only and powered by a two-stroke 90° v-twin cribbed from the aforementioned Suzuki, but tuned to produce a claimed 60hp. The powerband is short and spiky, even with modern two-stroke technology to plump up the mid-range, meaning you have to work the gearbox to make fast progress.
For those new to these little snarly beasts, it's important to remember that, while 60hp sounds unimpressive, that's coming from a mere 249cc's and motivating a bike that weights just 309 pounds dry. And it's that light weight, not the power that really makes the RS250 so much fun.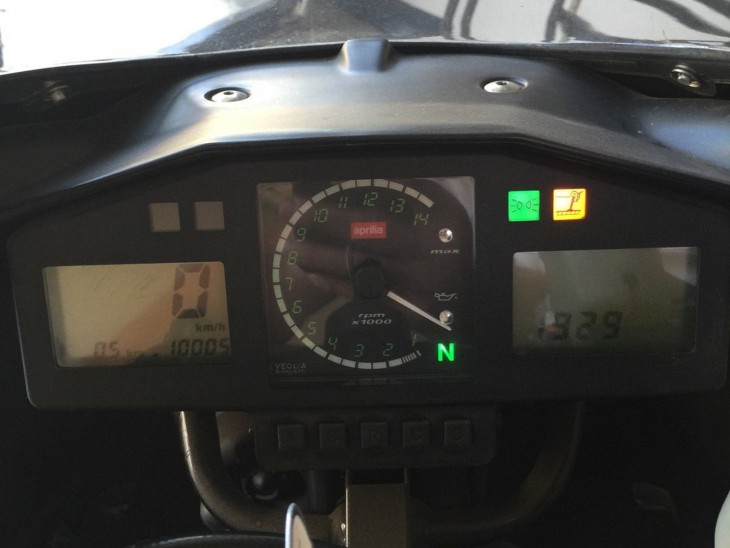 While many four-stroke bikes will leave you for dead in a straight line, the RS250 can run rings around them in the corners in the hands of a skilled rider, giving them true giant-killing potential. Everything on the bike is optimized for cornering. Take a look at that famous, funky "banana" swingarm: it was designed to allow room for the bulky exhaust expansion chambers to tuck in close and give good cornering clearance on the exhaust side of the bike.
From the original eBay listing: 2000 Aprilia RS250 for Sale
I have for sale a ultra rare 2000 Aprilia RS250 , this is not a Challenge Cup bike, this one came from the factory roadworthy, 17 digit VIN, and clean title, this bike came from Japan to the U.S in 05/06 I have some history paperwork on it , from Japan , it then went to a museum in Wisconsin and that's where I got it from, any questions u can email or text or call 919-413-5185

The bike has 10000km/6000miles on it, brand new tires and chain.

The seat has a little tear in it, and one exhaust can has a scratch on it, and that's the only thing wrong on this bike.
It's worth noting all the cool stuff this seller also has in their collection, judging from what you can see in the background… holy hell, this guy has a Magni Sfidia! I'll wait while you all Google that. Wow, that's a serious bit of exotica, right there.
Anyway, back to the Aprilia.
The bike isn't perfect, but looks just slightly used, not crashed: that scrape on the exhaust looks more like a moving accident than a low-side. Also, I'd be looking to replace those stock bits with some little carbon tubes anyway. The original listing also includes a couple pictures of the Japanese documentation. Obviously, it's a really good idea to check with your local DMV before purchase, to make sure there won't be any hassles
As I've stated in the past, I much prefer the earlier RS250's. The dual seat on this era bike looks awkward to me, incorporated into the downward-sloping speed-hump, and an RS250 is a pretty unlikely passenger-carrying bike anyway.
-tad