Located in Massachusetts is a 2003 Aprilia RSV Mille R Colin Edwards Replica, one of 461 worldwide. If you're looking for a modern Italian V-twin, this bike may be up your alley. This bike differs from a standard Mille R by having a "…SBK Superbike exhaust system designed jointly by Akrapovic and Aprilia Racing…57mm throttle body kit, carbon-fiber racing airbox…and carbon fiber bodywork." A neat Mille and something different if you're looking for something Italian but don't want a run of the mill Duc. The only disadvantage of buying this bike used? Not being able to partake in the original track day with Mr. Edwards himself that the bike would have originally come with. The bike has been used and is showing 12,679 miles, but with the auction starting at $1.00, the market will decide how that mileage effects this bikes value. See the Motorcyclist Magazine review here. See the eBay ad here.
See one with 323 original miles located in Orange County, California here. (06/29)
EDIT: Sold for $8,200 with 24 bids on 06/20/09.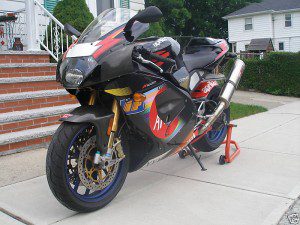 AG