Update 7.21.2018: SOLD! -dc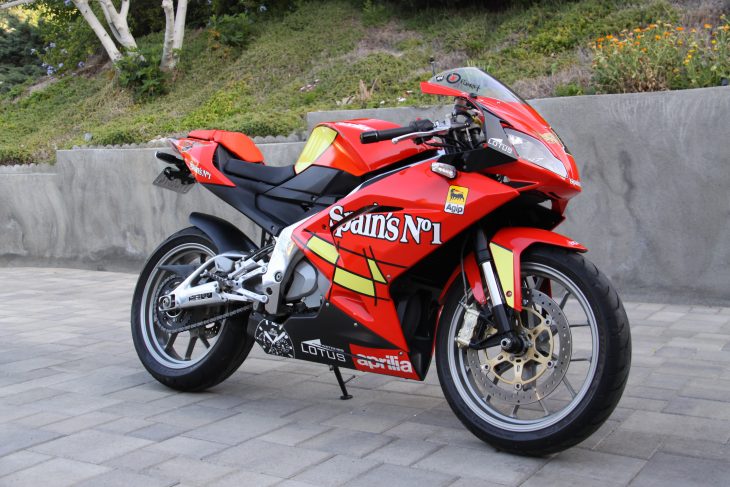 Nothing in American motorcycling circles screams "MEH" like a 125cc single cylinder beginner bike, even if it does have a paint job aping a world champion's race bike. That's a shame, really, as most of the motorcyclists on these shores end up missing the joys of light, flickable, surprising rides in favor of feeding the maw of the ever-escalating horsepower wars.
You end up missing things like this 2009 Aprilia RS125, a 275-pound flyweight two stroke that puts out almost as much power as legions of bigger, tamer four-stroke dual sports. True, it won't win a stoplight to stoplight contest, and its merits don't shine until you have clear road in front of you and you're near the top of the revs, but it will always reinforce the slow bike fast principle.
The seller has the bike plated in California, although it is on a non-op registration after it proved too much for his new-to-bikes wife and too little for his frame. Though the title is clear, it is entirely possible Cali will revoke the plates the next time it crosses the DMV's threshold. It should be good just about everywhere else, though, and is the perfect weapon to chase down clumsily ridden big bikes.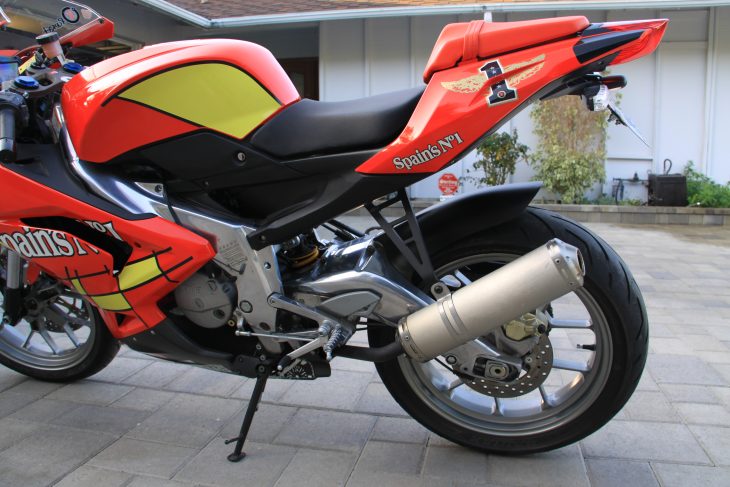 From the seller:
For Sale: 2009 California plated Aprilia RS 125 "Spains No. 1" edition. Price $4800, reasonable offers considered. Ready to ride.

Purchased in 2012 as a bike for my wife, we quickly realized that managing a two stroke 125 repli-racer as a learner bike wasn't the best idea. That and the fact that this is a beautiful bike (and not wanting to have anything happen to it) I took the bike to ride. As the third owner, I put around 100 miles on it, mostly short trips to the Rock Store – one of our local bike hangouts. For my size, the bike was underpowered and undersprung, so it spent most of the time in our garage. I was told by the previous owner that the street components (harness, lighting, etc.) are factory Aprilia and all were installed by Aprilia technicians.

Ultimately, to make room in the garage, in 2016 fluids (coolant, fuel, engine oil and transmission oil) and were drained and bike was put in climate controlled storage. Recently, it was brought back, fluids refreshed, restarted and taken for a checkout ride.

Title: Bike has clean title with California plates, but is registered as PNO (planned non-operation) in 2014 since the bike was not being ridden.

Known issues: There is a slight blemish on the passenger seat and on the right hand side panel it there's a ¼" mark in the sticker (see photos). What I would do if I were keeping the bike: Tires are serviceable for street riding, but for more lively canyon use, I'd replace them. Also, fork oil should be refreshed and the oil injector lines seem to be a little stiff so replacement will be in order at some point.

Rear view mirrors are removed but will be included with sale. No other accessories are included.

Bike is located in West Hills, CA

Price: $4,800 now $3999 USD
/blockquote>


At $4,800 it's most of the way to KTM RC390 territory, but is altogether more interesting, and for the right rider could be more fun. It's also worth noting that this bike truly is the top of the tech heap when it comes to two strokes, and is still cheaper than the older grey-market Japanese equivalents.