Update 4.8.2019: Sold for full asking price! Congratulations to buyer and seller! -dc
We showcase a lot of two strokes, and we wax poetic about their knife-edge handling and peaky, unforgiving powerbands. Most of the time, we're showing off nice but rider-quality machines that will make the new owners very happy on the track or in the canyons. Not today. Today we have a time capsule 2004 Aprilia RS250 that the seller couldn't bring himself to tear up on the track. It's so nice that he went to the length of sourcing another RS250 rather than ride this one in anger.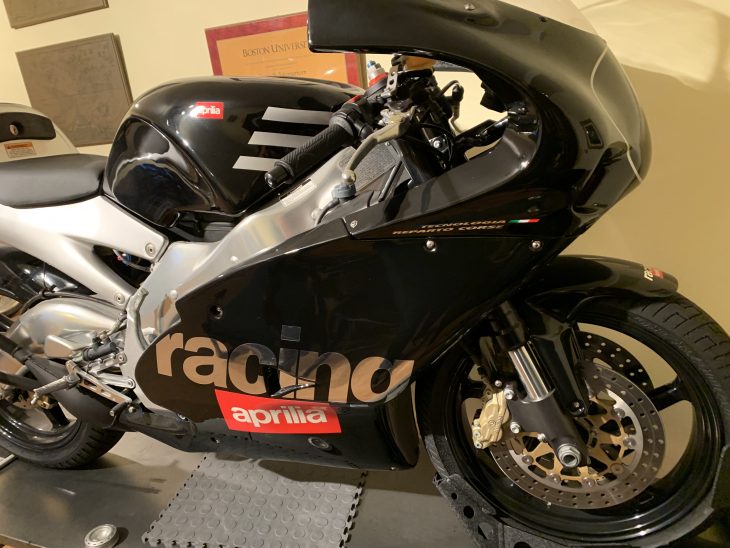 Instead, it sat, unmolested and unblemished in his basement on display. As such, it is as close as you're going to get to perfect, and is original down to the scrub in on its first set of tires. It comes with all the factory documents and stickers and shows less than 400 miles on the odometer. Having been sold in or around New Hampshire originally, there's little chance it's ever going to see an American road. That's all well and good, as it's almost too cherry to tear up now.
The RS250s were powered by a version of the Suzuki RGV250 v-twin that Aprilia tweaked heavily for their purposes. With a lighter and more focused chassis and suspension than the RGV, the Italian became the mount of choice for up-and-coming racers including Loris Capirossi, Max Biaggi, Jorge Lorenzo, Marco Melandri and Alvaro Bautista, all of whom went on to MotoGP fame. For a hammer-simple 70 horsepower two-stroke, that ain't a bad CV.
From the seller:
If you are looking for a perfect, as new RS 250 for your collection, look no further this is your bike. Here's the back story, I was looking for an RS 250 as a track bike ten years ago. I found this one and was amazed how nice it was. I purchased it then once it was home, concluded it was too nice to track as it needed to be preserved. So I bought another RS 250 for this purpose which I still have. As such this one has been in my climate controlled finished basement on a lighted display table ever since to be looked at and admired. This one is a time capsule that has less than 400 miles original miles on it, 100% stock including tires, no modifications and all of the idiot stickers that came on it. I'm a collector so selling this to fund a new addition to the herd. I know that peoples definition of condition varies greatly much to my chagrin in looking at other bikes, because of this I tend to understate the condition of things. I would rate this close to a 10 out of ten, no blemishes, never dropped, like new, perfect paint, just a pleasure to look at. As it was in my basement the paint is in great condition with no oxidation or sun damage. I just pulled it out to get it ready for sale, added a new battery and it's on its way this week to Seacoast Aprilia – Ducati, which was the original dealer that sold it to change out the fluids and go through it to make sure there are no issues. It will be in perfect running condition for the lucky buyer with the original MSO. If you are serious I am sure I can arrange for you to speak with someone as Seacoast to get an unbiased second opinion. Like all two strokes RS 250's are getting harder to come by, finding one in this condition is very rare as most have been flogged on the track and modified. Thanks for looking, $10,500 located in New Hampshire.
As either a display bike or a track day toy, you can't say fairer than this little RS250.