Squeezing in a quick post between meetings today with some interesting finds. Enjoy! -dc
_________________________________________________
1980 Suzuki GS1000S Wes Cooley on Craigslist for $1850 (24k miles, California):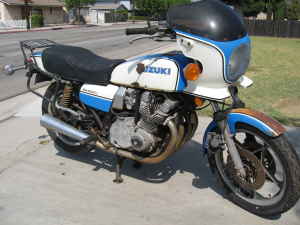 quote from Craigslist:
1980 Suzuki GS1000S Wes Cooley – RUSTED ROUGH NOT RUNNING – MOTOR TURNS – 24K-BRAKES FROZE – TANK RUSTED THRU- ALL ORIGINAL COMPLETE FOR RESTORATION
This bike seems to be priced pretty high considering how much work it needs done and compared to previous GS1000S bikes listed on this blog. But if the buyer can work a deal, could be an interesting project for this winter.
__________________________________________________________________
When I got my eBay alerts this morning, I spotted the little thumbnail for this gray SB6R. I didn't realize the came in gray… Check out this (Seattle, $9500 buy-it-now, 5300 miles):
quote from seller's listing:
[…] From what I am told, the 1st owner was a serious bike collector from Florida. I was able to contact the salesperson from 2004 and he tells me the bike was always meticulously maintained by that 1st owner. We are also led to believe that the 1st owner carried out basic performance mods such as upgraded camshafts, mild cylinder head porting, carburetor rejetting, fuel system sorting, racing exhaust, different rims, upgraded calipers, etc. I do not have specific info on the internal engine mods but both Jay and the salesperson from '04 recall the bike being represented as such. I can tell you the bike runs strong, crisp and way better than the stock SB6R I had in 1998.

So why the heck is the bike this color? Funny you should ask! Jay did not care for the solid red paint scheme as delivered from the factory. He removed all the bodywork sometime in early 2006 and handed it to a well known local Seattle bike painter to create what Jay thought would be the ultimate paintjob for his expensive piece of Asian/Italian finery. Three years later Jay finally got fed up and picked up his bodywork which had been sanded and prepped for painting but that was all. He wanted to ride so he bought many cans of grey Krylon and went to town. […]
Again, compared to other SB6 Bimotas listed on this site, this seems high regardless of how much expense has gone into this bike. If we were talking about a garden variety GSX-R or Ninja, I'd give the Krylon painted bodywork a pass, but not on a Bimota!
__________________________________________________________________
Yep, another Ducati 851. Isn't it great owning your own website so you can be this self indulgent? Self: Yes! Check out this :
quote from the eBay listing:
I just picked the bike from Hansen's BMW Ducati in Medford, Or where they completed over $1500 of service on the bike. The bike needs nothing but more gas. It is currently titled in California if that is a concern to your titling issues. Besides being incredibly beautiful, it has some very rare and historic parts bolted to it.
Make sure to read the full description on eBay. This bike reportedly has $40k in upgrades and work, and apparently a history to back it up. There is an interesting thread on the Ducati 851/888 mailing list debating what the value and sale price value look like. Most agree that it's worth mid-teens but won't likely get over 9-10k at auction.
Update 10.6.09 – This auction ended at about $4900 reserve not met.
__________________________________________________________________
Finally, Ari spotted this street legal RS125 on the Bay Area Two Stroke forums (1400 miles, $8500):
quote from the forum listing:
I have a 2009 RS125 California plated bike for sale.
Mods are as follows:
1. 154cc Big bore kit
2. 34mm carb (properly jeted).
3. Intake manifold.
4. V-force reeds.
5. Arrow pipe.
6. Euro wiring harness, lights, switches, mirrors, etc.
7. Seat cowl
8. Carbon Fiber Chain Gaurde
As i said it's registered and has around 1400 miles on it. Very fast, runs excellent !
Seller is definitely asking a premium for this one as it's nearly impossible to get something like this registered in California. But I sat on one at last year's Seattle Motorcycle Show, and it's a beautiful machine. So light and the craftsmanship is awesome! Thanks for the submission Ari!
dc