For Sale: 1994 Ducati Superbike 888 LTD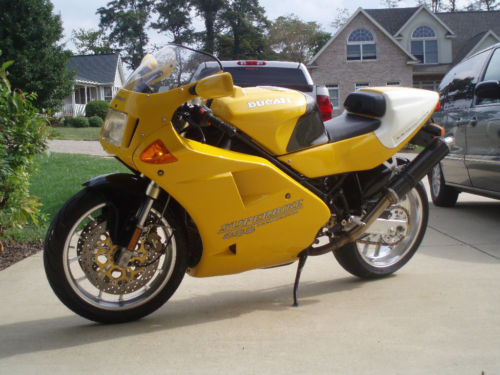 With the release of the 888, Ducati once again raised the stakes in the Superbike market. Based around the last iteration of the 851 Superbike (which had already been punched out to 888cc), the 888 refined the concept and upped the ante. With more horsepower than the 851, upswept exhaust chambers for greater cornering clearance and upgraded components throughout, the 888 was raced successfully by the likes of Doug Polen.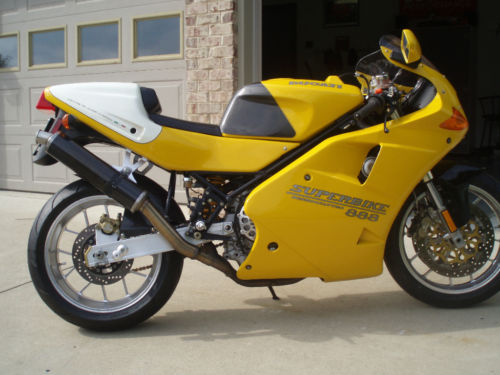 Sharing the square headlight and vertical nose vents as the 851, the 888 did not appear outwardly changed. Under the skin, however, the upgraded motor added the go, and updated Brembos front and rear helped the bike stop. For those of you into homologation superbikes, be sure and check out this great comparison between the Ducati 888 and a the Yamaha OW01. And for more information, be sure and check out the 851 and 888 forum.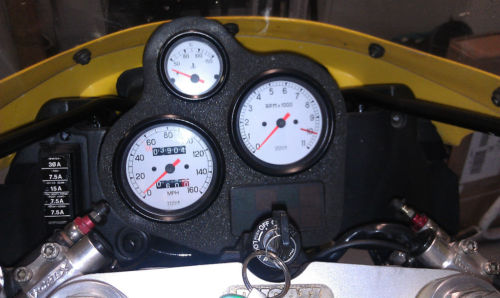 From the seller:
Here is one beautiful 888! The pictures tell no lies! Many are aware of this iconic motorcycle, what it represents for Ducati and race fans alike. Definitely a bike to lust for, as they are getting more difficult to find in such good condition.

This 888 has been custom painted to Ducati yellow, along with some nice upgrades as follows:
Carrozzeria Aluminum wheels
Michelin Pilot Power tires (have about 500 miles)
Carbon Fiber exhaust
Steel braided brake/clutch lines
Silicon hoses (Blue)
Up-graded front discs
Carbon Fiber tank protector
Carbon Fiber fenders front and rear. (stock on 94′ LTD. oops, front not pictured but will convey with bike)

Many more, as well as complete service done at 3000miles. Installed new belts, valves adjusted, all fluids flushed, along with new chain/sprockets, race brake pads.

I am 2nd owner of this bike, bought it back in 97′ with barely 1000 miles on it. Bike was always stored indoors, either in my custom built display or my garage. It has always been well maintained and cared for, having oil/filter changed more than necessary to keep it extra clean and smooth. Ridden only for pleasure at a nice "spirited pace", and ridden at the track 3 times as well, it's a seriously fun bike to ride. Although it gets very little use, I hate to sell it. I had listed it last year with only 3500 miles with a reserve of $12,000, It got up to 10k if I remember correctly. I am listing it with a NO reserve, and a lower BIN, so bid/buy as you like. There are other 888's to be found, but this one stands out, and has very low miles, is in outstanding condition, and will not disappoint anyone.

I have most, if not all of the original parts. (Exhaust pipes, wheels, hoses, foot pegs, etc) These can be obtained by winning bidder at additional costs, along with a complete set of sharkskinz race bodywork if desired.
While normal livery is the traditional Ducati red, this particular bike has been repainted in stunning yellow – reminiscent of a 900 Superlight or first generation 748. The paintwork plays off well against the carbon cans (which must sound awesome), and the whole package really looks great. The seller has made a lot of additions to the bike, the result which modernizes the aging 851/888 look.
This auction is going on right now and the current bid is only $7,100. There are less than 4,000 miles on this beauty, and there is no reserve in sight. This is more than fair money for a 888, and the upgraded equipment represents a real bargain at this juncture. For your chance to view all of the pictures and details, click the link and jump over to the auction. Good Luck!
MI