Introduced in 1987, the 851 was a huge leap forward for Ducati, adding four-valve heads, liquid-cooling, and fuel-injection to their 90° v-twin. The resulting engine was good for a claimed 93hp at the rear wheel and was dubbed the "Desmoquattro" for obvious reasons. The new bike allowed Ducati to again be competitive in racing, and was followed by a bored-out 888cc version known, shockingly as the "888."
Interestingly, the new superbike was styled by Pierre Terblanche. For all of the controversy surrounding his tenure at Ducati, people often forget that he also designed the Supermono and the restyled Pantah-engined 900SS as well as the 999/749. The 851 isn't pretty in the same way as the 916, or as aggressive as the new Panigale, but it looks simple and purposeful in a way that some of his other designs were not, and has definitely aged well.
It's not completely clear, but I'm assuming this bike is based on the Strada version of the bike, not the higher-spec SP. Those front calipers, while not original, should provide plenty of stopping power. And the Giacomoto Spagetti exhaust is more than just a pair of slip-ons and should provide enough boom to annoy neighbors two towns over and help produce some legitimate power gains.
The add doesn't mention if he has the original parts, other than the pictured original wheels, but that information would just be a quick email away.
From the original eBay listing: 1991 Ducati 851 for Sale
The bike is 24 years old, I have had it almost 24 years. It has a few scratches and the front of the forks have some marks from the salt air [I live and ride on the coast] it is a beautiful bike and it shows very well. The registration shows it as a 90 sold in 91, I believe it to be a 91.

903cc
high compression pistons
SPS cams
light flywheel
Barnett Clutch
magnesium side case
single seat tail [aluminum subframe]
ISR Calipers
Brembo GP brake and clutch masters
floating rotors
Brembo 4 piston rear caliper [probably from a small cc gp bike]
Giacomoto spagetti exhaust
magnesium wheels [original white wheels included]
Sato adjustable clip ons
tool kit and steering damper [not shown]  

I have had the bike for about 20 years, I believe I am the third owner. Engine work done by Evoluzione, runs great, do not ride much,I am 72. I will be selling my other Italian bikes. If this add seems a little lame, its my first attempt on Ebay Motors. Any questions please ask. $1000.00 to my paypal account on completion of sale, the rest wire transfer to my bank. The mileage is approximate, the magnesium wheels do not have a speedo pickup. Once again, clear title, registration is current.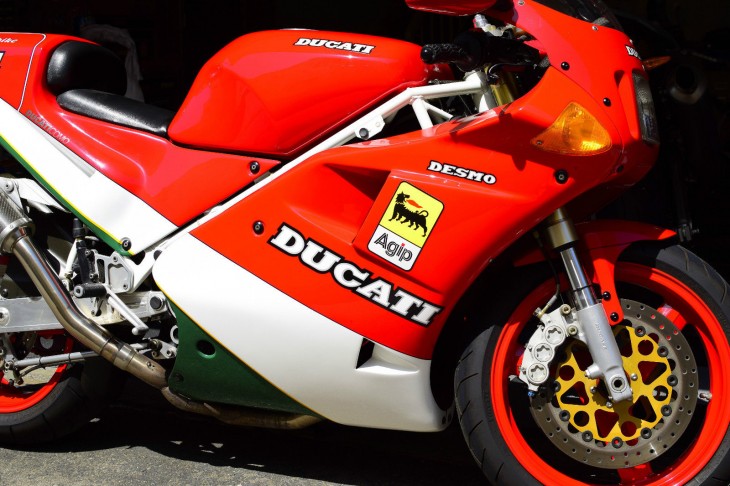 This isn't completely perfect, low mileage, or original, but that shouldn't deter buyers: the updates are all appropriate, although the ISR brakes might cause some controversy, and the bike has obviously been owned by an enthusiast.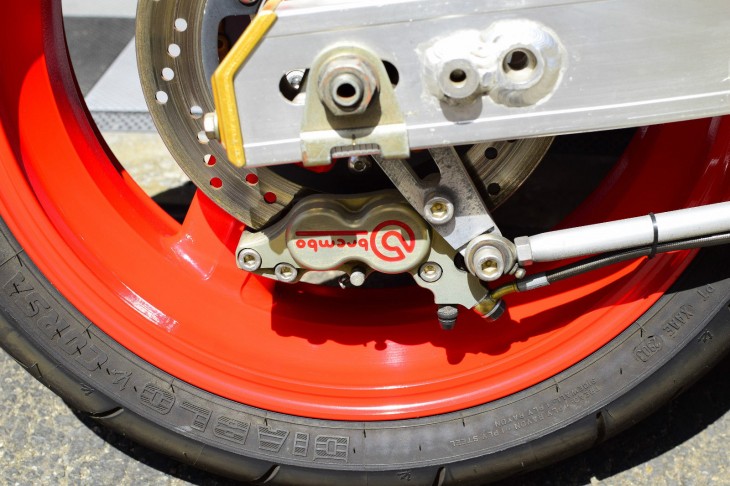 19,000 miles shouldn't scare anyone off: Ducati engines are generally very durable when properly maintained and this one appears to have been shown plenty of love. It's hard to see the exact condition of the paint from the photos, but it looks very clean and well looked-after.
-tad