Location: Hendersonville, Tennessee
Miles: 3,911
Price: $9,999 opening bit with No Reserve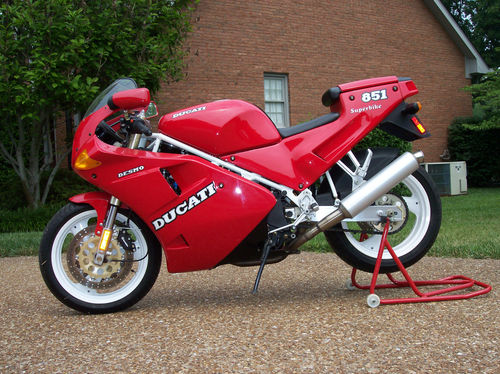 Up for grabs here we have the race-proven Ducati 851. Now, it isn't an SP model, but don't let that deter you from taking a look. We all now that Ducati basically wiped the slate clean and when the 851 dropped, it featured a liquid cooled motor, four valves per cylinder, and electronic fuel injection. It had to do something to keep up with the Japanese bikes of the day, and it proved very effective in Superbike racing.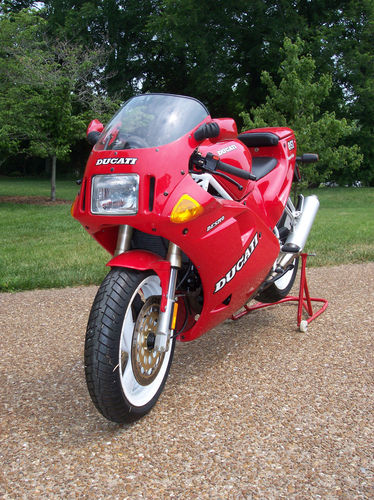 This 851 in particular is a one-owner example and looks to have been well taken care of in maintenance through its lifetime. If the seller is true in his owning an YB-6 and RC30 at the time of owning this, I would be inclined to say he was no stranger to up-keep of high end motorcycles. An SP clutch cover and rear sprocket with a Pro-Italia chip highlight a short list of modifications to the bike.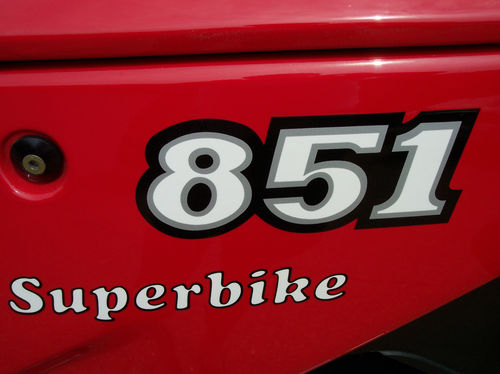 More from the seller:
…The clutch cover was replaced with a Ducati SP ventilated unit. The rear sprocket was also replaced with an alloy Ducati SP item. The micro chip was first replaced with a Euro chip, which was about as ennimic as theUSspec one. So a Pro-Italia +5 chip was installed. That did the trick.

The air filter was replaced with a K&N air filter, and the restrictive exhaust baffles were removed. These were just held in by one spot weld and were designed to be removed.

The side stand has been modified, so as to not retract when weight is not upon it.

I gas tank pad was placed on the tank for protection.

The bike was used until about 1994. Then it was placed into storage, with about 3500 miles on it.

In about 2006 it was taken out of storage with the aim of returning it to the road.

The oil and filter were changed. A new battery purchased. The timing belts were replaced. The brake and clutch fluids were replaced. The valve adjustments were checked.

Them were had our second child, so it went back into storage with about 3900 miles on it. I put new Metzler Z3 tires on the bikes just before storage…
That is just a section of the seller's detailed description on the bike. Click over to the auction for the fuller ad. The opening bid is set for $10k, which is higher than most 851's we have seen considering it is a non-SP version. However, finding a one owner and well maintained example isn't all that common. Do you think that pre-Audi Duc's will increase in value at a higher rate? Check out the auction here and snag this Italian stallion.
-JS