I expect quite some debate around this post here: a Ducati 851 ….in yellow! To be honest, I had never seen one like this before and thought the yellow color was first introduced with the 916 model.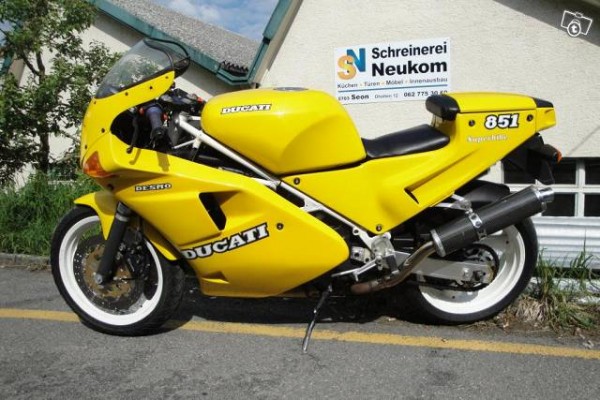 While I am not in a position to verify the condition of this bike available in Switzerland, I was so curious when I saw it that I thought collecting reactions through the blog could be an interesting journey. I even found a video of another yellow model:
The 851 itself is an obvious milestone motorbike for Ducati, representing the first 4 valve (quattro valvole in Italian) Desmo engine. Extremely successful on race tracks (capacity of the 851 SBK model was already 888cc), the 851 is still a superb handling bike with a powerful and torquey engine. Owning a 1993 888 Strada I can recommend one of this early Ducati superbikes to anybody. The styling of the 851/888 bikes is not of everybody's taste, especially when compared to the stunning 916/996/998 forthcoming models. Nevertheless, the bike is great fun to ride and more comfortable than the latter models.
Then, if exclusivity is what you are after, how about a YELLOW 851.  This sample is on sale for about 4000$ and that's cheap if the bike is in good condition. The seller mentions that the motorbike is in good mechanical condition and that the belts were changed recently. The bike comes with an aftermarket carbon set of mufflers (not Termi's though) and the originals are also included. At the rear an Ohlins shock is fitted as described by the seller:
Ich verkaufe hier ein Ducati 851 mit nur 19900 Km,zum aufbereiten.Mechanisch ist in top Zustand,vor ca. 3 Monate habe ich ein Service machen lassen,die Zahnriemmen wurden auch ersetzt.Beleg vorhanden.Hat 2 Auspufftöpfe aus Carbon(originale sind vorhanden)Die Ducati ist mit ein ÖHLLINS Federbein ausgesttatet.Braucht eine neue Batterie.Besichtigung erwünscht.
He also mentions the km stand at 19900km and the bike needs a new battery. Judging from the pictures the rider's seat seems a bit odd and the gap from the tank to the rear fairing a little too large…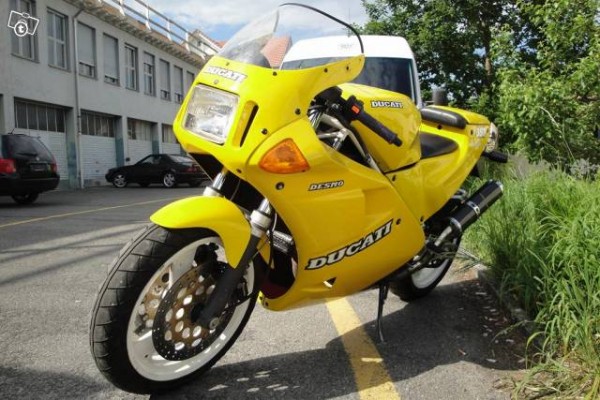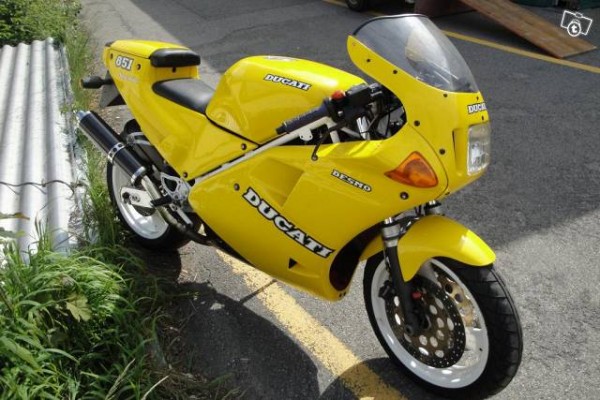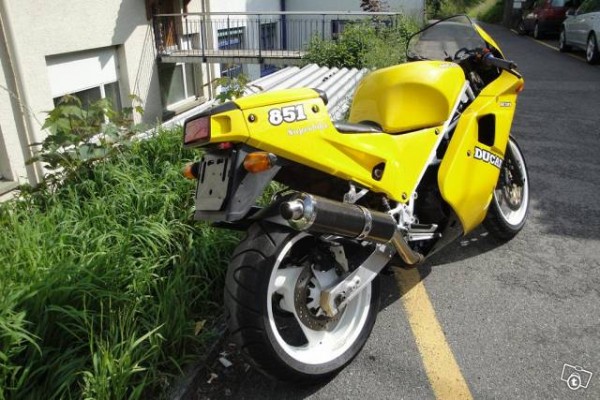 Anyway, in case you'd like to find out more, please follow the link below:
Claudio