You know it is exotic when the engine size doesn't match what the badge on the fairing says.  Ducati meant it when they called this the Raymond Roche Replica;  it was built for racing.  No SP with lights here.
Here is info on the Roche Replicas (from ducati851and888.com):
Factory built at the end of 1990 as a close copy of Raymond Roche's 1990 World 'Superbike' championship winning bike.

Ridden to Victory by Doug Polen in the 1991 and 1992 championships.

Produced in two batches of 25, 50 in total, all identical.

The front mudguard, fairing under the swingarm and the upswept exhausts were the result of post season wind tunnel testing on Roche's 1990 bike.

No ignition key, starter motor, side stand, cooling fan, speedometer or road gear of any kind.   Frame and swingarm different to the road SP.
Weber-Morelli ECU housed in the nose cone, and not under the seat, as on the SP.
Higher compression ratio than the SP.
Each of the two 50 mm throttle bodies had a second injector added.
Ported head with higher-lift, longer-duration cams.
Intake and exhaust valves 2 mm larger than SP.

Carbon Air intakes, Airbox, Fuel tank, paper thin fairings, seat unit, front/rear mudguards and exhaust heat shield.
Black areas on the lower part of the fairings are unpainted Carbon Fibre and are not painted black like the SP.

Racing battery.

Magnesium Marvic wheels with Michelin radial slick tyres as standard.

Billet Brembo brakes, Competition radial levers
I saw on another discussion group, a  claim that 10 were imported to the United States with a $50,000 price tag.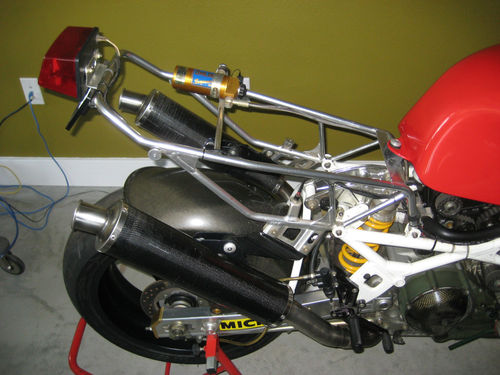 Like a true race bike, the electronics are upfront and not nestled in the subframe.  Yes, they did come with a tail light but no bulb was intalled or wiring for that matter.
Having said that, check out the story on this bike:
This particular bike was imported and purchased brand new through Pro-Italia by a well known actor who actually used it as a road bike. I believe this bike was never raced. The original owner got a clear street title for the bike and that will be included with the sale of the bike. The bike was very well known in Southern California in the early 90s as being a Factory Superbike ridden on the road. The bike has a tail light wired with a banjo bolt with a brake light pressure switch. This can be easily removed to return the bike to original form. I have the original sales receipt as well as an extensive list of very detailed service receipts from Pro Italia and Ferracci as well as a long list of spare parts and hard to acquire Corsa bits. This bike can be used as an over the top road bike, the ultimate track day bike or as part of a pristine collection. The bike has a presence all it's own. It has a raw factory look and feel… Carbon, Magnesium, Titanium and billet. It reminds me of a Ferrari F40 on two wheels. This is not a road bike made into a race bike. This is the real deal. Hand made in Bologna, Italy with passion and pride. The bike has only been serviced by the best certified Ducati technicians. I will gladly connect the buyer with a certified Ducati Dealer who can confirm this bike's authenticity and pedigree prior to buyer transferring funds AFTER initial $ 1000 deposit has been made. The bike has always been kept inside the previous owner's office or my living room. If you are having trouble finding specific information about this rare Ducati email me and I can point you in the right direction.
I don't know if we've had a more interesting bike on RSBFS.
Oh yeah, there are some serious spares:
Spares Crate:

I have a very extensive spares kit still in the original Cagiva/Ducati bags that comes with the bike. This is the kit that originally came with the bike as well as the huge list of Corsa parts that the original owner was able to acquire through his connections with Ducati Corse and NCR. I will attempt to list everything although I am sure I will skip something. Feel free to contact me if there is something specific that you are have questions about…

Complete Poggipolini Titanium bolt kit still in the original bag ( rare! )

FG Special Parts paddock stand

2 sets of brand new complete Termignoni Corsa exhaust

Complete set of Corsa mapped ECU EPROMs

Spare piston jugs

6 different ratio Renthal sprockets

Spare clutch/brake levers

Spare foot pegs/rearsets

Spare Corsa pistons

Spare fuel injectors

Spare ignition wires

Spare stainless lines

Spare gastkets and seals

Spare pulleys and flywheel

Spare valves

Spare heads

Spare Ohlins rebuild kit

Spare stainless velocity intakes

Spare clutch cover

Spare filters

Spare handlebars

Spare Carbon heat shield

Spare clutch plates

Spare Champion Racing spark plugs

Spare fuel pump

Tons of small bits, clips, seals, connectors, etc. too much to list
Lets hear your opinions, what Ducati would you consider more exotic or desirable?  I think I'd put the Supermono in that category.  How about one of the 916 specials?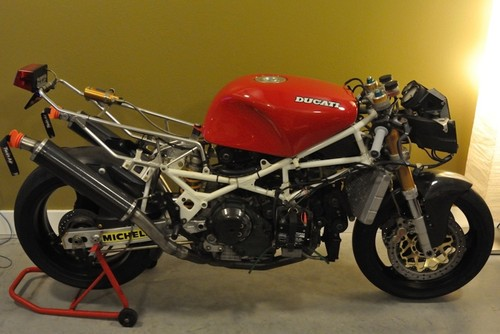 Engineering art in my opinion.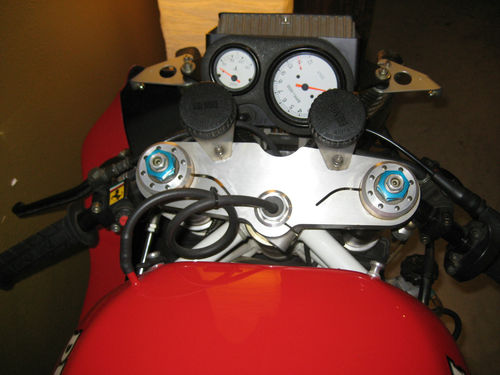 Want to put your hot little hands here?  The bidding is set to start at $55,000.
Ian