Indianapolis, IN – 6,404mi – $10,500 BIN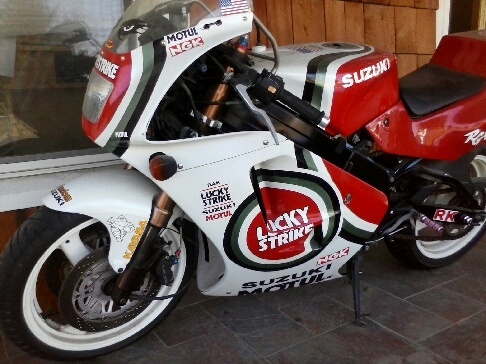 Feeling lucky? Up for sale here we have an RGV250, not only shrouded in awesome Lucky Strike livery, but also shrouded in mystery. With only two partial photos of the bike and a couple of sentences in the description, it has peaked my curiosity. Now this doesn't look like a factory LS model, as they came with a black/red frame and slightly different variations on the graphics. The earlier models came with a different variation on the graphics. You can check out Ian's RGV Lucky Strike School here.
It's hard to offer much analysis on this bike as so little is offered up by the seller. It is stated as an SP with a dry clutch. Maybe those RGV nuts out there can chime in and offer anymore insight about this claim. Bidding is active and up to about $3,500 already, but the reserve still remains. The BIN is pretty hefty in my opinion with out more information and pictures. Take it from someone who looks at tons of for sale ads a day, more details are ALWAYS better. However, I am still intrigued and feel almost a gambler's high when thinking about this ad. It's a roll of the dice. Feeling Lucky? Then check out the auction here!
-JS