Location: Rockford, IL
Miles: 0?
Price: Currently $8,100 with Reserve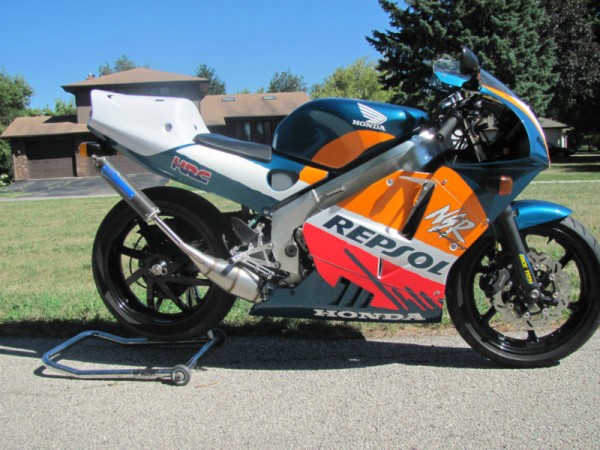 Here is a good one for all you two stroke fans out there! The Honda MC28 was the pinnacle of the NSR250's as it was the last generation. It featured PGMIV technology as well as the Proarm swing arm as seen on other Honda models of the time. This is what 250 two-strokes are all about!
The bike up for sale may look like an SP at first glance, but it is actually an SE model wearing OEM Repsol body work. I'm not complaining, because I this is definitely my favorite body work of the NSR's. Also, this bike has apparently not been ridden since being imported 14 years ago. It has however had a complete restoration including a rebuilt engine, Re-sprung SE forks, Ohlins rear and steering dampener, new chambers, lots of carbon bits, and a host of other upgrades.
From the seller:
1995 Honda NSR 250 MC-28

OEM Repsol Bodywork –

SP Forks Re-Sprung and Gold Valving and the lower fork legs hard anodized black – all work done by Race Tech

Ohlins Rear suspension and Ohlins steering damper

The Motor was completely bead blasted and powder coated black and completely rebuilt – New crank/pistons & rings/power valves shafts & seals – All gaskets & Just about every nut, bolt, stud on the motor was replaced w/OEM Honda

TSR Stainless steel Chambers With Carbon/Kevlar Silencers With Titanium Outlets

HRC Harness and 030 Card – HRC Lower Head – HRC Reed Stuffers HRC Jet Kit (carbs also completely rebuilt) HRC Rear Brake Reservoir

Since the HRC Harness has no provisions for lights a custom harness was installed to run parallel but completely separate from the HRC Harness – the harness runs Head light, tail light and gauges

Tyga CNC Triple Clamp, Rear sets with carbon heal plates, and brake & clutch levers – Carbon clutch cover, Carbon Gauge Cover, Carbon Radiator Cover. And a couple misc custom carbon covers – speedo drive block off plate, steering head lock block off plate etc

Goodridge Brake Lines Carbon/Kevlar with stainless steel fittings

PFM Rear Brake Rotor

Wave front Rotors

Ferodo Brake Pads

AFAM Sprockets & DID Chain

A few titanium bolts – Rear axle Nut – subframe support – front & rear brake caliper – front axle pinch bolts etc – And a bunch of stainless steel nuts bolts etc

There is also a Rear stand, Parts Manual, Service Manual And HRC Manual (HRC Manual in English & Japanese) And a spare set of carbs as well as the rest of the HRC Jet Kit, a few other odds and ends and a couple of the stock pieces that came off the bike.

I Have owned this bike for 14 yrs, aside from the importer I am the first US Owner and in the 14 yrs I've owned it it has NEVER been ridden it sat unfinished in my basement for a very long time & recently decided to finish my project, it has never seen any sort of rain or adverse conditions, The only issue i know of are a very small blemish on the front upper cowl (see photo) – I've been told it would be very easy to remove but I do not want to alter the stock bodywork in any way

In my opinion the bike is equal to or better than something that just rolled out of the crate, feel free to contact me with any questions

The bike is being sold "AS IS"

Just to clarify, This bike is Not an original SP. This bike started off as an SE-R2R and was upgraded with SP forks and SP bodywork.
This is hardly a bone-stock example of an NSR250. But what it lacks in originality, it more than makes up for in high quality upgrades and appearance. The seller states that it is at zero miles since the rebuild, but no mention of Km's on the odometer. But that number shouldn't make too much of a difference on the price of this bike given its "like new" status of all its new parts. That OEM Repsol body work is rare as well given that only 1,000 SP were produced in that livery. Bidding is already off to a fast start, but the reserve remains in place as of now. You can check out the auction here and place your bid!
-JS