Glenwood Springs, CO – 36,000mi – $2,500 BIN
This is the third FZR750 we have featured in as many weeks. I am wondering if the sale of the first one has inspired people to list their rides. The second one is still for sale and current bidding is well above the price for the BIN for this bike.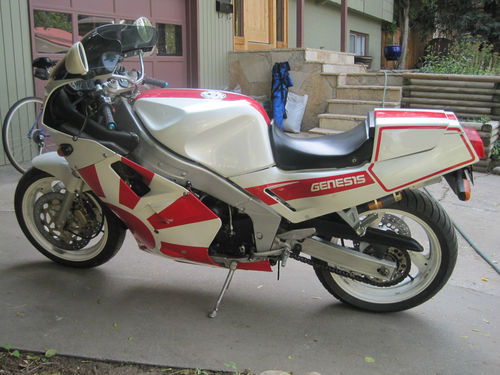 These are know as the predecessor to the OW-01 (this one seems like a steal if it checks out!) and were homologated for AMA racing, meaning that roughly 200 were brought to the US for sale. The current bike for sale here has significantly higher miles than the last two with a whopping 36k on the clock. It also doesn't appear as stock with some little mods here and there and most noticeably the Japanese flag style main lower faring.
From the seller:
1 of 200 imported into the US, 36k miles, spares, custom Kerker exhaust, runs great, ready for street or museum. Located in Glenwood Springs, CO, USA

This bike was the immediate predecessor to the famous OW01. It is extremely rare to have an oppurtunity to acquire a homologation race bike. They were the fastest bikes made at the time and there were very few produced….just enough (200) to meet homologation race rules and qualify as a "production" bike. It runs, sounds and handles like a race bike because it is one…..only made street worthy with lights and signals.
The bike looks clean from the photos. There are no straight on shots of the pipe-side of the bike, so its hard to tell if there are any frame or crank case scratching to indicate if it was ever down. I would be curious as to why the lower fairing was changed from stock (crash or style preference?). Regardless, its still a cool and uncommon bike with a relatively low BIN. Want it? Then check out the auction here and act fast!
-JS