Location: Cincinnati, OH
Miles: 12,750
Price: $18,000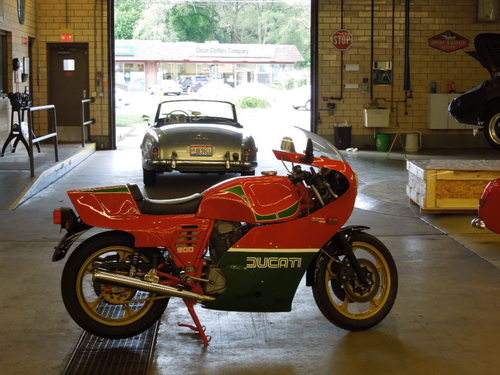 After and eleven year hiatus from racing, Mike "The Bike" Hailwood returned on a Ducati and won the isle of Man TT. To take that long of a break from racing and return to race in such a dangerous race is impressive in itself. But to win it is the stuff legends are made of. Ducati must have though the same thing because they produced the 900MHR shortly thereafter to commemorate the event!
In 1984, the 900MHR got a bump in displacement as well as a reworking of a several key areas in the drive train. Now the bike up for grabs here is an '83 model, meaning that is the 900cc version of the MHR. The 900 isn't as fast and trick as the 1000cc bike, but it is still an awesome looking bike and it represents something very awesome in the world of racing. This particular bike looks to be in good condition for its age. Though take note of the lower fairing damage pictured which the seller states happened while in storage. It was restored 11 years ago, so I am assuming that happened after that.
From the seller:
For sale is my 1983 MHR. The bike was cosmetically restored to a very high standard about 11 years ago and ridden very sparingly since. Recently, the carbs, brake hydraulics, fuel, and electrical system have been gone through and serviced and sorted as needed (fluids, filters, etc.). The bike has all OE parts. The Michelin tires have still have the nubs on the tread. All gauges and electrics work as they should. The bike runs and sounds absolutely wonderful. The chrome Conti exhaust pipes are beautiful. The paint is very nice, with minor damage at the lower left side of the faring that occurred while the bike was in storage. As seen in the pictures, the odometers reads 20520 kilometers. This bike would make an excellent addition to anyone's Ducati collection but isn't so valuable that one couldn't ride and thoroughly enjoy it. Please don't hesitate to contact me with any questions.
The bike looks to be very clean and these don't pop up for sale too often. The condition of the bike looks good and a deep cleaning would do wonders. A pristine 1000cc version sold back in September for $21k. I think the asking price of $18k is a little on the high side given the smaller engine and slight cosmetic damage on the bike. But the for sale ad does have the "make offer" option, so maybe it could be scored for a little less. Check out the ad here and add this to your Ducati collection!
-JS