Pompano Beach, FL – 16,000mi — $5,700 with Reserve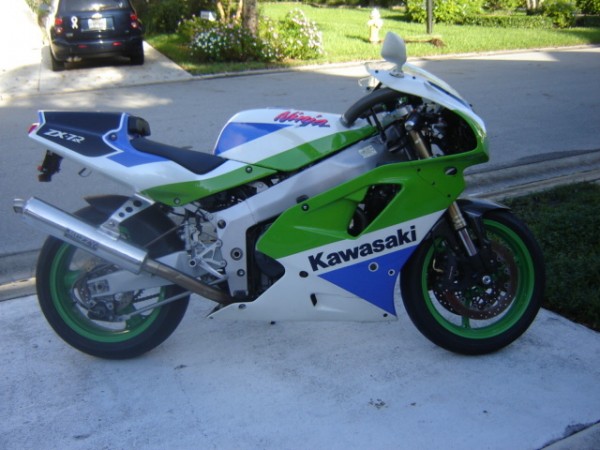 Are you looking for that sportbike with classic looks and racing history, but needing some current technology? Then stop and take a look at this 1992 ZX-7R. The ZX-7R was homologated for World Superbike use and featured an aluminum tank, flat-side carbs, adjustable suspension and more horsepower than the standard model of the time.
Original complaints about the flat-side carbs were that low speed riding wasn't as smooth as the base ZX-7. We all know that with proper tuning, these were screamers on the race track, but for those who aren't rocketing out of pit lane, the seller as replaced these with the standard carbs (don't worry, the flat-side are included). The bike also features a host of upgrades, including the front end off an '09 GSX-R750.
More from the seller:
The bike have a full Muzzy exhaust with Dynojet carb kit on 38 mm CV carbs from a regular 1992 ZX7 model plus a K&N airl filter.
Why the vacuum carburetors?,so make it easy to ride at low RPM.
I have the CR FLAT SLIDES carbs on a box,with the throttle cables ,airbox and manifolds.
The bike have as well a rear Penske race shock,steering damper,Woodcraft rearset,Vortex clip ons with matching purple bars (same color as the word NINJA at the fuel tank).
The bike have a profesionally installed front end from a GSXR 750 2009,with a custom billet top triple clamp with radial pump and brake calipers,rotors,carbon fiber fender,wheel (power coated to match).So you get current brake power and suspension,plus save couple pounds.
For collectors I have the stock front end as well:forks ,triple clamps,brake calipers,rotors,wheel,fender,axle,clip ons,etc.
The bike have Galfer SBK steel braided brake lines.Very expensive ones.
And lightweight 520 chain with lighter sprockets,and almost brand new Bridgestone tires.
I have all the stock parts beside the stock exhaust.
As you can see all the upgrades are done for a professional tech.
Bike have a clean Fl title on hand and everything works perfect.
Sure this may not be a bone stock example of one of the coolest bikes ever, but it is still one of the coolest bikes ever. To me, the ZX-7R K1 represents the allure of what homologated specials from the early 90's were all about. Bidding is already active and up to $5,700, but the Reserve remains in place with roughly four days left. If youre interested in the Kawi classic, then check out the auction here and place your bid!
-JS