Vancouver, BC, Canada – 8,450mi – $2,125 Reserve Not Met
If this Ninja looks familiar to you, then consider yourself a genuine RSBFS super-fan. This bike was featured back in November and again previously in '09. It does look slightly different than it did a few months ago, so if you couldn't make the spot then don't feel bad. This time around, an Akrapovic pipe is now in place with the addition for a few more stickers.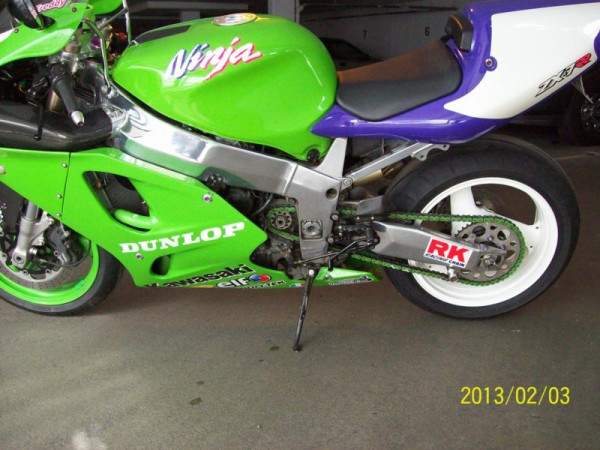 If you're looking for a collector's bike that is pristine and ready to go up in value, then this may not be the bike for you. However, if a project bike/ track bike/ weekend warrior is something more up your alley, then this may be a good one to consider. It looks to have a plethora of modifications and maintenance over its life and has definitely been ridden, although miles aren't all that high.
From the seller:
This is a Canadian specification 1996 ZX7RR (#665) that has spent most of its life in Ontario. It has a clear BC title and is currently licensed and insured.

Mileage is very low at 13590 kilometers (8445 miles). It is regularly ridden and runs beautifully. The perfect mechanical condition makes up – in my mind – for the visual aspect that is no longer original. This is a very well known bike that has been very well taken care of throughout its life.

New consumables:

Dunlop Q2, tires

Yuasa battery

NGK spark plugs.

Oil (Motul V300 10W40 full synthetic)

Oil filter (K&N)

Coolant (Motul Motocool)

Brake Fluid (Motul RBF 600)

Aftermarket parts:

Rumble Integrated taillight
Undertail
Gilles rearsets
Samco silicone hoses
Zero gravity double bubble screen
Pazzo levers
Sebimoto carbon air intakes

Sebimoto carbon front mudguard
Full Akrapovic Evolution titanium high mount exhaust with Akrapovic carbon fiber hanger.
For whatever reason, this bike has changed hands a couple times over the last couple years. Maybe someone had hopes of a complete restoration and just couldn't manage it. Maybe someone wanted to have a fun bike to ride and now they are moving onto something different. Now is your chance to add your legacy to #665 and you can check out the auction here!
-JS