Tampa, FL – 6 miles – $26,000 BIN
In 2006, the Ducati 999R was the pinnacle of superbike technology for the street. Ducati had returned to AMA superbike racing the previous year and had reworked the 999R from the '03-'04 model even further to bump up the horsepower to 150 (from 139). Of course the bike featured the latest in Ohlins suspension technology and more carbon fiber that you could ever hope for. There is no doubt that these bikes made a statement.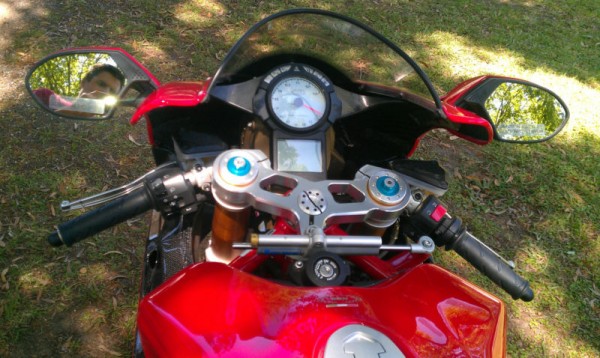 Considering all of that, and the original MSPR of the bike, its easy to see why we see a lot of Ducati's of this caliber in exceptional condition. Probably not too many people out there who throw their $30k bikes around without a care. But to see one of these with single digit mileage is something to behold.
From the seller:
Up for sale a highly collectable Ducati 999 R,brand new,never ridden in absolute immaculate condition with all the original stickers still on the bike.This is the last Ducati 999 R in brand new,unmodified,unmolested condition for sale in the states!!There are only 6 factory miles on the bike which makes it more collectable and desirable.The MSRP of this bike is still 31,495 $ .Don't waist your time and act,this is your chance to own one of the last unmolested Ducati 999 R !!!The bike has carbon fiber body work among with carbon fiber clutch cover,carbon fiber front sprocket cover,carbon fiber chain guard, carbon fiber belt covers(upper+middle+ lower),carbon fiber heat shield ,carbon fiber mirror struts,magnesium engine covers ,magnesium headlight bucket,titanium connecting rods,forged Magnesium wheels…..I also have a Termignoni exhaust available for the bike,in case somebody want's it for the bike.In 2006 the Ducati 999 R did not come with one.The bike come also with the tool pouch,books,3 keys(2 black and 1 red key which is the service key) and the code card….

…The bike was part of a huge collection with Certificate of origin for the vehicle and never titled before.We applied for the Title a couple days ago and it will take up to 30 days to get it,after that the Title will be ready to be sign over to the next owner.
As stated by the seller, this bike was apparently part of a huge collection. I can't imagine someone buying this bike and putting a ton, if any miles on it. However, it is a motorcycle that was designed to go fast, so why not let it fulfill its destiny. Whatever reason you have for wanting this bike, you can't go back in time to 2006 to buy one. This bike affords you as close to this opportunity as possible. The price is very much approaching the price of a new 1199 Panigale R, and isn't going to be as good of a performer. The styling of the 999R is very unique, and may be preferable to some over the 1199R. Some might just be looking to fill a hole in a collection. Whatever your reason, you can check out the auction here and decide for yourself!
-JS