1997 Bimota Vdue 500
Location: Seattle, WA
Price: $15,100.00 at time of posting (Update 4.19.2011: relisted, now at $5100 with 6 days remaining — and appears to be no reserve! -dc)
Mileage: 346
Originally featured in our Seattle Homologation listing, this rare example is now available on eBay.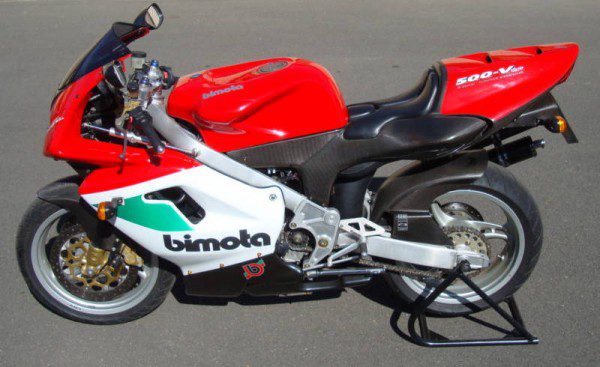 Vdue's have been well documented on RSBFS and none of us know more about them than our beloved author Jay. So, I dug back in our archives and found this information that Jay was willing to share.
The V-due , pronounced "Vee-Doo-A" (translation "V-2″), was just launched about a year prior. This was the bike that was going to pull Bimota out of debt and back on the map, hey "what could possible go wrong" but did exactly the opposite. Following the tradition of the Tesi (another Bimota disaster) the V-due barely ran, had a power band from 9-10k rpm and still wouldn't pass our EPA standards. With all the bad press devoted 2-smokers looked the other way and wanted the bike, so at the time I imported about 7-8 of these and promptly sold them. I kept one for myself and rode it for a summer, mine actually ran "okay" but you had to keep changing spark plugs and one time the exhaust got so hot it started melting the tail section. Others were not as good, one seized because Bimota forgot to open the petcock for the oil injection tank and others were just plagued with horrible running problems. Being a fuel-injected 2 stroke was just plain tough and these bikes clearly needed more R+D. Now stacked with a warehouse of unsold V-due's Bimota decided to sell some as race bikes, then convert some to carb's to try to move them but nothing worked.
I can only vaguely recall 1997 much less the few articles that I read on the Vdue. I due recall all of the hoopla that surrounded the Bimota and the motorcycle that was going to save the company. As I mentioned before, Jay tells a much more colorful version.
Luckily, this Bimota escaped the miss use of hand tools and remains 100% as it left the factory. If I were a collector I would only collect 100% stock, unmolested motorcycles and this one makes me proud.
From the auction:
All original and in excellent condition with 346 miles.

For those true enthusiasts and collectors out there, you"ll already know the history of the Vdue

and the story behind the 500cc two-stroke and how rare the bike is world-wide.

This bike is completely stock and originally came from the Bohnams auction in the UK.

It was purchased by a collector in Japan and then sold to a collector in southern California.

I purchased this bike from the collector in California and it has been in my collection since.

It comes with a Bill of Sale and all BoS and import paperwork from the two previous collectors and has not been registered or licensed for street use in the USA -although this is a possibility through the right resources.

It does not have the carb conversion, modifications or any of the aftermarket parts or the Bimota Cup race kit accessories done to it -or included with it.

If you are looking for an original condition and un-modified Bimota Vdue for your collection, this is the bike for you.
This one appears nice enough to fit into any collection, anywhere in the world- plain and simple!
Cheers!
dd