Update 9.21.2012: This RC30 was first listed in August and failed to meet reserve at $26,600. Links updated. -dc
Location: Costa Mesa,CA
Miles: 4,391
Price: Currently $25,301 with Reserve in place
It's always hard to come back to the office after a vacation, especially a trip to the U.S. Gran Prix at Laguna Seca. However, coming back to an RC30 makes things a little better. You might recognize this bike from the Mailbag posted over the weekend, but I though it deserved its own post. So here it is!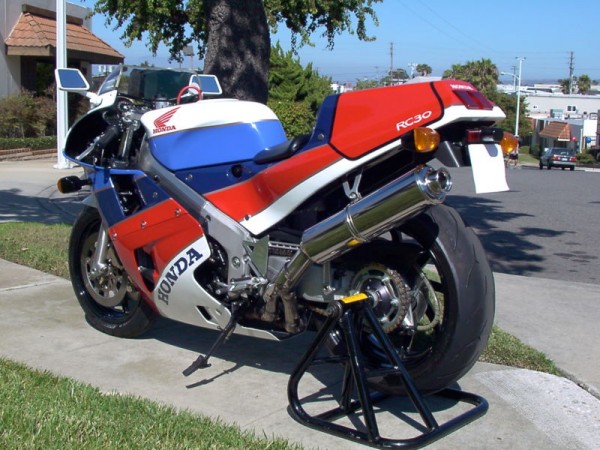 If you aren't familiar with the RC30 (VFR750R), these beautiful machines are the epitome of collectible rare sport bikes. Created by Honda to homologate into racing, these bikes featured hand laid fiber glass fairings and all sorts of race tech. The bike up for sale here looks to be in very good condition and the seller includes a lot of photos to see many angles. The bike has RC45 wheels on it to allow modern tire set-ups, but comes with the original wheels and tires.
From the seller:
I am selling the bike for a friend of mine that has had some health issues for a while and just doesnt see himself riding the bike anymore and i actually sold him the bike years ago and hasn't put many miles on it since either, the bike has RC45 wheels so you can use modern rubber and has a fresh set of Pirelli Rosso Corsa's on it and have the original rims and tires along with owners manual and tool kit.

This bike was an homologation bike and had to make 300 for the USA so they could race them but wasn't just any bike, they went absolutely all out cutting no corners in any area when they made the bike and even when sold new people were aghast at the cost but by rights it was subsidized even at the price it sold for because of the special efforts and materials that were put into it from the honeycomb frame, cam gear driven V4 engine and single side swinging arm which was also pioneered by ELF for quick change in endurance races.

So at the end of the day it really doesnt get too much better than this so you have to ask yourself out of the 300 that were imported and then out of that 300 how many went straight into racing after buying all their HRC power up kits and then how many were totalled and how many of that 300 were sold overseas now as collectible and how many of that 300 are in unmolested all original unrestored condition like this? Desmosedicci err i think not this really is a beauty to behold and would be hard pushed to find a nicer example with such low miles on it and what a dream to ride when you hear that symphony of the gears whiring and that V4 just bursting into life as the rpm climbs into the many teens, it feels like the bike is running free on its own and you just happen to be lucky enough to be along for the ride, the gearbox is as smooth as a hot knife going through butter and the bike feels like a gazelle as so light, you really would kick yourself if you miss this one as don't know when youll see another as not often they change hands.
There you have it, another clean RC30 for sale. The bike has low miles with less than 5,000 and looks to be in very good and maintained condition. The prices on these have been climbing with every clean one sold, and it looks like this is no exception. Bidding is already at $25k and the reserve hasn't been lifted. But I would put this bike at about $27k given its condition and current location. You can check out the auction here and place your bid today!
-JS