A very nice looking RC30 for sale here, spotted on the Rochester Craigslist.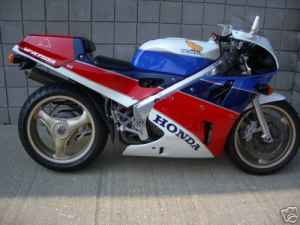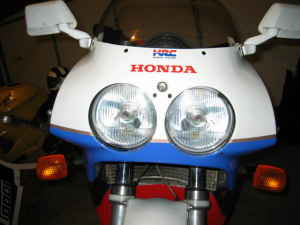 quote from seller's Craigslist posting:
This rare bike only 300 made for the US market!!

Bike is a UK Import with clear US Title and current registration

– Full Race Termignoni Stainless exhaust with Carbon Muffler ($2,900 Value)
– Stock Factory wheels included
– ISR Front Brake Rotors & ISR 6 Piston Calipers ($3,000 Value)
– Carbon Fiber Rear Fender ($300 Value)
– Marvic 17inch Magnesium Wheels (Front & Rear $2400 Value) – powdercoated to match gold color in bike pinstripe

-Ohlins steering damper ($250 Value)

-Ohlins rear shock ($900 Value)

-Racing rear sets ($500 Value)

-Clear headlight lens covers

-SS brake and clutch lines

-NOS OEM tool bag

-NOS OEM rear wheel tools

The Honda VFR750R, frame designation 'RC30', was a fully faired racing motorcycle created for homologation purposes for the World Superbike championship by Honda Racing Corporation (HRC). It was first released to the Japanese market in 1987. American enthusiasts had to wait until 1990 to get their hands on an RC30. The final one hundred RC30 machines were made for England in 1990.
The title and registration, combined with the the obvious care and thoughtful upgrades, make this bike a standout. I'm not sure I've ever seen one listed for sale in recent memory. What do you guys think of the $16k asking?
dc
Update: This posting is pretty outdated. Check out some of these current listings on eBay for bikes and parts right now!
[AffomaticEbay]Honda Motorcycle Rare[/AffomaticEbay]