Update 4.22.2019: This RC30 has SOLD! Congratulations to buyer and seller! -dc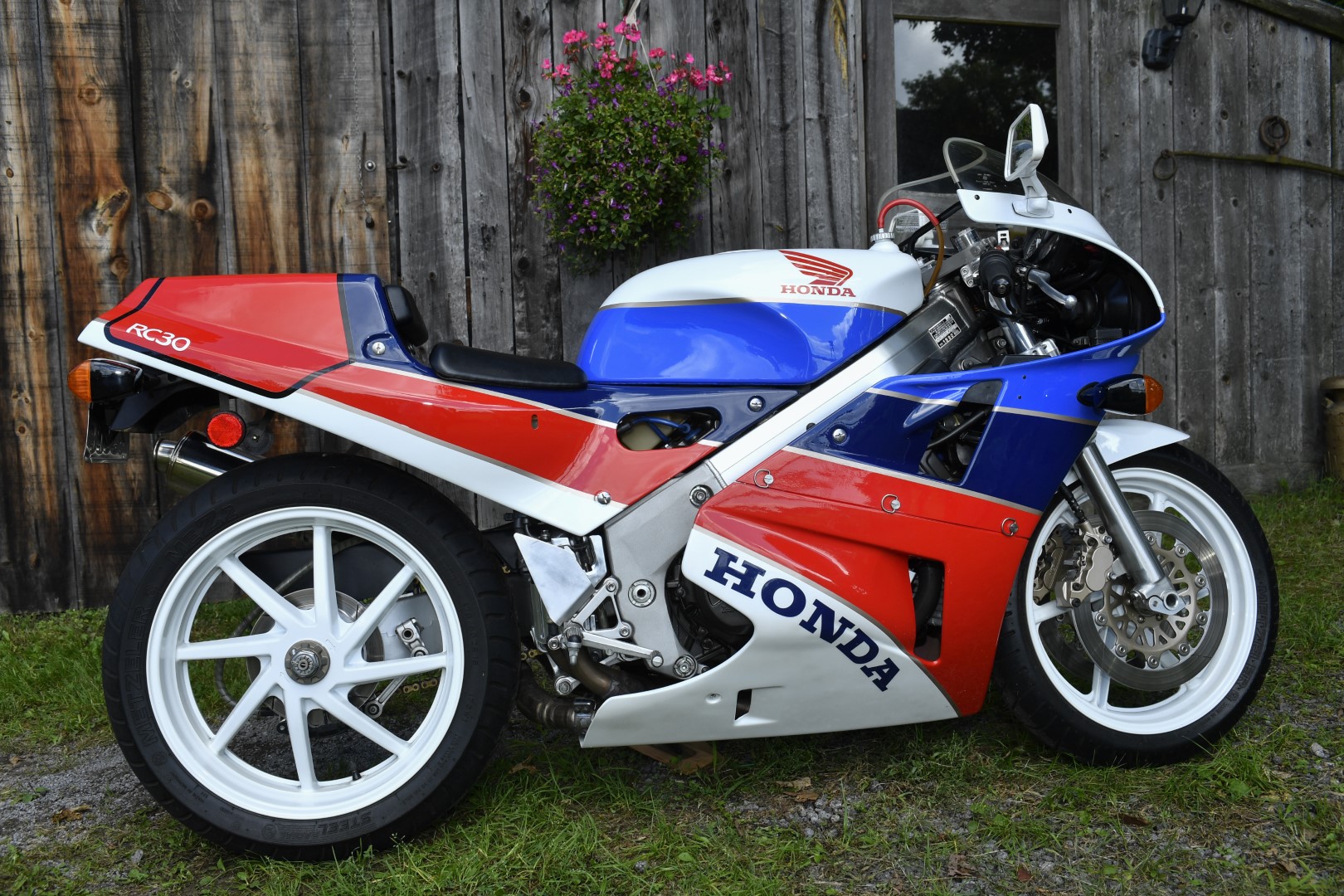 Often considered the darling of the collector world, the RC30 reigns supreme as being one of the most approachable of the highly sought-after rare bikes of the 80s & 90s. Volumes of research are readily available for these fascinating machines, and values remain strong with steady and continued appreciation. In short, the RC30 contains everything that RSBFS readers crave: A fantastic sport bike with racing DNA; A gorgeous silhouette that is THE iconic shape of the era; A mythical soundtrack that matches the good looks; A limited numbers homologation bike… and a good investment. There may be haters out there, but they are vastly outnumbered by those who understand what the RC30 brings to the table.
Featured Listing: 1990 Honda VFR750R RC30
Officially known as the VFR750R, the RC30 differs from the more pedestrian and economical VFR750F in more ways than the similarities. Both bikes have VFR in the title and both utilize a V4 engine arrangement. Apart from the Honda badge on the tank, that is where it ends and where the RC30 takes off. Throwing off the chain-driven engine internals of the previous VF series, the RC30 makes use of a gear-driven DOHC architecture which provides for ultra-precise valve timing and control. This is the piece that contributes to the characteristic whine of these VFR motors. And while the newer VFR-F models also utilized gear driven cams, the motor internals of the RC30 were decidedly more racy. Connecting rods were made of titanium to reduce reciprocating weight and raise the redline. The crank timing was changed to a 360 degree "big bang" sequence instead of the F-bikes 180 degree crank (the latter being smoother for street riding). The transmission was configured for racing – meaning a close-ratio box – and a slipper clutch was fitted. The twin spar chassis was all aluminum, including the revolutionary single sided swing arm. Suspension was all top line offerings from Showa. Devised for endurance racing and facilitating quick wheel/tire changes, even the front of the RC30 has quick-change hardware to minimize pit lane delays. And that is what the RC30 was built to be: a race bike with lights made available to the public. A total of 3,000 units were built.
From the seller:
1990 Honda RC30 For Sale

This beautiful motorcycle is for sale after 18 years of ownership. Its owner is selling his collection of desirable motorcycles due to health issues. It is complete, runs like it should, and has never been down. The bike has been ridden approximately 400 miles under its current owner. In its time it was never raced or abused, and always stored indoors in a dry and temperate climate.
More from the seller:

Because the bike has seen very limited road use over the past few years it received a total carb cleaning and synching within the past few months. At the time, while the carbs were removed, the fuel petcock was also dismantled and thoroughly cleaned by a former Honda mechanic.

The RC30 comes with its original factory tool roll, and the rear swing arm stand.

If you're reading this post you already know this bike's legacy both in Honda's history, and in racing history. The bike was purchased from a collection in Georgia, and imported it into Canada after taking delivery there. It has been licensed in Ontario since that time, and has a clear ownership (title) in the province of Ontario. There are no warranties expressed or implied.
More from the seller:

Price: $28,000 (USD) or $35,000 (CDN)

The bike is located east of Toronto, Ontario. For you U.S. readers, importing a bike from Canada to the U.S. shouldn't be anymore trying than it was to bring it to Canada. Filling out the appropriate forms, and having a bit of patience is all you really need. The owner can assist in shipping, but all planning and costs are the responsibility of the buyer.
This RC30 is in amazing condition, having traveled only some 2,200 miles in it's lifetime. This is helped by the limited ownership; RC30s tend to be coveted and kept in collections for longer periods of time than other machines. This one is no different, and has been fawned over for nearly two decades. These are the types of bikes you hang on to for as long as you can, and those fortunate enough to own one have realized significant gains in valuation. Year after year, this is about as reliable a sure thing that one can find when it comes to collecting motorcycles. And even if you are more into riding than collecting, the RC30 has much to offer. There are those who ride these bikes regularly, which is really how it should be. These bikes were built to go racing, and while they look fantastic as a static display they are much more beautiful at full song.
This particular bike is located in Canada, although it looks to have been a US bike originally. The clocks are in MPH and it has already been federalized. That should help with bringing it back over the border (that, and the fact it is more than 25 years old). This bike comes with some cool RC30 extras, and has been recommissioned to boot. Check out the pictures – feel free to drool a little. At $28k USD this RC30 is priced to sell in the real world. Good Luck!!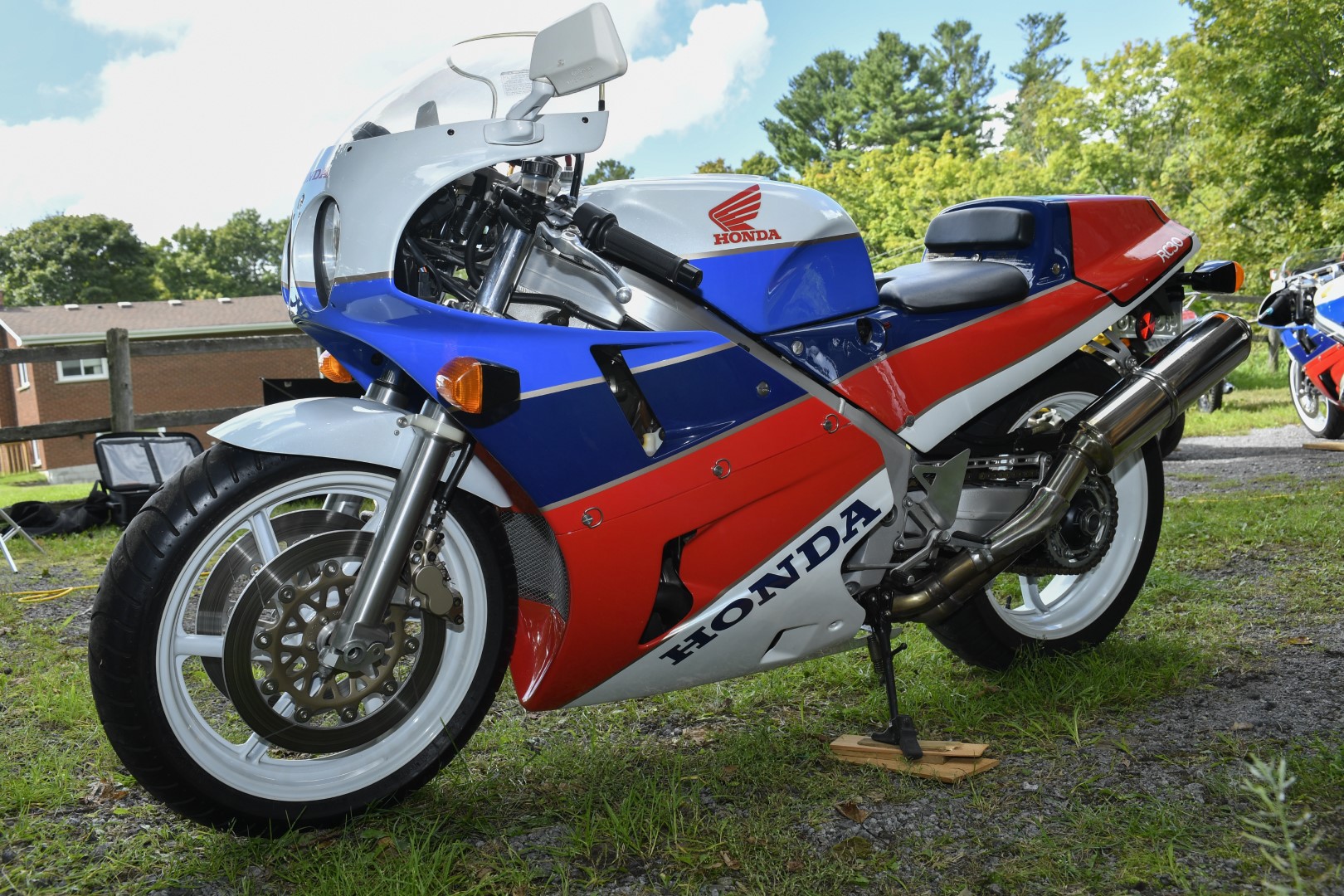 MI