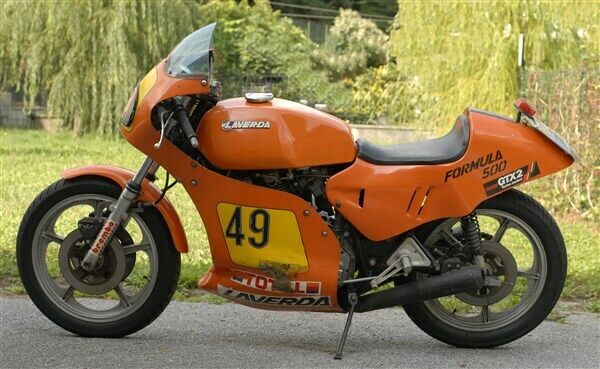 We tend to think (often and fondly) of Laverda building big bikes. With triples. The Jota, the RGS and the Mirage, for example. But before those, Laverda created smaller bikes too, such as the 500cc parallel twin. And in the hit-and-miss world of European bikes in the 1970s, the Laverda 500 – while extremely competent – was never a contender; a too small dealer network inhibited expansion, and a too high price prohibited widespread adoption. While technologically sound and a major step forward in the middleweight class, the 500 was not the sales success that was envisioned. Stuck with a slow selling model and hungry for image, Laverda re-worked the 500 into the Formula – a one make race bike. What you see here is just such a rare machine.
Starting with the bones of the street bike, Laverda stripped off all of the road going concessions such as lights, signals and horn (although these came in a box when the bike was purchased new). In all, the feature deletions resulted in a savings of 35 pounds from the already svelte 500 machine – tipping the scales at a scant 337 lbs dry. And with a DOHC 8-valve parallel twin (air cooled) pumping out just over 50 horsepower (thanks to revised cams and higher compression pistons over the standard 500), the Formula was relatively potent. Bespoke rear sets and clip on bars were added, as was the incredible bodywork. With this bike, aspiring racers (no professionals allowed) were able to join the Coppa Laverda (Laverda Cup), with Laverda providing technical support and available spares. The race series ran in Italy, and was a huge success from 1978 to 1981. It was even duplicated in other parts of Europe – notably Belgium and Germany – and convinced Laverda to race it professionally. The Laverda 500 was successful in such endurance races such as the 24 hours of Montjuich as well as the fabled Isle of Man.
From the seller:
Very rare Laverda Formula road registered,100% original, unrestored conditions, the bike has raced 3 races in 1979.

Only 200 Formula was been made and only 20 was been registered for road use
As with all smaller Italian builds, numbers vary. Estimates of rarity range between a low of 175 units, to a high of 210. That is not very many. Plus it was a race bike – and we all know how difficult preserved longevity can be for old racers. They are generally handed down, modified, wrecked, rebuilt, modified again, and the cycle continues. Add to the fact that these were for a European only series, and you will be hard pressed to find one outside of Italy. And as far as the street bike status goes, all Formula machines were sold new with the electrics and bits to make them road worthy, AND they had a street title (!). While not many Formulas found their way onto the streets, we should all rejoice that some (such as this one) did.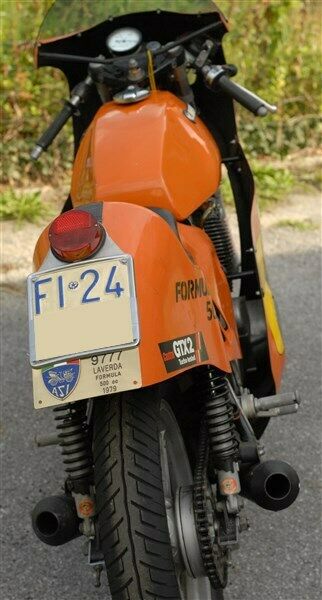 There is not too much info on this particular machine, although there are some decent (but low res) pictures. This is an extremely rare Laverda, and undoubtedly has some interesting history behind if if those pieces could talk. This looks to be a Series II model, as the original builds had a one piece tank/tail section. The latter variants had a two-piece setup that allowed for easier access to the engine and components. This bike is located in Italy – but given it's rarity I didn't think you would mind. Bidding action has been VERY slow for such a find, with ZERO bids on a $15,900 opening ask. That does not appear terribly out of line with current values today, as this Formula would make a wonderful addition to any collection. Check it out here before it's too late. Good Luck!!
MI