To celebrate Kenny Roberts' 1978 Daytona win, Yamaha styled a distinctive final-year model with all the air-cooled improvements since 1973.  Here's an Ohio native that shows like it has 1,2oo miles instead of the 12,000 the odometer says.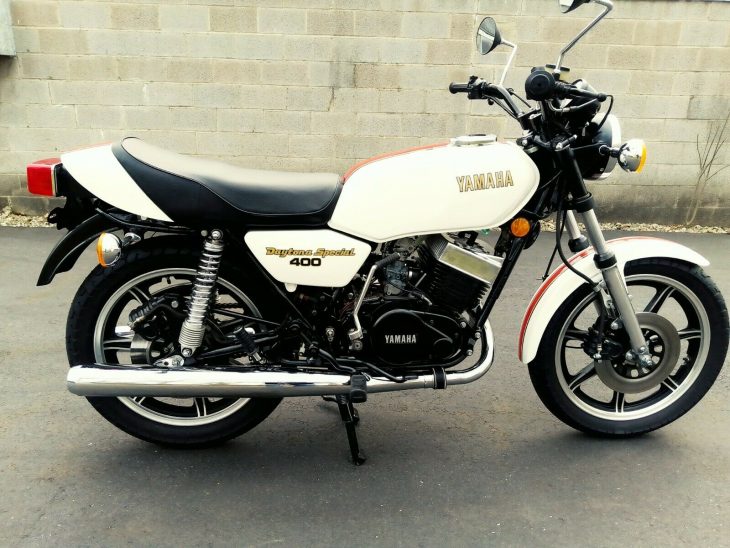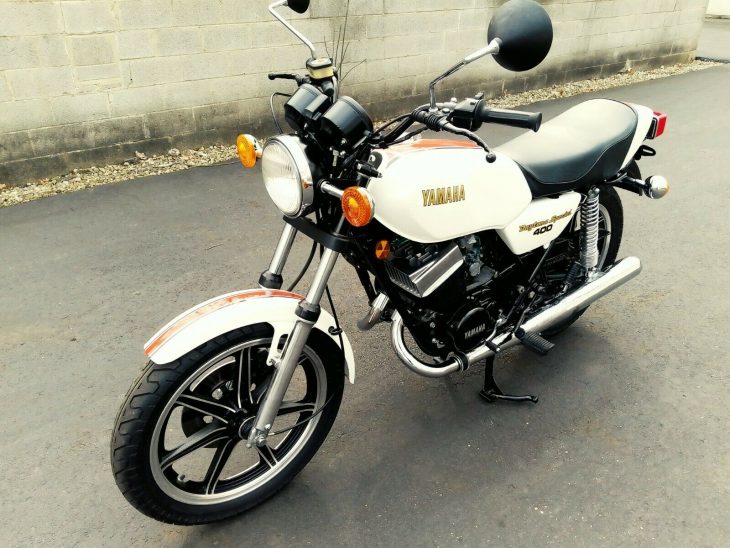 The RD400F is just bit more grown up than the original RD350, though it shares the wheelbase, 28mm Mikuni's and kickstarter.  Along the way it acquired five additional ponies, alloy wheels, capacitive discharge ignition, and a wider rear tire.  Its additional 35 lbs. meant 25 more feet in the 60-to-zero test, though braking was identical with front and rear 267mm discs.  Changes to the engine's porting and an internal bypass improved rideability and lowered emissions, along with an almost Suzuk-ish shroud on the head which improved the noise signature.
Probably looking better than it did on day one, this collector's item has been restored and polished to a fair-thee-well.  Since the Daytona is an exercise in white, black and chrome, it's naturally photogenic.  Expert readers will have to weigh in on any discrepancies.  Comments from the eBay auction:
Only 12,122 miles. Clear title in my name. Numbers matching with all the 2VO stampings also. This is a beautiful survivor. The body set has been repainted with the pearl white to perfection. New seat cover. Tires are also new. Gas tank is clean metal inside. Everything works like it should. Starts easy and runs and rides great. Pulls hard and smooth through the gears just like it should. This is stunning survivor.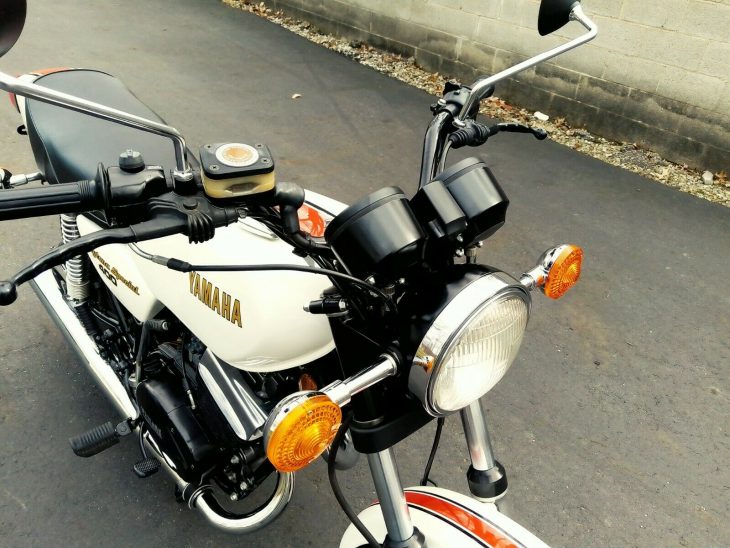 When the last RD400 rolled out of the showroom, Yamaha was in the middle of a staggering 12 year run of luck in the Daytona 200, and Roberts also won the last of that streak on his YZR680 / OW69.  Yamaha brought back the two-stroke twin ( in a water-cooled form ) in 1983, but took it offshore after only two years.  The sound, simplicity, and lighter weight make the air-cooled RD's worth pursuing, but rather few are in this remarkable condition.
-donn