In the mid-20th Century, Norton occupied rarefied standing in motorcycling, making itself legendary among racers in Britain and Europe, taking home Manx TT trophies and trading wins with other big names on the continent and in the Isles. Its big-bore engines and revolutionary vibration-isolating frame designs made the brand wildly popular, cutting edge and fast.
By the 1970s, Britain's notorious knack for corporate mismanagement and reliability woes had hit the company hard, and as it tried to make its Commando – which had debuted in the late '60s with yet another innovative suspension setup – all things to all people, it was being outgunned by Japanese rivals.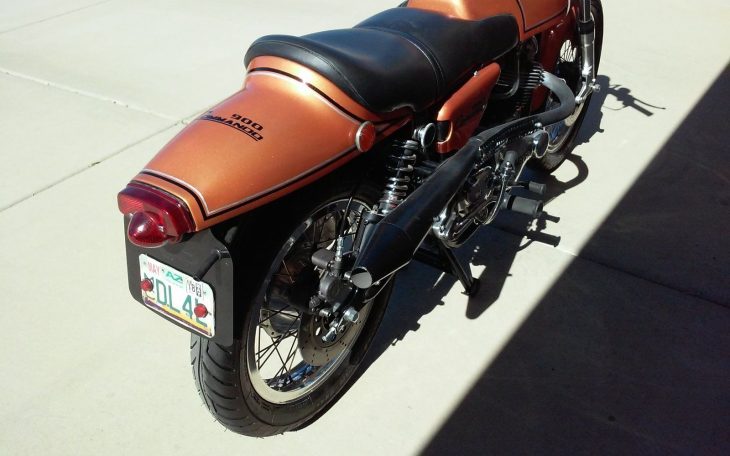 The Norton Commando Fastback had helped debut the badge, and by 1974 was essentially just a sportier-looking seat and fender setup for the popular-but-flawed platform.
The 1974 example seen here is in excellent condition, and carries a raft of modifications to the parallel twin, including a displacement bump, big carbs and a high-compression RH7 head from an earlier Commando 750. We dig the era-appropriate copper-bronze paint, the overstuffed seat and simple, purposeful stance.
From the eBay listing:
900 CC.. BALANCED WITH LIGHTER SOLID STEEL FLYWHEEL.. 80MM BORE.. 36 MM MK2 CARBS MATCHED TO A RH7 HEAD.. BIG BORE EXHAUST. CLOSE RATIO GEARBOX WITH QUAIFE SHELL.((( MOSTLY FOR DOWN SHIFTING TO LESSEN GEARBOX STRAIN))) BIKE HAS NO ISSUES.. LOOK INSIDE MUFFLERS TO SEE HOW CLEAN IT RUNS..STARTS WITHIN 2 OR 3 KICKS AND WILL IDLE AT 500 RPM. EVEN WITH BIG CARBS… E MAIL FOR MORE INFO. E MAIL FOR PHONE NUMBER AND WILL CALL BACK IF SERIOUS. OTHERWISE PLEASE DONT WASTE MY TIME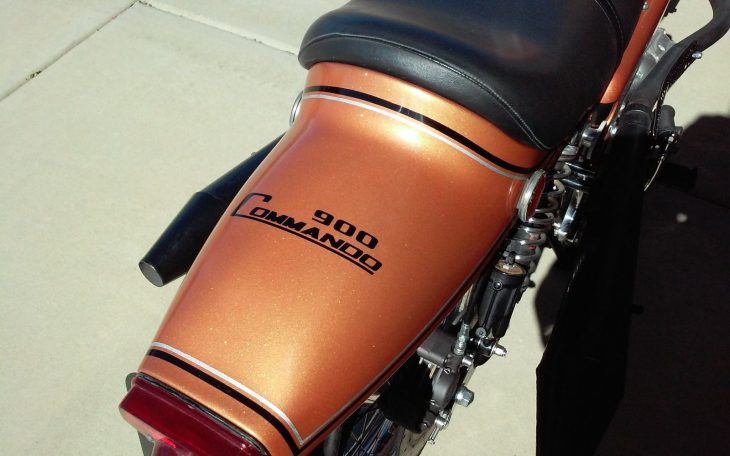 Rarer than Japanese bikes of the same era, albeit a lot more temperamental, the big Norton is a time capsule to the end of the era of British manufacturing might, rendered in the brutal simplicity that made the breed famous.