eBay shows sold for $52,500. Congratulations to buyer and seller! -dc
Today's featured listing is a bit older than the bikes we usually feature on this site, but you can't argue that a Laverda SFC is both very rare and a sportbike. It was a machine from the era where you could pull your mirrors and turn-signals off, assuming the bike had them to begin with, drive to the track, and race. In fact, many SFCs sell with the roadgoing bits still in a box… The SFC, which stood for "Super Freni Competizione" or basically "Super Brakes Competition" and was the homologation version of Laverda's 750cc parallel twin powered SF roadbike. The earliest bikes used a huge drum front brake, while later examples like this 1974 model used a pair of discs up front to provide the super stopping promised by the name. All of the SFCs had that funky, tacked-on taillight that looks like it's best viewed from the air and the solo tail-section ready and waiting for a white numberplate.
Far more heavily-constructed than British twins of the period, Laverda's engine featured five main bearings and, although the resulting bike was a bit on the heavy side, the SF and SFC machines did well in endurance racing. Reliability was helped by Laverda's insistence on using the very best parts from a variety of manufacturers: Ceriani forks, Bosch ignition, and Nippon-Denso electrical components meant that, although the Laverdas were expensive, they were quality machines.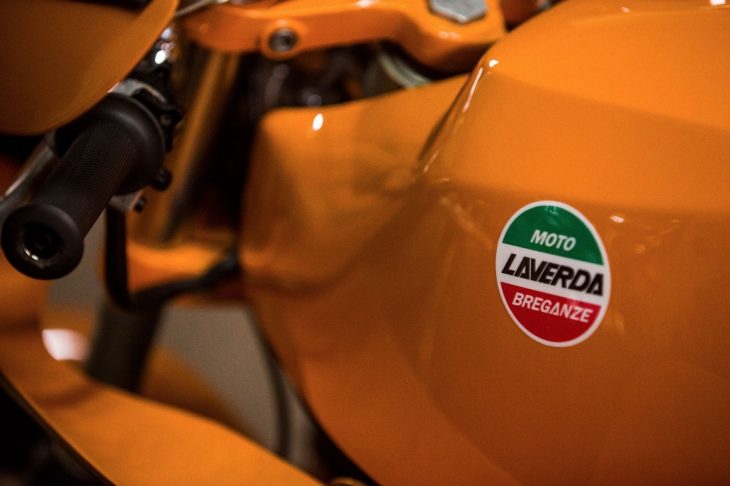 The bike was electric-start only, with a right-foot shift for the five-speed gearbox. Compared to the regular SF, the SFC engine featured an updated frame, suspension, and significant internal revisions, tuned and dyno'd at the factory for a claimed 75hp. That power peaked at 7,500rpm which is, you'll note, at the top of the red band on the suspiciously Honda-looking tach, so I guess you just keep the needle in the red for best results?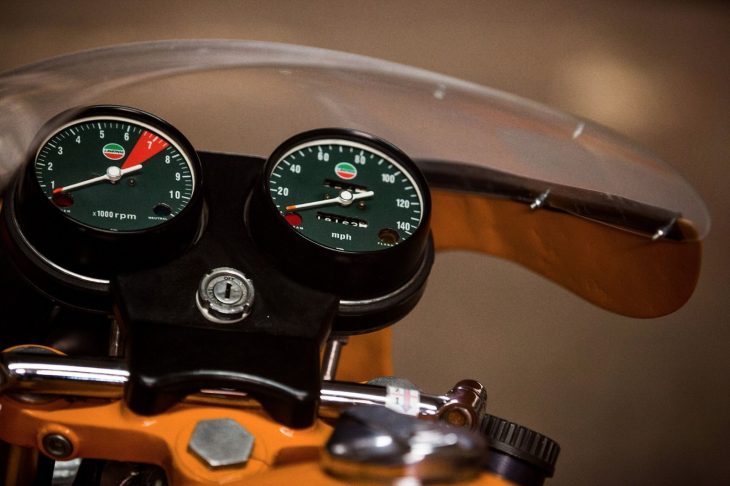 Just 549 were built between 1971 and 1975, and this example looks to be in beautiful condition, with just a few tiny modern touches like the stainless-steel braided brake lines and an electronic ignition, both of which should add a bit of modern safety and reliability and are certainly in the spirit of the bike.
From the seller: 1974 Laverda SFC for Sale
1974 Laverda SFC comes set up with steel tank, and includes original fiberglass tank in excellent condition. 18,171 miles, ready to ride and collect. This is an excellent rider, set up correctly with DMC ignition. Considered by many, including myself to be the ultimate '70's Italian sport bike.

Paint details: restored perfect condition paint
Frame: Excellent, restored condition
Wheels: Restored – excellent
Electrical details: Everything in correct working order, set up with DMC electronic ignition
Riding: Smooth. Fast. Violent endless power in every gear.

Disclaimer: Every single bike I buy and sell, I personally go through—-not someone else, I am the owner operator of my small business, and I take what I do very seriously. I work on the bikes, I ride the bikes. I have been working on this lovely Italian crap for a long time, I know the differences between the bikes, how they should work, the history etc.. If you are serious about buying true collector piece from someone who not only has a passion for these bikes, but works on them, rides them, collects them – then call me. Jokingly people say to me, "these bikes don't seem so rare as there are so many in your shop" well….. I consider myself a custodian for these machines, they should go to people who will love, and appreciate them..

Other details:
Excellent restored condition with receipts
Steel tank
Original fiberglass tank included with sale
18,171 miles
all receipts
original shocks included with sale
On SFC registry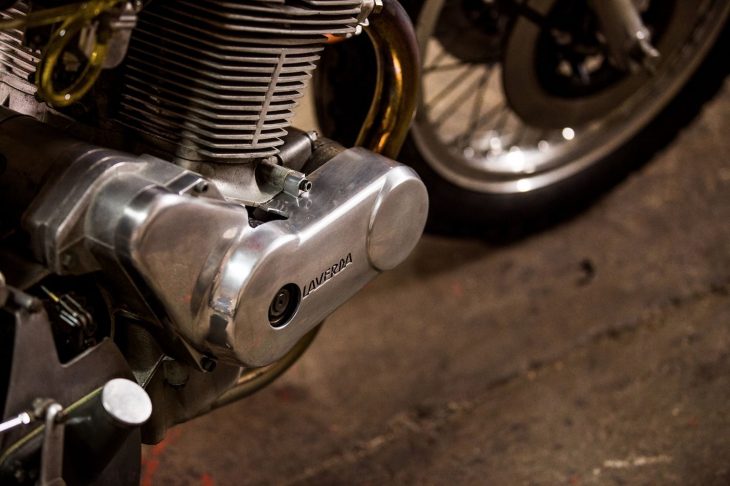 The seller includes a couple of clips of the bike starting and being ridden and two things are abundantly clear: first of all, Brooklyn is a pretty lousy place to enjoy a 70s Italian race bike and second, a Laverda twin sounds very different than a parallel twin from Norton or Triumph.
The auction ends on Sunday and the current bid is $32,300 with reserve met.
The bike is being sold by Moto Borgotaro, a well-known shop that specializes in European bikes of the era. Seriously: check out the "For Sale" section of their site to see the kind of machines that have passed through on the way to finding new owners.
-tad