Before The V:  1987 Suzuki  RG250 Gamma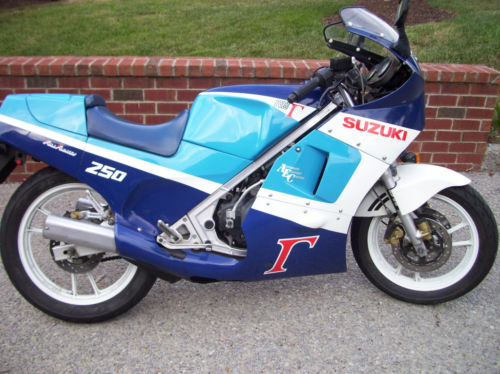 Yes, there were 250 Gamma's before the VJ21 rolled out with its' GP like V twin engine and twin spar aluminum frame.  This is the last of the line of the parallel twins in the original RG series.  As time has passed by many may forget this was the first replica racer for the street and created quite a buzz.  The 1983 RG250 was the first mass produces motorcycle with a light weight aluminum frame.  This was the bike to have.
What is neat about the RG250 is that there are so many variants produced.  Full fairings, half fairing, Walter Wolfs in two colors, HB colors.  In 84 they added a noticeable slant to headlight/fairing, it didn't last long and went back to the blunt look for the rest of the series.  There are probably a couple more  I'm missing.  A Suzuki collector pointed out to me that  Suzuki  even came out with a mid year, domestic model with updated specs to hold people over until the RGV250 (VJ21) came out.  I've also been told but haven't confirmed that Japanese domestic bikes were a model year ahead of what the rest of the world got.  For example, a 1987 UK RG250 would be a 1986 model in Japan.  I did find a tidbit on All Suzuki Motorcycles Ever Built that the 1987  Canadian model RG had 1986 RG250 specs.  So, maybe there is some truth there.
I believe this is a Canadian model and it has the matching tail cover.  Somewhere along the line she made it south of the Canadian border and got a TN title.  I'll let the seller explain the rest:
 1987 Suzuki RG250 Gamma. Excellent condition with only 11k miles (18k KM on odo).  Completely stock and everything works perfectly.  A few chips and scratches on the bodywork with one small dent on the top of the tank (see photos).  Tires are recently replaced and the bike is ready to ride, no issues.  Happy to assist with shipping however I can.  Clear TN title on the bike.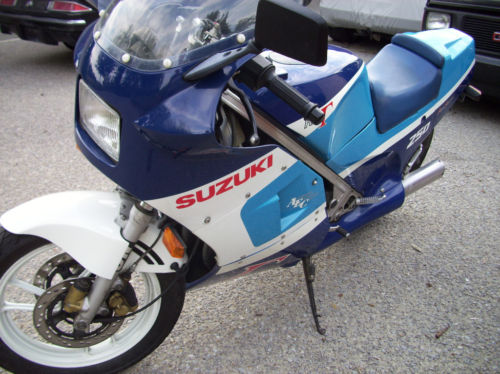 They aren't generally as desirable as an RGV250  but I will be the first to admit they are more rare.  Having seen a couple in person recently,  I can say they are good looking bikes when given some TLC.  The seller is starting the auction off relatively high at $3,900.  Considering decent RGV's  (not mint) have been selling in the 5's I'm not sure how much action he will get on the auction.  Having said that, if you want, lust after or crave  an RG250 that is  clean, stock and titled you may need to throw in a bid.  If you've been waiting, take action here.
Ian