Update 3.18.2016: VIN confirms this is a MC22. -dc
Update 3.26.2016: Sold for full asking price. Congratulations to buyer and seller! -dc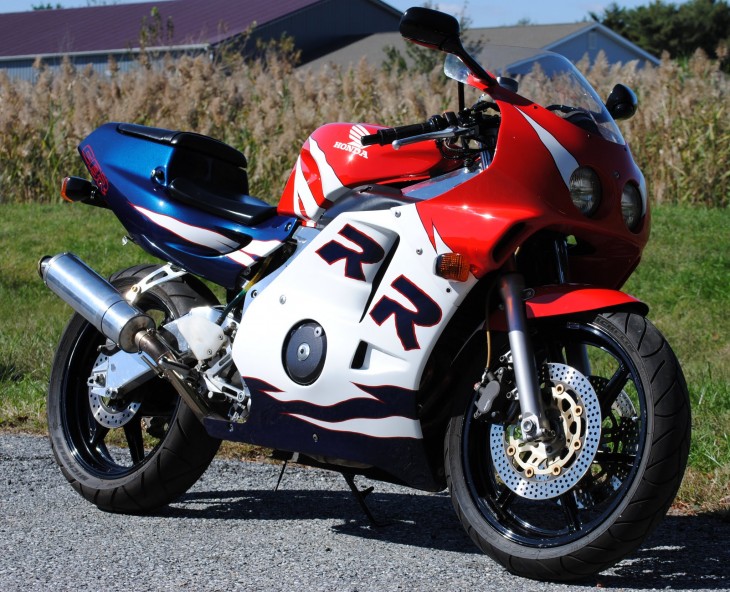 Today's CBR250RR is another one of those grey market oddities, a bike that's extremely rare here in the USA, but not considered particularly exotic elsewhere. Built from 1990 through 1996 and nicknamed the "Baby Blade" for obvious reasons, it was a small-displacement stepping-stone bike for riders before they moved up to a larger bike like a 600. But unlike here, where learner bikes are quickly discarded or skipped entirely by riders who foolishly think of 600 supersports as "starter bikes," these are high-quality, sophisticated machines, a far cry from the relatively crude CBR300 of today.
Instead of that bike's simple and torquey single-cylinder engine, the CBR250RR used a 249cc liquid-cooled inline four that made 40hp and would rev safely to a shrieking 18,000rpm. Backed by a six-speed gearbox, the package was good for over 100mph. It wasn't as light or as raw as an equivalent two-stroke, but it offered up a far more refined and durable experience. A 250 two-stroke is really its own thing, and the CBR was intended more as a high-quality learning tool before moving on to a larger CBR600 or 900.
Today's featured listing is either a 1992 or 1993 model and looks like it's in very good, mostly original condition.
From the seller:
Honda CBR250RR for Sale
It's a CBR250RR.  It's titled, but the year doesn't coincide with what year it probably is.  I believe it's a 1992 or 1993 model.  When I originally picked it up, I had my mechanic go through everything.  The only major thing was cleaning the carbs, adjusting the inlet and exhaust valves and spot welding the exhaust can where the springs latch.  We removed the heat-wrapping that was there also.

It's essentially stock minus the full exhaust (stainless steel).  There doesn't seem to be any distinct markings on the full system, so I am unsure which brand it is.

The front cowl is ABS, the side fairings are fiberglass and the rear tail is OEM.

I bought the bike with 8,1XX kilometers and it's currently at 12,7XX kilometers.

It's been a weekend street bike, I have several other bikes that I ride in my rotation, this one is the one I'm willing to let go for greener pastures.

I do have the manual for the bike, it's in Japanese.

Bike is currently located at Speedwerks in Delaware.

Will pay for anyone who wants a pre purchase inspection done.

$Price: 4,700 or best offer SOLD.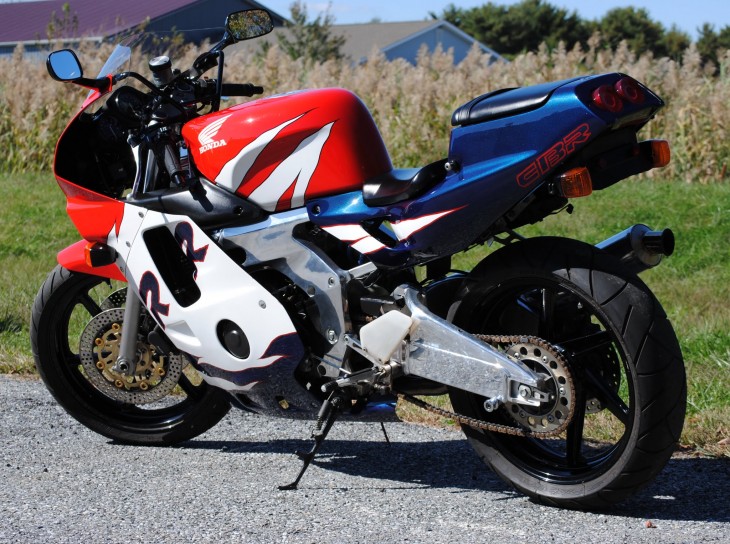 These are difficult machines to put a price on. Their origins are relatively pedestrian, although they epitomize what Honda has always done, offering up engineering sophistication to buyers at all levels. And although they were always intended as entry-level bikes, they provide performance and handling not generally found in this type of machinery here in the US. For riders who subscribe to the "Slow Bike Fast" philosophy, these represent a pretty ideal balance of performance. A similar experience can be had on Honda's CB1 for less money, but the 250RR is just that much cooler and more unusual: you're definitely going to pay a premium for rarity with a bike like this, but for fans of small bikes with stratospheric redlines, it's hard to beat a 250RR.
-tad