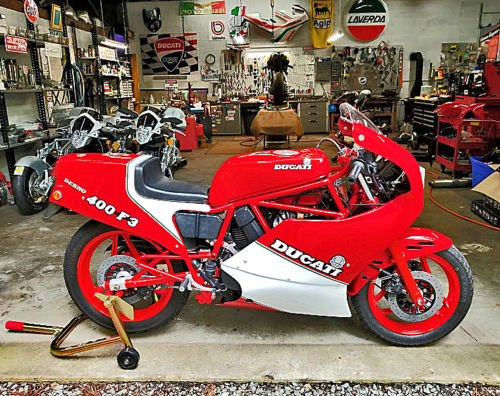 The stories of our favorite motorcycle manufacturers are often littered with failures and bankruptcy. Some brands even saw multiple deaths, followed by zombie-like resurrections where the victim simply came back wrong, like Gage from Pet Sematary… Truly, "Sometimes dead is better…" Luckily, Italian purveyor of accessible exotics Ducati seems pretty stable these days, rumored purchase by Harley Davidson notwithstanding. But it wasn't always that way, and today's Ducati 400 F3 represents a rare collectible from a transitional era of their history when they teetered on the edge of failure.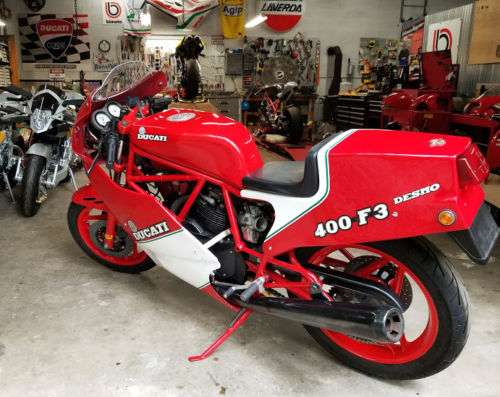 Designed before Ducati was taken over by Cagiva but produced during their ownership, it was styled to resemble the successful TT race bikes of the late 70s and early 80s. The 750 F1 and lookalike F3 used Ducati's signature trellis frame developed by Verlicchi and wrapped around the company's two-valve, air and oil-cooled Pantah engine. In this application the v-twin had yet to have the rear cylinder rotated 180° to situate both carburetors together in the engine's vee as seen in the later SS and Monsters, so you can see the rear velocity stack/filter sticking out in the breeze, where it probably interferes with the rider's leg but hey, it's a Ducati!
And that was really the problem with the F1/F3 to begin with: build quality was generally pretty poor, more kit-bike than the product of a major motorcycle manufacturer, and the suspension was crude. But the elements were there to make a great bike, it just needed a bit of development… It was almost as if Ducati assumed buyers intended to race them, and didn't bother finishing them. Today's F3 was a Japanese market version of the F1 with a smaller, 400cc displacement. The seller suggests that it may be the only example in the USA and certainly, I can't remember seeing one for sale here. It's had a cosmetic restoration, but is otherwise in original condition.
From the original eBay listing: 1986 Ducati 400 F3 for Sale
VERY RARE and might be the only one of these models in the USA.

Japan was one of the biggest markets for Ducati in the 1980s but limited motorcycles to only 400 cc, so smaller versions of the Ducati 750F1 were sold there as the Ducati 400F3 from 1986-88. This 1986 Ducati 400F3 with only 7657 km (4758 miles) was imported from Japan in 2016. 

The paint on the bike was badly faded and the complete bike was torn down and frame and complete bodywork were repainted (powder coating on the frame).  All decals are factory correct decals for this year model.

A Limited run of 509 Ducati 400 F3 bikes were built in 1986 and this bike is number 209 (VIN ZDM400R*400209) and is shown on a numbered factory plaque fitted to the top of the seat fairing, see picture.

The bike is in very good running condition and include:

New paint
New decals
Powder coated frame and swingarm
New battery
New chain
New steering bearings
New petcocks
Engine serviced (Oil, Oil filter, Timing belts)
Engine is 100% factory stock

This vehicle is being offered as-is with no warranty expressed or implied. Please call for specific details on this vehicle.

PLEASE NOTE! THIS MOTORCYCLE IS SOLD WITH A "BILL OF SALE" ONLY AND DOES NOT HAVE A TITLE.  EBAY DOES NOT HAVE THE OPTION TO LIST THIS IN THE ITEM SPECIFIC SECTION! CONTACT ME FOR MORE INFORMATION IF NEEDED.
Obviously, a two-valve, 400cc v-twin isn't going to be particularly fast, but I doubt anyone considering a purchase will seriously care. This is a bit of history, a collectible. The lookalike 750 F1 has experienced a serious spike in value the past few years. Although the smaller-engined F3 won't offer the same performance, it should represent a solid investment as it is very rare, especially here in the USA, although bidding is very low so far, at just over $4,0000 with the Reserve Not Met.
-tad