Most times, even if their models share no significant components, motorcycle manufacturers go to great lengths to make sure their bikes all share a strong familial resemblance. In fact, the most recent GSX-R600 and 750 are virtually identical and appear to share their frames and body panels, with only their engine displacements, graphic treatments, and tachometer faces to differentiate them. That makes particular sense at the moment, since the GSX-R750 has pretty much been in a class of one since the the ascendance of the 1000cc machines and developing a bike that shared most of its important components with another mass-produced model was virtually a requirement. Ironically, with the seeming demise of the 600 supersport class, I wonder if it won't be the 750 that has the last laugh… In any event, the designers of the GK71 version of the Suzuki GSX-R400 clearly didn't get that memo.
Taking a look at the bigger 750 and 1100 versions of the GSX-R, this 400 looks markedly different. The tail is sleeker, with a pronounced taper when viewed from the rear, the fairing has several rows of gills, like a small, primitive shark, a single headlight in place of its bigger siblings' round units, and an actual dash, instead of a foam instrument surround. All-in-all, it's very obviously a Suzuki, but looks very little like the larger GSX-R models.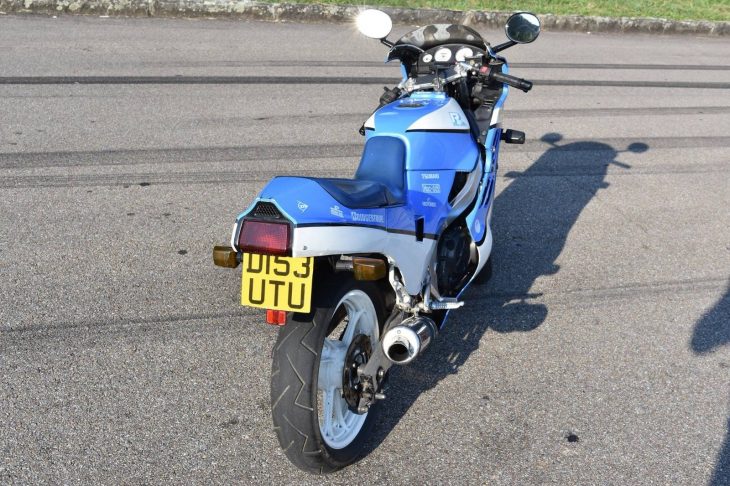 The seller refers to this as a 1987 and a shot of the title confirms this but, supposedly, the 1987 had twin headlamps and gold brake calipers, so this may in fact be a 1986 model year bike, since that appears to have been the only year with the rectangular headlamp. The exhaust pipe would also have more of a perforated style shroud like the 750 and 1100, but the aftermarket Micron fitted here makes it hard to say for sure. Regardless, you're looking at a 398cc inline four making 60hp and backed by a six-speed gearbox, hung in an aluminum twin-spar frame with a weight of 337lbs dry.
From the original eBay listing: 1987 Suzuki GSX-R400 GK71 for Sale
Here we have a rare, well maintained, and super quick Suzuki GK71 GSX-R400. This is a clean machine sporting corrosion free aluminum frame/swingarm, stock fairings, and only minor imperfections. It sounds great, and pulls linearly all the way up to redline. I had great fun running this bike over the mountain during last year's TT races on the Isle of Man. It ran faultlessly, and was the impetus of many a conversation with other race fans.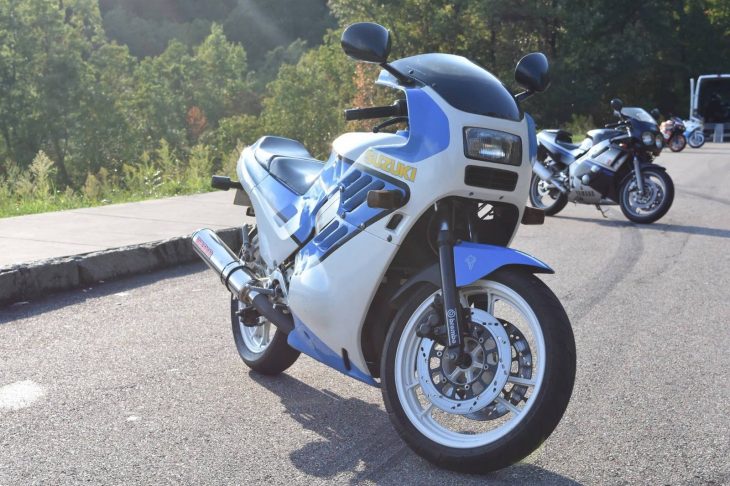 The GSX-R400 was rarely seen outside Japan, and there's been little interest in the bike for the most part, as it wasn't nearly as exotic as the Honda NC30, as refined as the CBR400, or as agile and affordable as the FZR400. It was a bit crude in comparison, but was still a very competent, relatively sophisticated machine, and a slight lack of performance compared to rivals shouldn't discourage anyone at this point. 30,000 miles is on the high end for a collectible sportbike, but assuming it's been properly maintained and cared for, that wouldn't put me off too much assuming the price was right. And considering the bidding is up a bit over $1,500 I think you'd have a hard time finding something else that offers this combination of rarity and unintimidating performance.
-tad