Well here's a real curiosity, another bike from the era of experimental engine configurations. Prior to the introduction of the KR-1 featured earlier this week, Kawasaki's quarter-liter two-stroke sportbike reputation was upheld by this bike, the KR250. Although it's powered by what is technically a parallel twin, the Kawasaki KR250's engine is configured more like half of a square four. It's basically a pair of singles, one behind the other, with separate cranks, and the design is referred to as a "tandem-twin" to differentiate it from more conventional parallel-twins.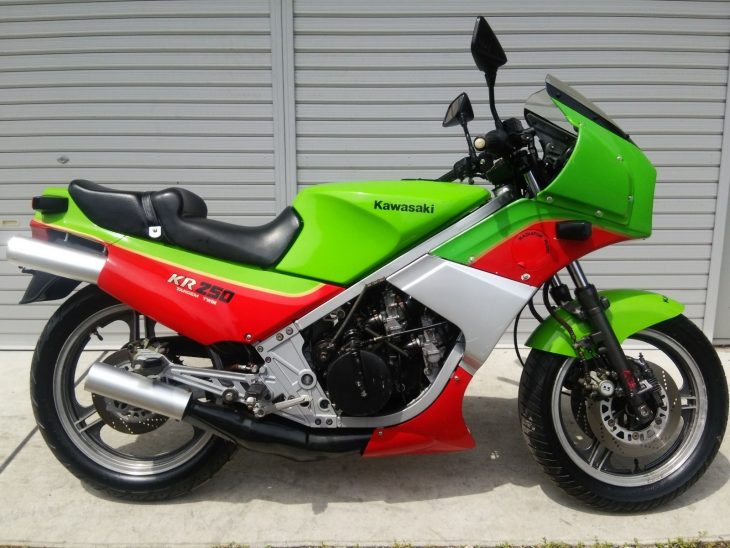 Although it complicates construction a bit, it likely helps the bike remain very narrow and improves packaging, as exhaust routing and expansion chambers no longer have to run underneath the engine as they do on most parallel-twin engines. In this case, they both exit on the right side of the bike: one down low, the other partly through the tailpiece in flamboyant 1980s style. The round taillamp set into the kicked-up tail and those bolt-on-overfender-styled hand-fairings are a nice touch. And that stepped seat appears to be a factory part!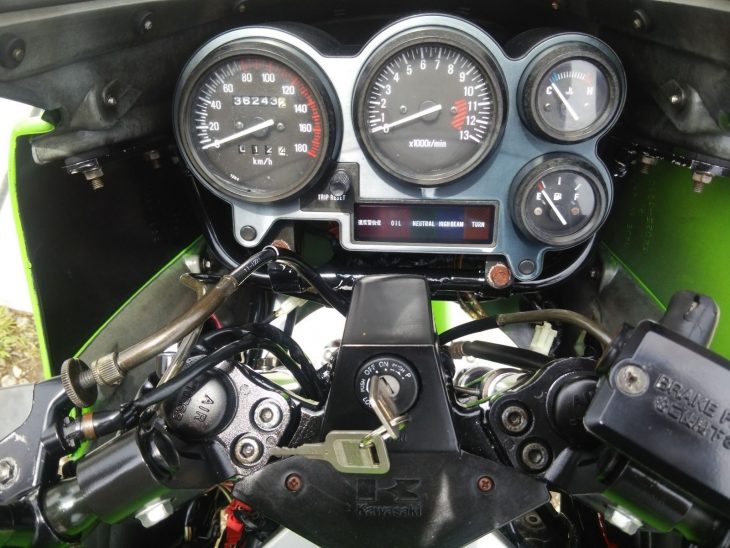 That unusual engine was backed by a six-speed gearbox and put out 45hp, good for 112mph when pushing the sub-300lb machine. Like other two-strokes of the period, it was lightweight, reasonably quick, and handled well. Later versions added the KVSS "Kawasaki Exhaust Valve Sycronization System" to help with the typically flat two-stroke midrange. They apparently could be difficult to get started, even when new, but are otherwise no more difficult to own than any other smoker of the period. The KR250 isn't worth all that much in other markets but is extremely rare here in the US, which counts for a lot if you're a fan of the weird.
From the original eBay listing: 1984 Kawasaki KR250 for Sale
Very good running condition sharp response of 2-stroke engine is still well. Can shift all gears very smooth. Brakes are working fine. Electricals are all working. Has Kawasaki genuine fairings but repainted by previous owner. Has hairline cracks and chips on fairings, so look carefully all pictures and video. Fuel tank has some small dents. Used motorcycle with scratches and wear as this is 32 years old. Speedometer looks KAWASAKI genuine parts and shows 36,300km = about 22,600 miles, but actual mileage is unknown. Will needs new tires and fork seals.

The bike is just imported from Japan. Not registered yet in the U.S. This bike is sold without title, as is with NO warranty NO refunds NO return.
The seller also helpfully includes this short video of the bike sounding very fierce. This is another no-reserve auction and bidding is very active so far, but it apparently started at $0 and is creeping up by inches. Currently, it's at around $1,200 with a couple days left. The seller mentions that the bike has been repainted by a previous owner and I can't vouch for the originality of that color scheme, but I think that red and green paint looks terrific. Like Christmas on two wheels, if Christmas was a heavy smoker with a nasal voice who just showed up in a shipping container from Japan.
Parts will obviously be challenging, getting it worked on difficult, and this definitely won't provide the performance of a modern sportbike, but I bet it'd be hard to find something that will generate more discussion at your local bike night short of a Bimota Tesi.
-tad