Most of the time, I try to walk the straight and narrow with my posts, sticking to highly-strung, fully-faired speed demons and racetrack refugees. But sometimes my obsession with the weird and rare gets the better of me and I just have to post stuff like this Yamaha MT-01, even if it's coloring outside the lines a bit from a strict "sportbike" point of view. The MT-01 is really much more a muscle bike in the vein of a Ducati Monster or Suzuki BKing than an out-and-out sportbike, but there's much more going on here once you scratch the surface.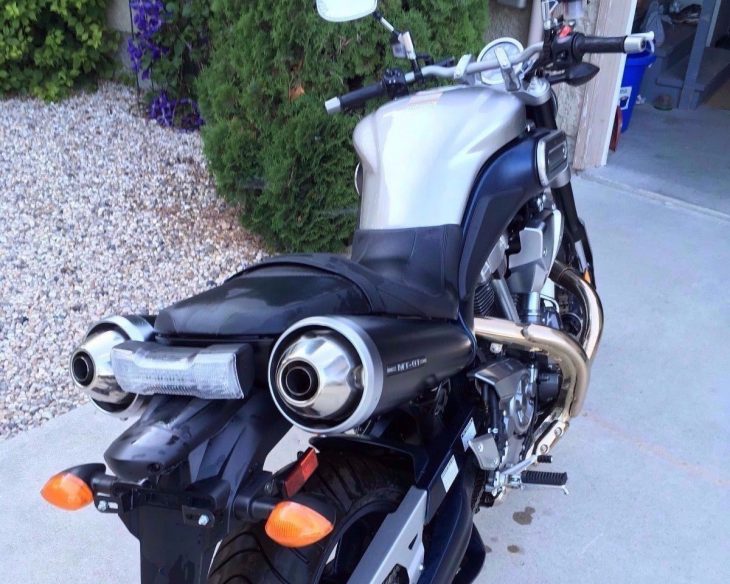 The drivetrain specifications definitely don't scream "sportbike": the air-cooled, four-valve per cylinder engine had twin spark plugs for optimal combustion across the face of the huge pistons and was originally found in Yamaha/Road Star Warrior, although in this installation, it featured a lightened flywheel and the first v-twin application of Yamaha's EXUP valve. The long-stroke unit's 97mm x 113mm gave 1670cc, good for 89hp and 112 lb-ft of torque, enough to hustle the 540lbs dry hunk of metal along pretty smartly, with minimal need to work the five-speed box. I've never actually heard one run, but reviews all praise the thudding, Harley-esque exhaust note.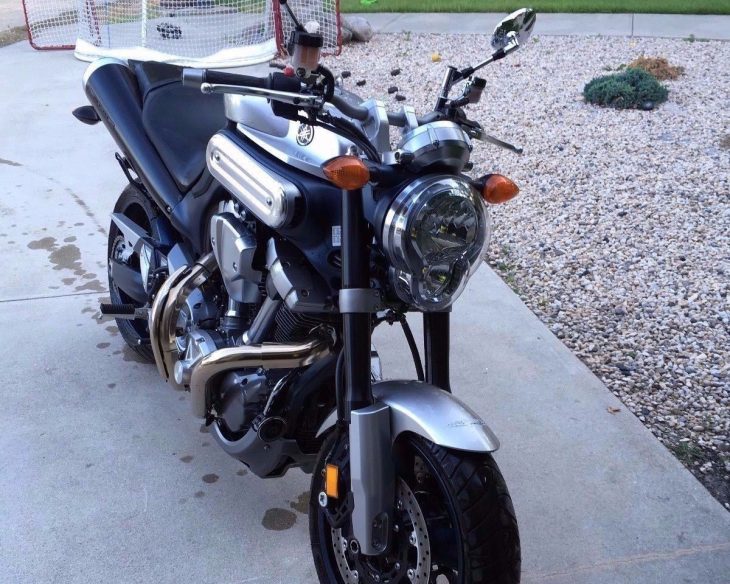 If that's not particularly inspiring to you canyon-carvers, note that the rest of the bike is more Mr Hyde to the drivetrain's Dr Jekyl: that huge lump of an engine was a fully-stressed member and the fully-adjustable upside-down forks and radial front brakes came right off the 2004-2005 R1. The MT-01 had 17" wheels at both ends so you can fit the very stickiest modern rubber and, if that's not enough to clarify the bike's sporting intent, the 2009 version was available with full Öhlins suspension and Pirelli Diablo Rosso tires straight from the factory.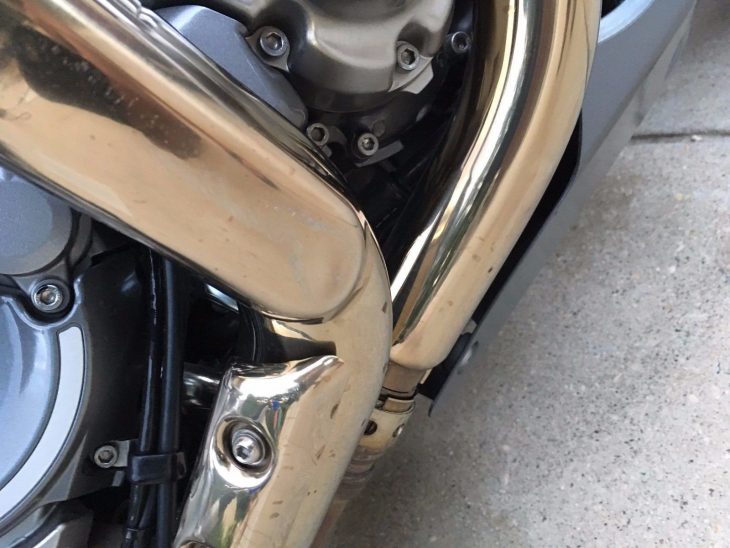 There's a school of thought that suggests fast road riding is best accomplished by not having to worry about shifting too much. That constant gear-lever-dancing, while fun, isn't as fast as simply surfing a wave of torque in one gear, especially on unfamiliar roads. On track, I'm sure it'd get murdered by a good 600cc supersport. On a winding back road? I bet that same 600 would have a hard time shaking this thing, and period reviews of the bike were very positive.
From the original eBay listing: 2006 Yamaha MT-01 for Sale
This torque monster is basically new. There are less than 400 km on this unit. The motorcycle was on the showroom floor and was never stored outdoors. The bike has no wear on its tires and the little nubs on the tires from manufacturing are still there. No accessories added or changed. The color is silver with blue accents. Very limited production on these bikes. 2006 was the first year of production. There is one imperfection or mark from the bike being moved in the showroom. This mark is in the pictures and is cosmetic. The reason I still have this awesome bike is just that. I was going to keep it but just don't have time to ride it. I owned the Yamaha dealership and kept this one for myself.
The MT-01 is an unusual machine, and that's a big part of the appeal.  Build-quality was very high, as the bike was a flagship model for Yamaha, although they haven't really retained their value in their original markets, as the bike never really seemed to find the right audience. What's one worth here in the USA? Good question, but this one appears to be in nearly perfect condition, and the seller is asking $12,000. If you could find a way to register it here [the bike is for sale in Canada] it'd make quite a conversation starter at your local bike hang out.
-tad