Spring has not yet sprung, but the ring-a-ding-ding sounds of our favorite smokers continue this week with a very cool RG500 Gamma. We don't see enough of these square-four monsters on these pages, and rarer still in the black & red livery. This particular bike is on the ground in Japan, purportedly a full-power example out of Australia. It doesn't matter to me what flag it runs under, because as an American this is one awesome looking 38 year old piece of forbidden fruit.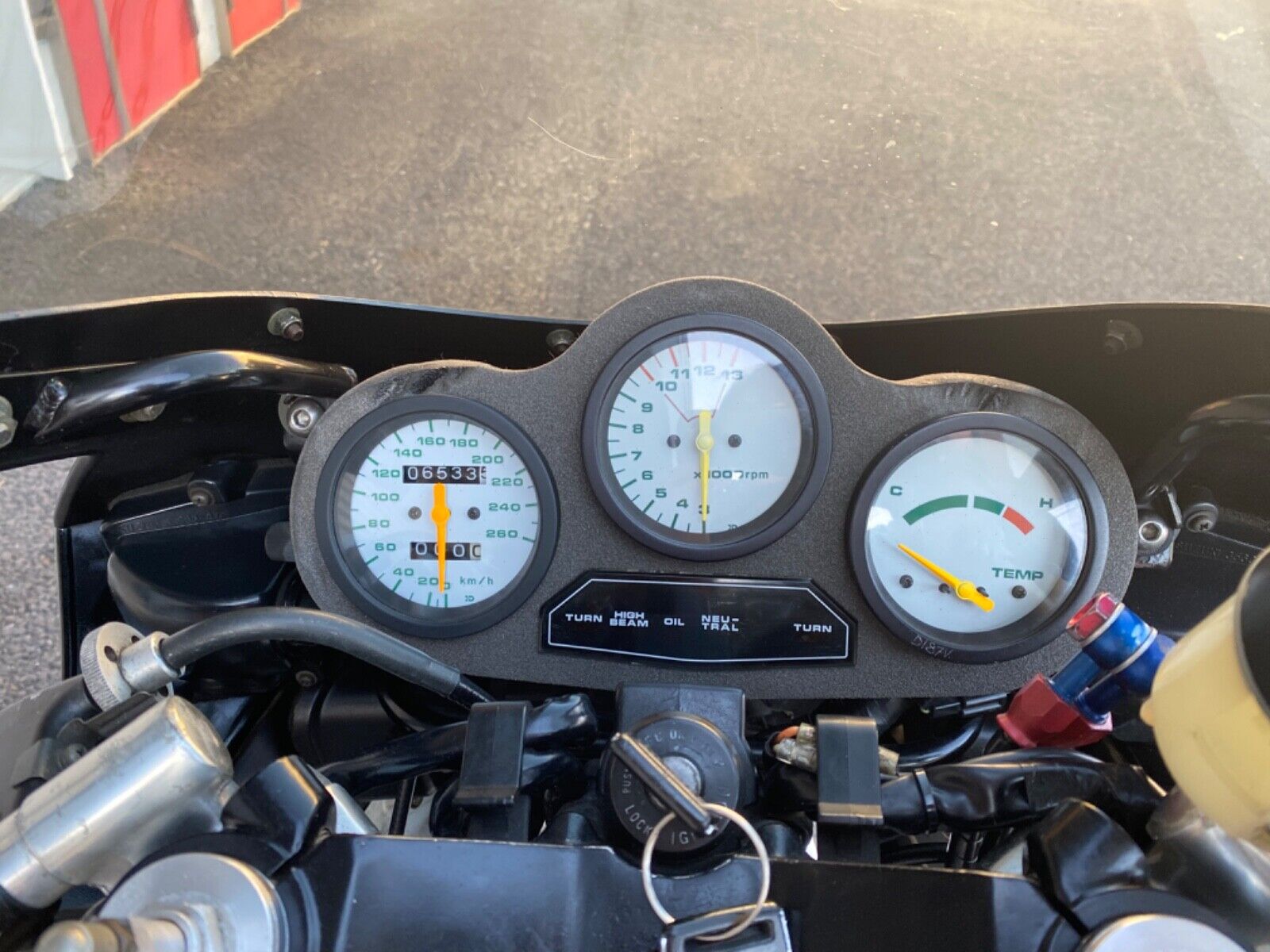 The RG500 magic starts with the engine – which is actually TWO engines. Think of the RG as a pair of independent, parallel-twin, 250cc two stokes, complete with independent rotary valve induction (there is a very thin, Mikuni flat slide attached to every cylinder), exhaust and crankshaft. Now stack those two on top of each other, one right behind the other. Connect the two cranks via gearing, and route that whole hot mess through the gearbox. You end up with a very powerful, very compact and dense package that can be placed far forward in the chassis for optimal weight distribution. And speaking of chassis, that would be a double down tube cradle style affair, exquisitely constructed in aluminum alloy. A 38mm, air adjustable front fork and Full Floater single rear shock complete the package.
From the seller:
SUZUKI RG500G GAMMA(Type HM31A, motor type M301)Export car full power (Australian specification) There is an aluminum caution plate on the left side of the frame. (Year 1985)500cc 2-stroke square 4-cylinder full power engine It is a very valuable vehicle. First year registration date in Japan (April 1994)

*Restore & Custom*The engine has been fully overhauled at a specialty shop (there is a list of work, change parts, etc.).
* Replacement of uotani SP II coil, headlight relay kit, etc., harness wiring, other electrical system refresh (work, change parts, etc. list available).
* Restoration around the car body (work, change parts etc. list available).In addition, customization and maintenance at the shop
* Racing chamber for Sugaya 500 Gamma (at that time).
*Equipped with carburetor O/H setting and oil check valve.
* Ohlins rear shock (separate tank with height adjustment).
* O/H with white power front fork springs and hard OL.
* Change to external aluminum F sprocket outer plate.
More from the seller:
Restore & custom
The engine is full overhauled at a specialty shop (listed, changed parts, etc.).
*New speedometer at the same time as engine O/H.
Current mileage 6533km (30400km before O/H) There is a possibility that the odometer will increase due to handling.
*Replacement of uotani SP II coil, headlight relay making, harness wiring, and other electrical refresh (list of work, change parts, etc.).
#Restore around the body (list of work, change parts, etc.).
*Sugaya 500 Gamma Racing Chamber (at that time).
*Cabretta O/H setting, oil check valve is installed.
*Orleans -made rear shock (separate tank, vehicle height adjustment).
*O/H with white power front fork spring and hard OL.
* Changed to external aluminum F sprocket outa plate.
* Changed to XAM front sprocket, aluminum rear sprocket, 520 chain.
* Brembo front master cylinder
* Mesh brake hose before and after.
* Yamaha TZR High Slottle / OW type thin handle switch.
* Seat leather reupholstered
* Various bearings around the body, dust seal replacement.
* Suzuki genuine key x 2 (main key, gasoline tank opener, gasoline tank cap, same seat).
* At the time of sale, such as the body, front and rear wheels, exterior, it is almost for Suzuki genuine export. (FRP non-genuine under cowl)
* The inside of the gasoline tank seems to be rusted.
There is no big wound due to falls or accidents.
* Although it was stored indoors, there may be scratches, cracks, rust, dirt, etc. Be sure to check the image for used cars, and ask if you do not know.
* No issues with riding at the moment.
* Accessories other than the main unit (used goods include scratches, rust, dirt, etc.
* Buyers are responsible for paying transportation costs, taxes.
* An export cancellation registration certificate is attached.
* Tandem seat and manufacturer genuine 500 racing stand (at that time). If you wish,we will ship separately.
A full power RG500 is published as 95 HP – which is a fair amount of poke for a sub 350 pound (dry) machine. This gives the big RG its bona fide GP replica status, and general reputation as the fastest of the street-going two strokes. This one is safely tucked away in Japan, indicates nearly 23,000 miles on the KM clocks, and has been cared for and maintained in a manner that allows it to show very well indeed. Paperwork, shipping, taxes and importation hurdles notwithstanding, this auction has an opening ask of $36,500 USD (no takers yet) and a BIN of $48,000 USD. Check out all of the details here – including a walk around video – and Good Luck!!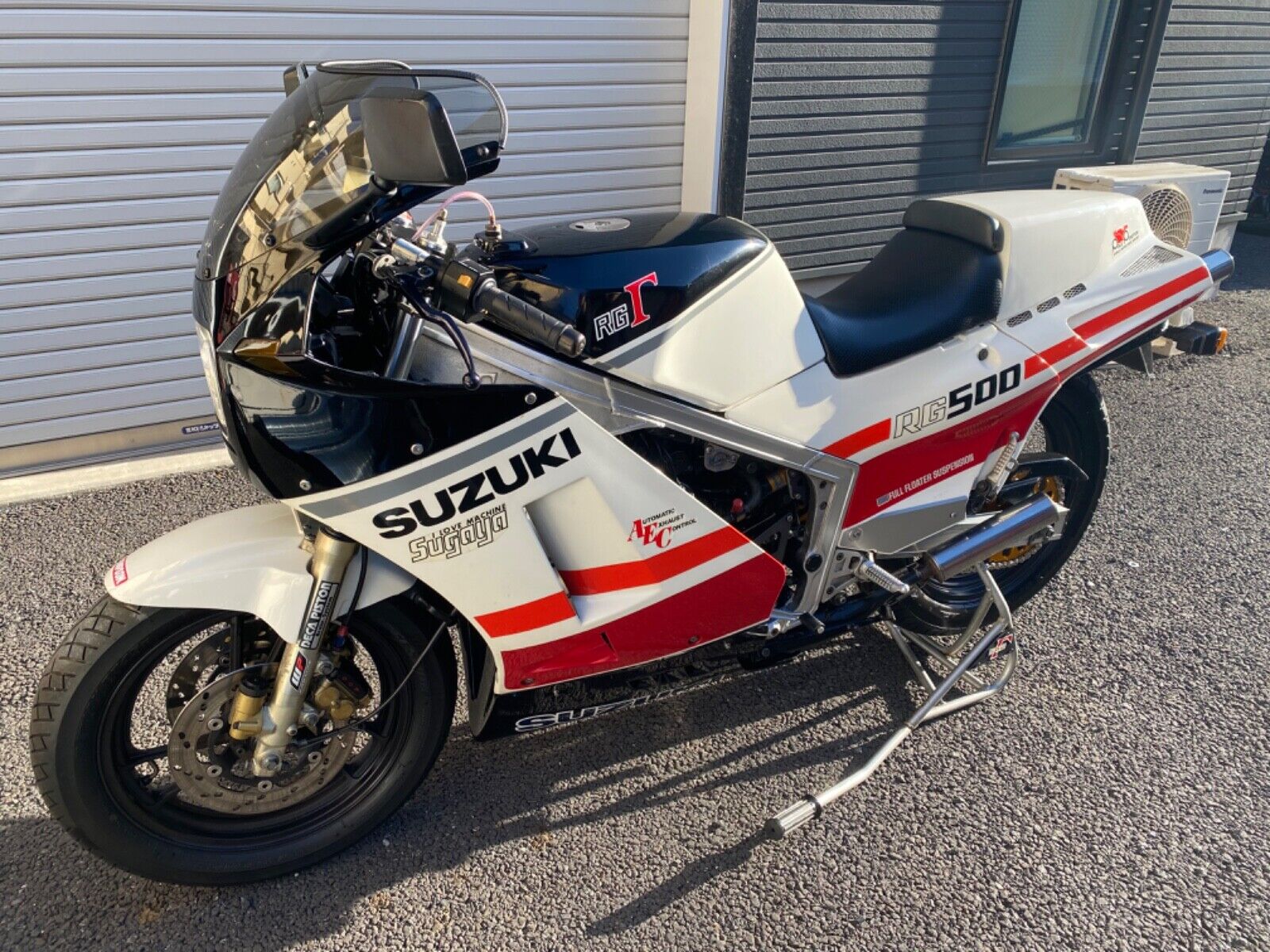 MI