Warning!
This post is in our archives. Links in this post have been updated to point to similar bikes available to bid on eBay.
During the 1980s and early 1990s, the Japanese manufacturers engaged in heated competition in the quarter-liter class, creating some of the most exciting small-displacement motorcycles of all time. They were lightweight, highly-developed, and looked great. Unfortunately here in the USA, we didn't really get to experience them at the time, as ever-tightening emissions regulations effectively pulled the plug on roadgoing two-strokes by the mid-80s. Luckily, time has passed and now many of these bikes have passed the 25 year mark, making it feasible to import them from countries where they were originally sold. While it's not too hard to find decent, US-titled Honda NSR250Rs, Yamaha's TZR250 is much less common, especially this later 3XV version.
That makes a certain amount sense: the NSR was the best selling 250 at the time and, although it's pretty exotic here, was relatively plentiful in Europe and especially in Japan. While competitive in terms of performance, this final version of the TZR250 that was built between 1991 and 1996 was never officially available outside Japan, although some did find their way to other markets, due to grey market or "parallel import" laws. The previous 3MA was relatively radical, with a "reverse cylinder" parallel twin engine that saw the carburetors fitted at the front of the engine, allowing the exhausts a straight shot out the tail, with the expansion chambers inside the tailpiece by the rider's thighs. The additional complexity apparently paid no significant dividends so Yamaha followed the
"if you can't beat them, join them"
philosophy and switched to a compact v-twin for the 3XV with a bore and stroke of 6mm x 50.7mm 90° that gave 249.7cc .
The 3XV followed the same formula as the NSR and RGV, with a six-speed gearbox, YPVS power valve, "banana" swingarm for improved cornering clearance, and an aluminum beam frame, in this case an evolution of Yamaha's sculptural Deltabox unit. Weight was right on the money: 278lbs dry and the government-mandated 45hp, although more was available with de-restriction. How much? Well how long do you want your engine to last? The seller of this particular machine makes no mention as to whether or not it has been de-restricted, but potential buyers should inquire and, if it has not, contact a two-stroke specialist to find out what that might entail.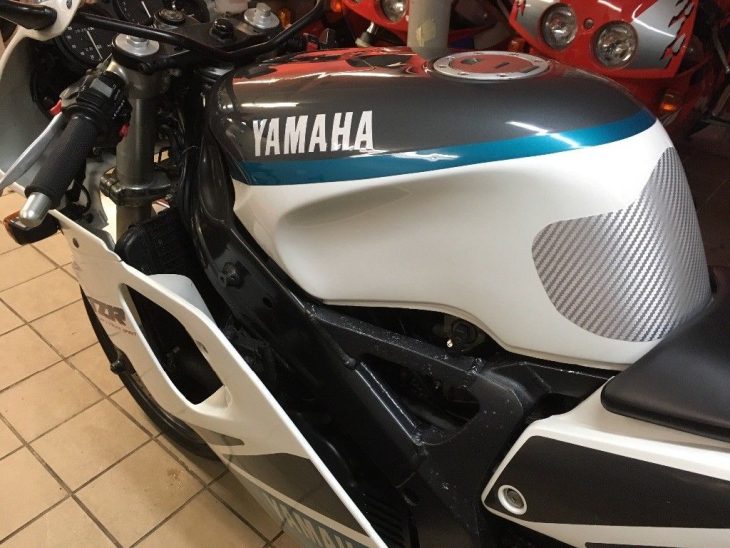 From the original eBay listing: 1992 Yamaha TZR250 for Sale
1992 TZR 250 clean title with very low miles. All original in excellent condition. Currently titled, registered and insured. Carbs cleaned, synced and tuned. fresh fluids (brake, coolant, trans oil and 2T oil) motul products. Fairly new dunlop GP300 tires (150 miles) and EBC brake pads. Front forks and rear shock need to be serviced.
I'd personally prefer this bike in the traditional Yamaha red-and-white "speedblock" bodywork, but the black–and-teal-and-white pattern seen here looks very restrained and classy, something that can't often be said for any paintjob involving teal… There's plenty of time left on the listing, and the seller is asking $8,500 for the bike, which is pretty much par for the course, considering the relative rarity of the 3XV here in the US. This bike is right on the limit for the 25 year cut off, but that Jersey title is a positive sign, as the NJDMV isn't the most permissive… Honestly, NJ is a bit more strict than even California's DMV in some ways, as they actually have a vehicle inspection requirement [for cars anyway] that goes far beyond a simple emissions sniff test: your car can fail for having a non-operative parking brake! What does that mean for this TZR? Possibly nothing, but at least we know that the owner had to likely jump through a few hoops and file the correct paperwork to make this legal at least.
-tad