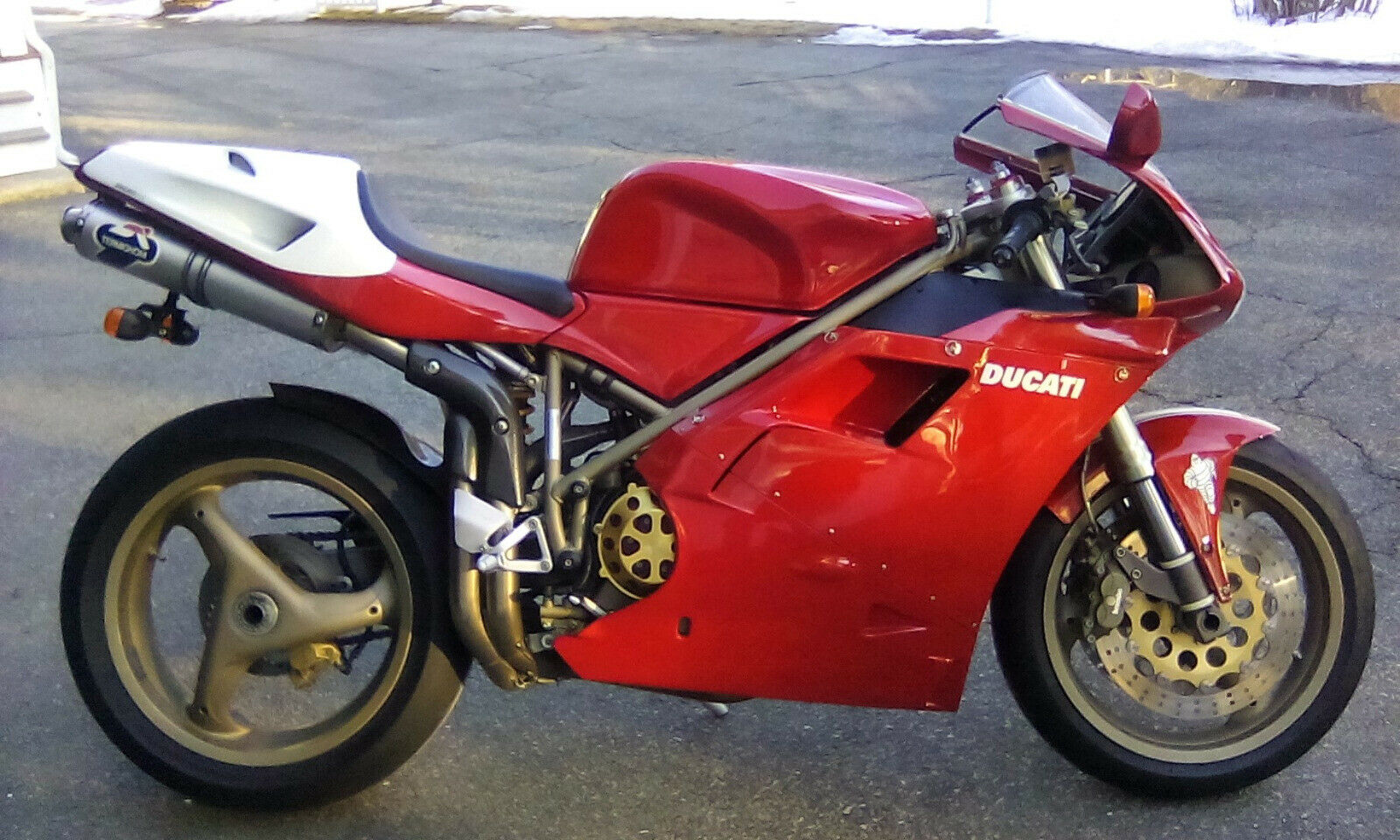 In 1994 Ducati unleashed the equivalent of a nuclear weapon in the face of a sport bike field full of conventional weaponry. That year Ducati introduced the legendary 916 – and commenced an enviable run of WSBK world titles (four within a five-year span). Simultaneously offering a quantum leap in twin-cylinder performance (horsepower, rev limits, packaging), the 916 was also stunningly beautiful. Even today the lines on a 916 are distinctive and striking. From the twin narrow headlights, to the high mounted exhaust cans, to the single sided swing arm with endurance-styled quick-change rear wheel, to the straight-sectioned chrome-moly chassis, nearly everything on the 916 forced us to rethink what we knew about how motorcycles were designed and how they performed.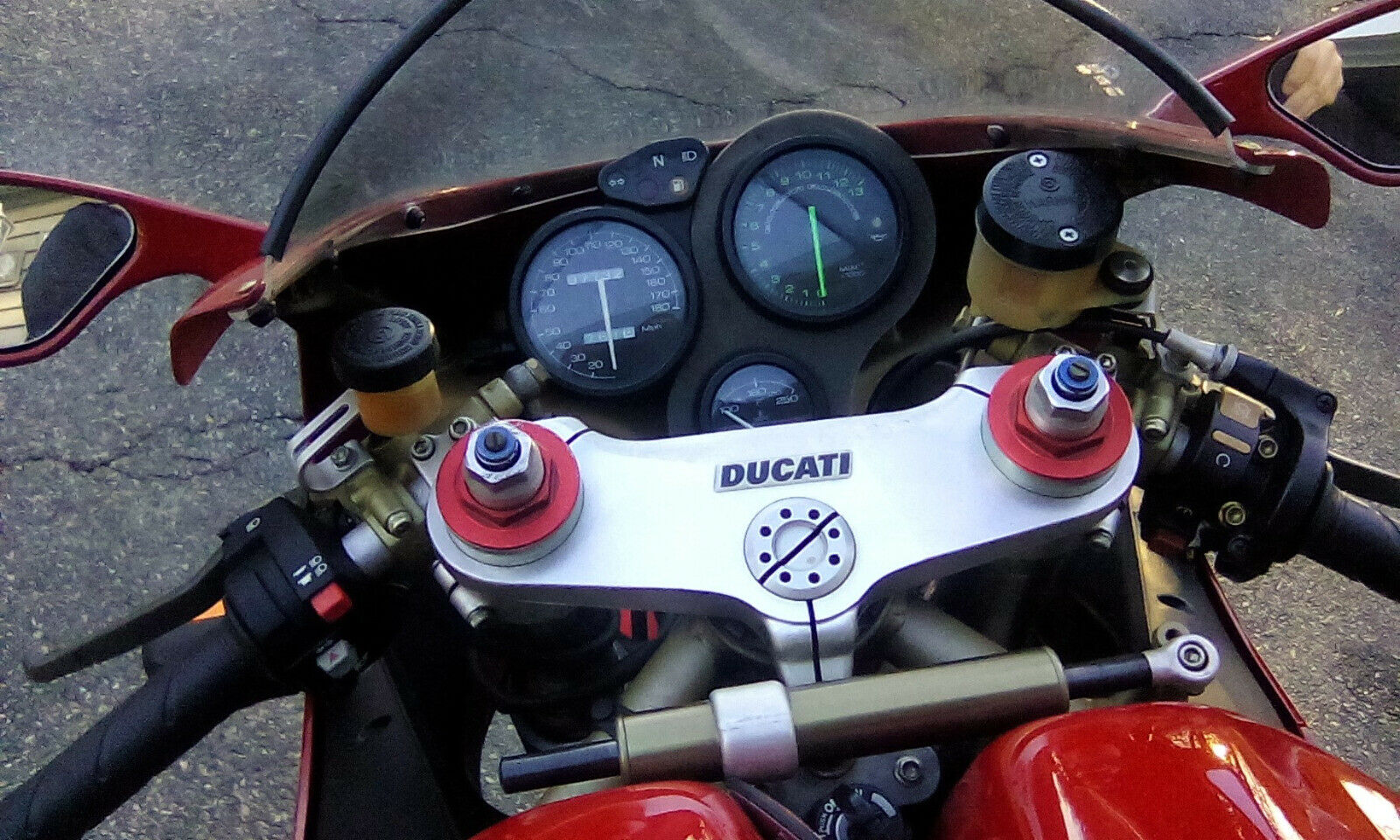 The original 916 spanned from 1994 through 1998 – eventually making way for the 996, and ultimately the 998. But even in the first generation of this model, Ducati spared little expense on components. The 916 was a fair sight more expensive than contemporary Japanese machines, making it more exclusive. But far from a glittering farkle with no real purpose, the glory of the 916 was that it worked. It worked for all of the moto magazine editors and testers. It worked at the racetrack. And thanks to its good looks, it worked on the showroom as well. Ducati created a massive following with the 916 as designer Massimo Tamburini played off speed and style like his own personal yin and yang. To say it was a winner is stating the obvious… after it already happened.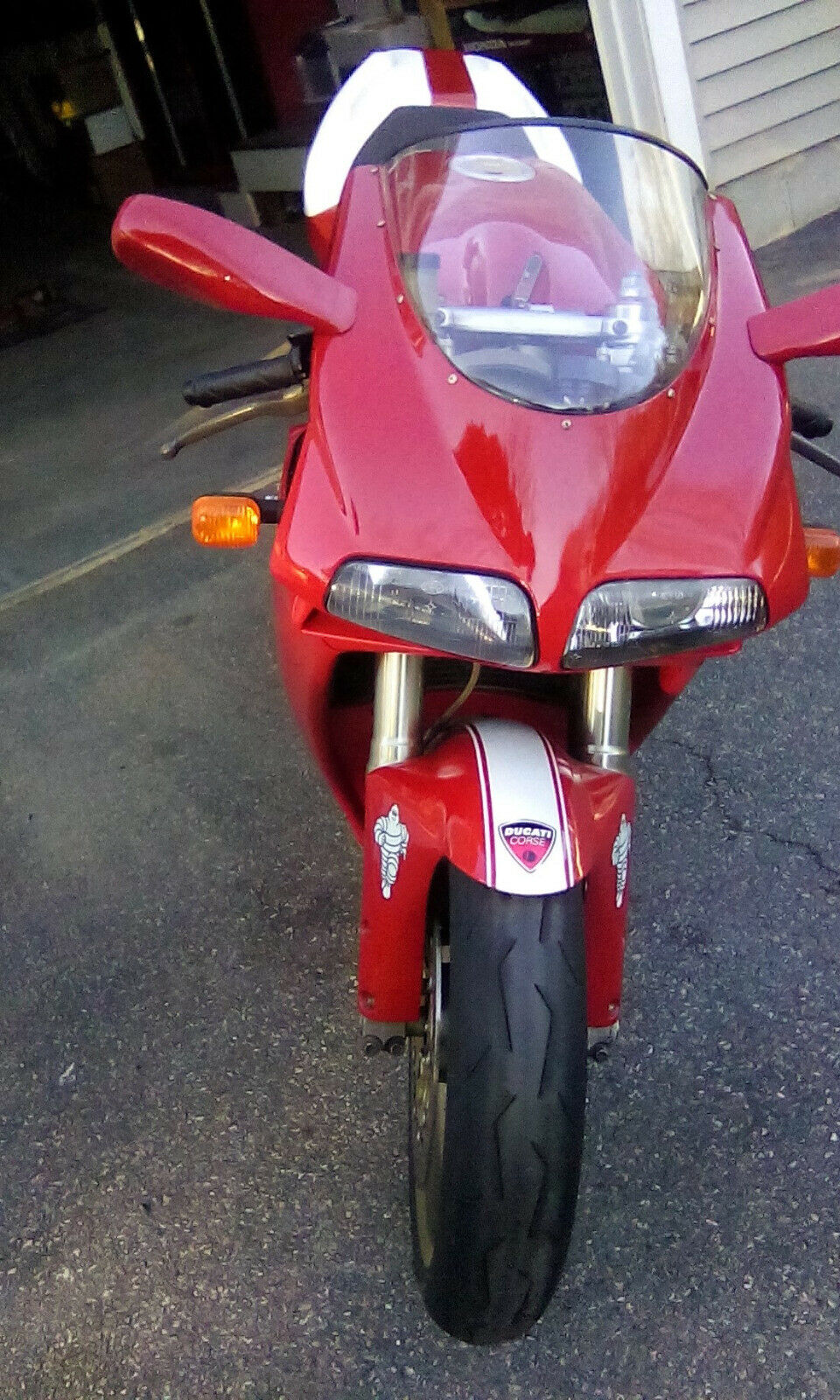 From the seller:
I have a nice 1998 ducati 916 that has been part of my collection for about 4 years
bike is nice and near mint shape has about 7732 miles .bike always starts and rides nice
valves have been adjusted in this machine. comes with a clear title. bike does have some add ons as you see in the pics
vin#zdm1sb8s6wb013367
asking 8500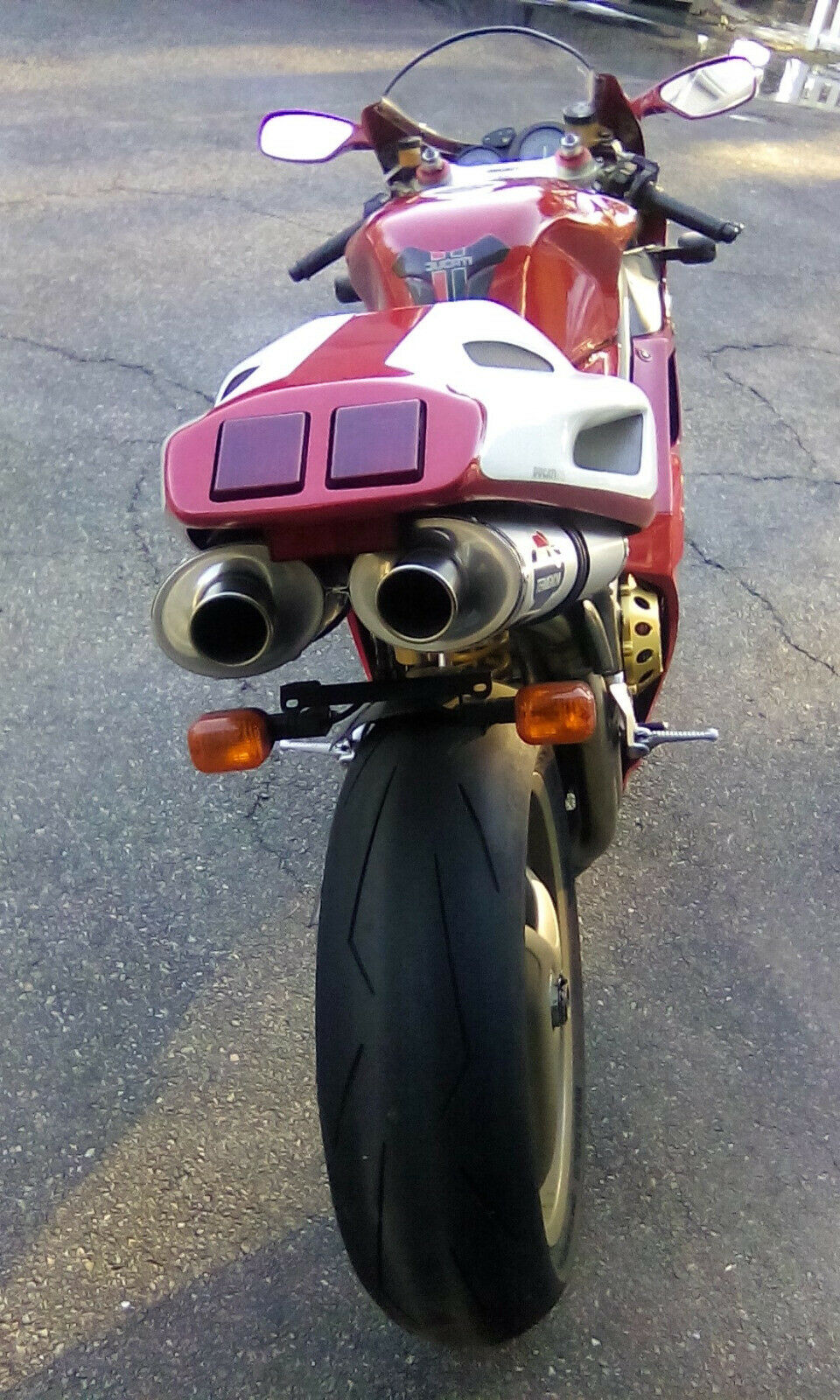 Today the 916 is not quite the performance explosion it was 25 years ago; time, after all, will catch up with all of us. But there is no denying that it stands strong and proud despite the time that has passed. There is no embarrassment when showing up on a 916 – whether it is a local bike nite event, a weekend canyon ride, or even a track day with your buddies. The 916 looks great, pulls strong and handles well. You just need to remember that this WAS cutting edge during its time – but technology inexorably creeps forward. Take the brakes, for example. The 916 shipped with top-shelf Brembo calipers clamping down on huge disks. But modern riders won't confuse them for monoblock calipers and radial master cylinders. Nor will the 114 horsepower astound a modern liter bike rider. Again, it was more than adequate in the day, but by today's numbers is not truly remarkable. But even today few motorcycles have represented the total package of looks, performance and commercial success.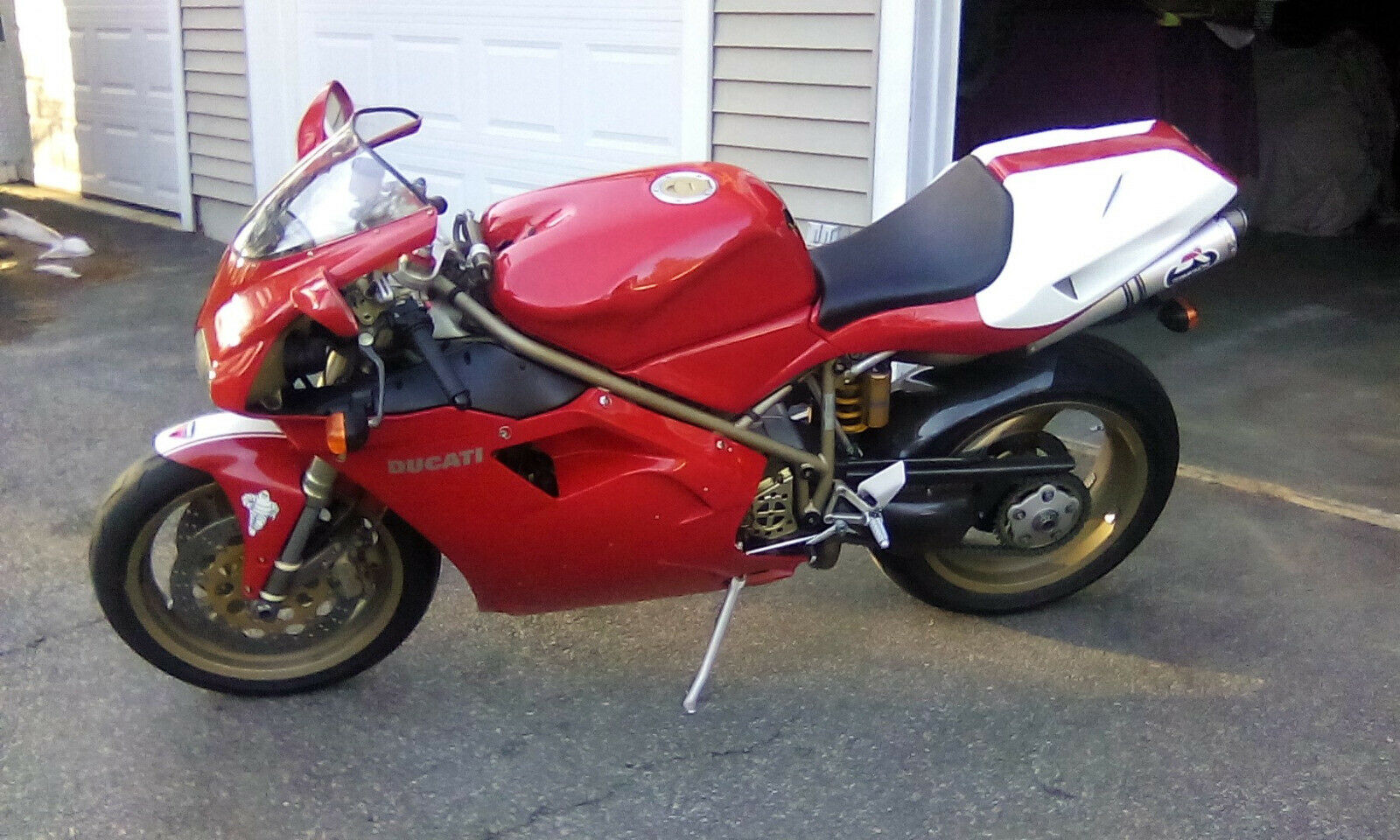 Today's example is a clean 1998 model (last year of the original 916 run). It has but 7,700 miles on the clock, which equates to fewer than 400 miles a year. There are a few add ons that I can see – the Termis and ubiquitous open clutch cover are but two – but nothing appears to have been hacked or unconditionally changed. I could do without the stickers, but those can be non-destructively removed. The seller even refers to a recent maintenance (a four-valve desmo adjustment is not an insignificant task when replacing shims), although there is no mention of when the belts were last changed. Still, this is a good looking specimen of a fantastic motorcycle. The 916 is a collectible motorcycle, and prices are on the rise. The earliest, cleanest and rarest examples of the 916 have risen most quickly, but even the base model is growing in value. This one has an opening ask of $7,999, with reserve in place. The ad text states an $8,500 asking price, so it looks like the reserve might be set close to the opening ask. Check it out here, and Good Luck!!
MI