Warning!
This post is in our archives. Links in this post have been updated to point to similar bikes available to bid on eBay.
Motorsports connections are nothing new. From Marquez and Rossi participating in F1 tryouts to Schumacher and Hamilton carving tarmac on Superbikes, racers are at their core, well, racers. The number of wheels is not necessarily an issue for those that have the talent, means and connections. But with Ayron Senna, this connection went way beyond thrill seeking and pleasure. Senna was one who used his good name and substantial fame for good. Specifically, lending his name to projects that benefitted charity foundations in his home Brazil.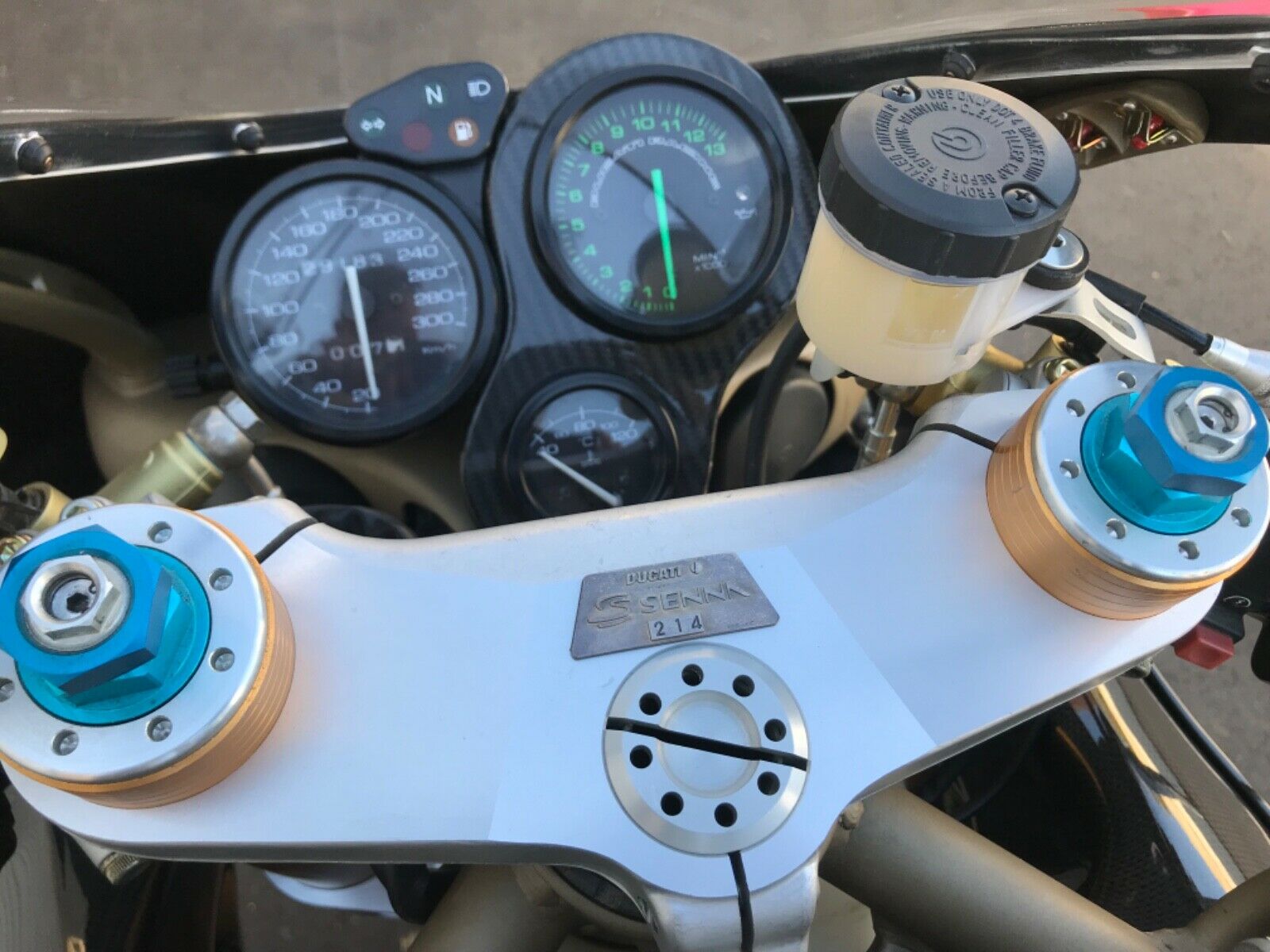 Identified via the specific Senna livery, the Senna edition 916 is really a sort of bitsa bike. It is a conglomeration of the Ducati 916 catalog, but nowhere near the ultimate spec Ducati 916. The chassis and suspension were pulled from the 916 SP production line (Ohlins, naturally), while the engine is essentially a 916 Strada mill – the base motor (in 1998 that base mill was good for 114 horsepower, so we're not exactly talking about a dog here). The connecting rods were claimed to be different/stronger, but there was no additional performance claims made. Brakes were an all-SP affair with cast iron floating rotors and adjustable levers. The black bodywork features a solo saddle tail section with the SP-spec aluminum subframe, and the three spoke Marchesini wheels are painted a vivid red. this is topped off with a specifically numbered plaque ala all Ducati limited edition models – only this one also contains the Senna logo.
From the seller:
Originally registered, serviced and ridden in Italy from new.
Brought to US through an estate move. Never titled or registered in the US therefore Bill of Sale will be provided.
VIN and Authenticity verified through Ducati North America.

European market bike:
-14 digit VIN
-Speedo in kilometers
-on/off lights switch
-several other minor differences unique to the Euro market version

Beautiful cosmetically.
Near perfect mechanically.
More from the seller:
Many critical parts replaced with NOS ones I've had for years. If you're familiar with this bike, many components used were the same as the SPS version from that year. The Senna should've been an SPS bike but sadly Ducati opted not to offer the SPS motor and injection specs on it.

No expenses spared keeping this Senna as special as it is:
-valves adjusted 2.5K Kilometers ago
-new battery
-new belts and plugs
-new bearings throughout
-new chain and sprockets
-new Oberon clutch slave
-Ohlins forks and rear shock serviced and refurbished to new condition
-Ohlins steering dampener
-brand new (NOS) OEM brake and clutch masters
-brand new (NOS) OEM calipers (same as SPS version)
-brand new (NOS) OEM rotors (same as SPS version) (impossible to find – paid $1,100 in UK)
-fresh paint due to a small crack in tail section and tank replacement
-brand new (NOS) tank and fuel pump (old tank had some rust I chose not to repair but replace with new instead)
-all original OEM plastic
-original OEM carbon fiber air box and undertail
-all carbon fiber Ducati Performance MS Production except for air tubes (original plastic ones included)
-brand new Ducati Performance slipper clutch
-brand new Termignoni Titanium half system
-known issue: engine oil leak (1-3 drops per week) which I haven't investigated yet.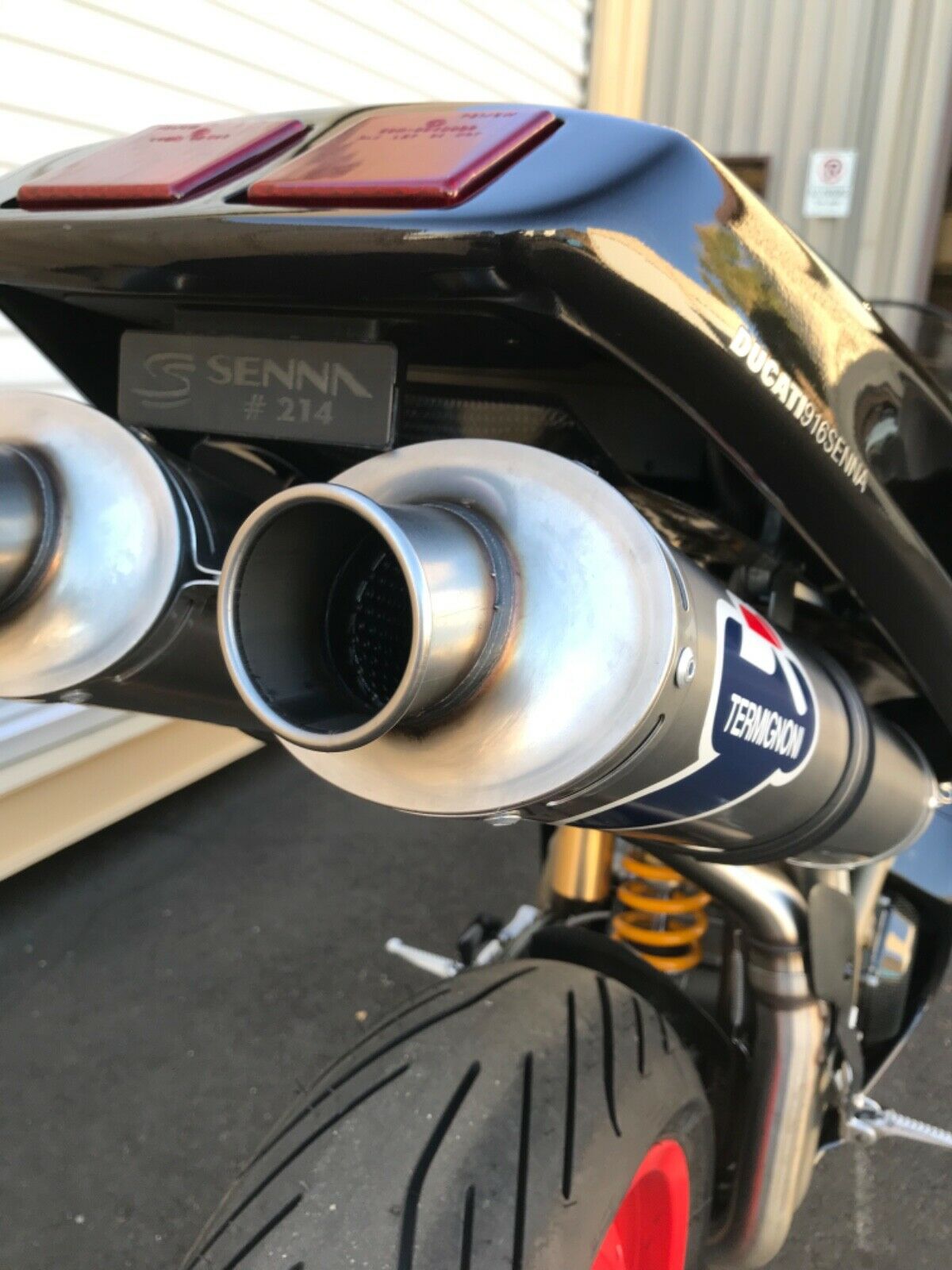 There are 3 different eras of the Ducati 916 Senna Edition, and each is slightly different in terms of graphics. The original Senna (Gen I) was released in 1995, production then skipped a year with the Senna II release in 1997, and the final Gen III in 1998. All were extremely similar in terms of specification. And in each case, proceeds benefitted the Senna Foundation.
This particular bike looks great in the photos, but the seller notes that this has been resprayed. That doesn't necessarily raise the red flag as many Senna owners are perfectionists, but interested parties might want to be aware and look closely. My understanding of US bikes is that all had black mirrors, however the red hue on this example could be due to the Euro market or simply painted to offset the wheels visually. The good news is that for a bike originally purchased in Italy, it is available today in sunny California. There appears to be good interest in this auction (lots of watchers) and a current bid price of $5k with reserve still in place. These Senna models may not be the top of the heap when it comes to 916 performance, but the Senna name on practically anything guarantees interest from collectors. I would expect this to fetch more than a period correct regular 916 in similar condition, with better value retention/appreciation over time as well. Check out all of the details here, and Good Luck!!
MI