Happy New Year to RSBFS readers !
As the 916 era progressed, three Senna editions were issued, with changes mostly to the available colors.  In a suitably commemorative black with Ferrari red wheels, this Italian example whispers, "airline tickets".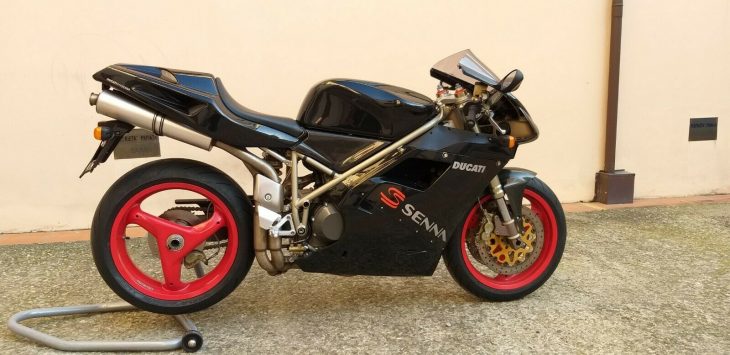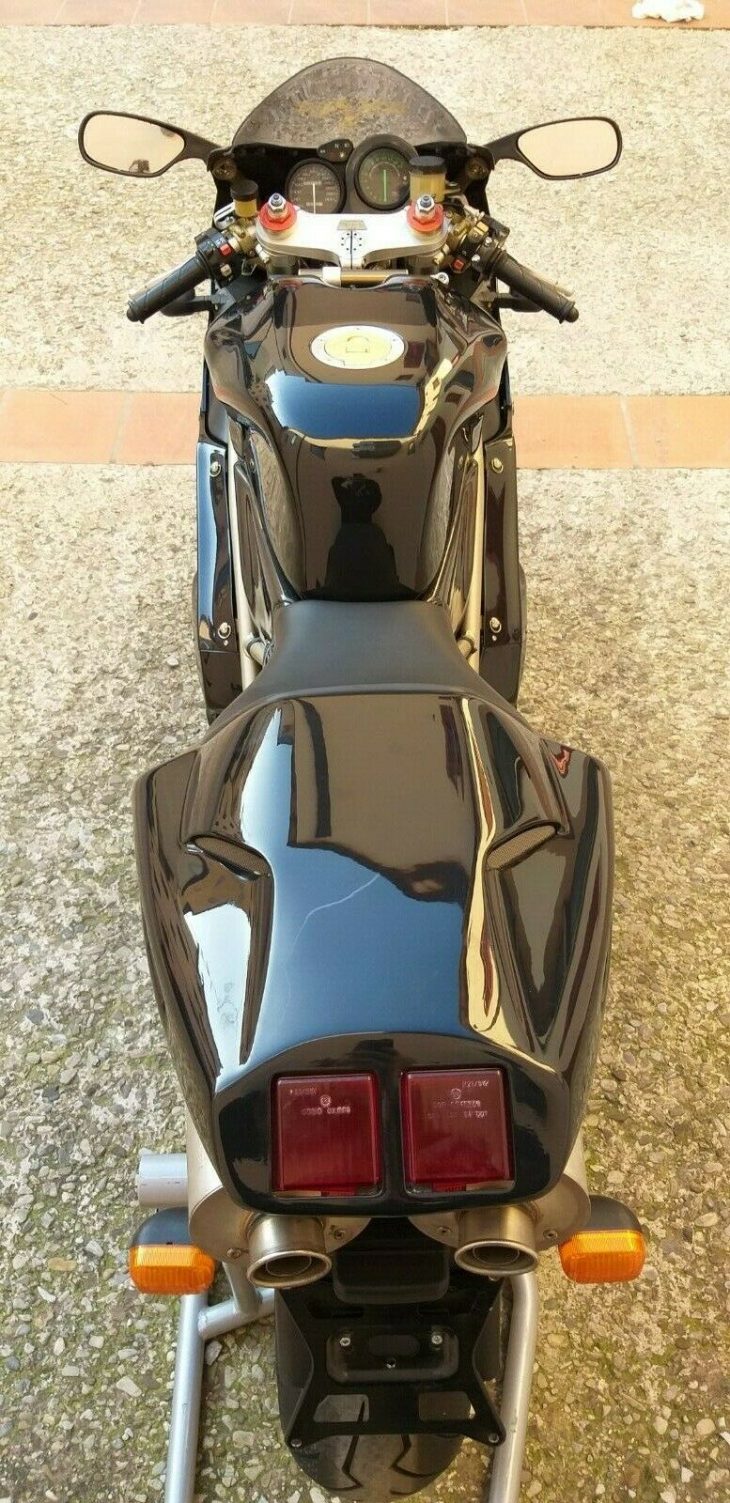 On its 1994 introduction, the 916 set the sportbike universe on its ear, with the poster-ready Tamburrini design and torquey fuel-injected twin.  A combination of 11:1 compression, heavily oversquare cylinders ( 94 x 66 mm ), and Weber fuel injection made 114 hp available.  Showa handled damping up front with 43mm inverted forks, and the single-sided rear swingarm had an Öhlins adjustable.  The headstock was also adjustable for a more expert rider.  320mm floating front disks provide most of the braking, with a 220mm disk at the rear.  Perhaps not the first bike with underseat exhausts, but certainly an iconic example.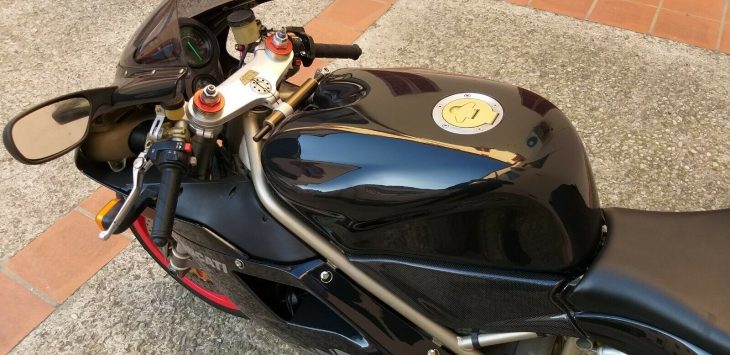 In mirror black, this 916 looks almost flawless.  Without the road wear on the oil cooler, it could almost be presented as having the 27 km's the new odometer shows.  From the eBay auction:
The Senna III final version first appeared in 1998, 916 SPS chassis and running gear, Pankl con-rods inside the engine, carbon-fiber airbox. Overall, only 300 bikes of the Senna III were built, and the present one is number 199 of the series and carries an identifying plaque on the top yoke. It underwent a complete check and restoration in Ducati Factory in Borgo Panigale in 2018, including belts, valves, seals and gaskets, new exhaust system, clutch, braking pads, filters, sprocket, chain, pulley, tyres, footpeg and so on, all on the records, see documents in attached pics. The bike is 100% original. The odometer is new, the bike had around 10,000 km.
Good that the previous owners got their kilometers in, because the rarity, condition and price of this commemorative will probably put a lot more miles out of the question.  Not quite sure whether a 916 SPS is the basis for the Senna III, as most references show the displacement to be 916cc, where 996cc's would be expected on an SPS from that year.  Unfortunately, the location of this 916 is far north from the sunny sole of Italy, but it would be epic to van it down south for a couple of days of riding before the trip home.  Oh, and stop by the factory…  All the best for 2020!
-donn