Warning!
This post is in our archives. Links in this post have been updated to point to similar bikes available to bid on eBay.

Update 7.16.2020: This bike has SOLD! Congratulations to buyer and seller! -dc
Riders like Valentino Rossi don't spring from the womb in neon leathers, ready to drag a knee on the way out the delivery room. It takes time to hone their skills on smaller bikes as teenagers, before moving up to Grand Prix machines. The Doctor came up the way you'd expect, from 125s to 250s and on up to 500s, back when two-strokes ruled the grid. And back when he was more Doogie Howser, MD than Dr Gregory House, he earned his first championship win in 1994 on a 125cc Cagiva Mito like today's Featured Listing.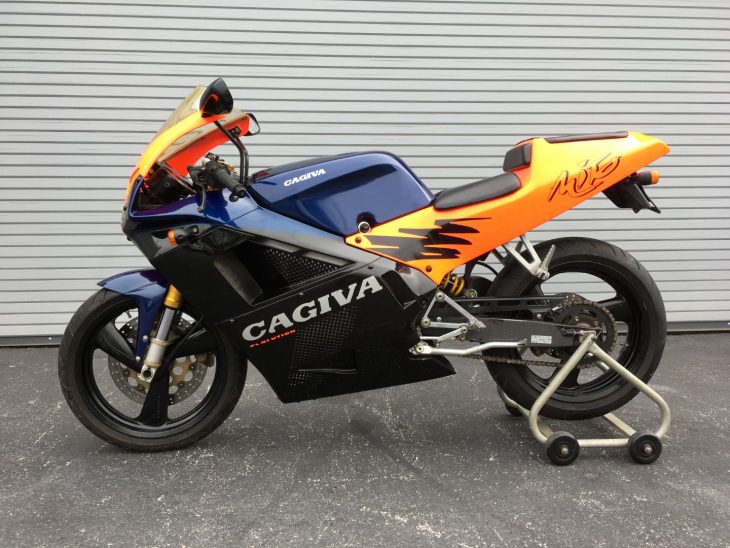 Introduced in 1989, the Mito featured a lightweight aluminum beam frame, from which was suspended a water-cooled, 125cc two-stroke single with bore and stroke of 56 x 50.6mm, along with the expected six-speed gearbox. What you might not expect on a 125 two-stroke is an electric starter, a nice sophisticated touch. Dry weight was just 284lbs, helped along by the lightweight aluminum frame and in keeping the the bike's sporty image. It also means the little sportbike is surprisingly agile and quick, with a top speed of just over 100mph. This is a serious piece of kit, and a version was even available with a seven-speed gearbox to better make use of the narrow sliver of power from the little engine.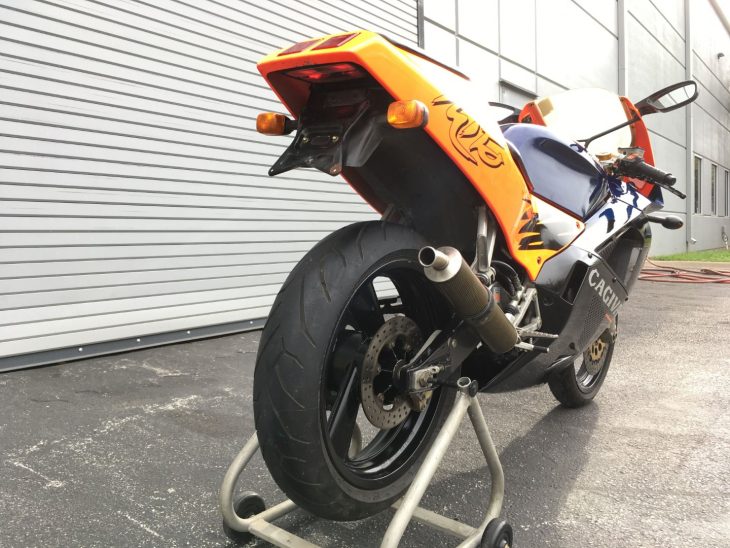 This example is a Mark II version of the first-generation bike, as indicated by the upside-down forks and the single Brembo Goldline caliper up front. If you want a Mito, it'd be hard not to hold out for one of the later machines styled by Massimo Tamburini to look like a Ducati 916 that was washed in hot water and shrunk a bit, but those are very much in demand and can be pricey, when they can be found at all. This earlier version may not have the Tamburini version's big-bike associations and looks, but it's still a very good-looking machine and doesn't scream "learner bike" like many other 125s.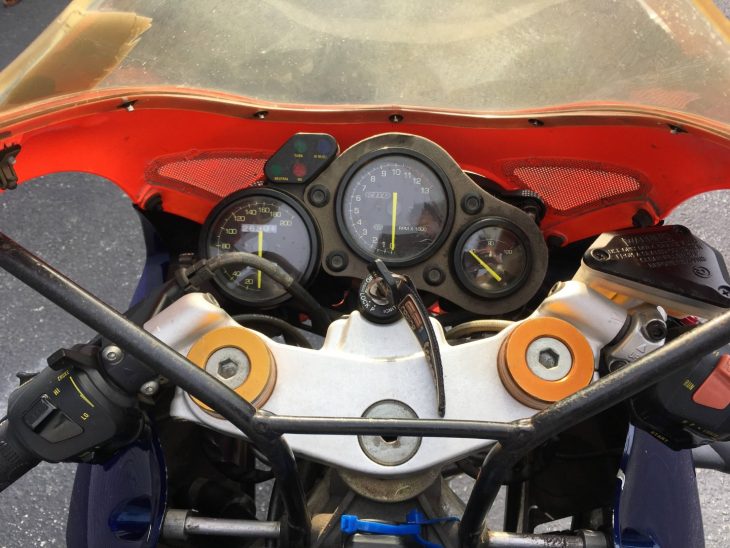 From the Seller, 1994 Cagiva Mito for Sale:
Bike starts and runs and rides well. Is all stock (minus the front brake pump and oil pump delete). I have all original parts.

The bike is a clear Texas Titled (Bonded earlier this year) 1994 Spanish market Cagiva Mito 125cc with 26,301 on the clock.

I have a 4 minute youtube video as well, showing a depaneled tour of the bike, plus cold and hot starts (skip to 2:19 if for the hot and cold starts)

$4,500.

The seller is asking $4,500 for this little smoker and, to be clear, it has some cosmetic issues. As you can see from the photos, there is some cracking of the panels around stress points, and some discoloration of the frame from a bit of fuel that's spilled. Note that the carbon fiber wrap on the swingarm is actually original, and the bike has 26,301 kilometers on the odometer, which is about 16,000 miles. On the positive side, this little machine is complete and as you can see from the included YouTube video, it appears to run well. The Mito is pretty rare in the US, and the seller is upfront and honest about the bike and its condition. It might need some TLC, a respray, and a bit of elbow grease to get it looking its best, but it looks like a solid little machine for a good price or it could be the foundation of a fun restoration project.
-tad