For Sale: 1993 Ducati 888
Update 5.3.2012: Somehow this bike only got to $5600 the last time it was listed. Mike notes originally (5.2.2012) that the bidding was up to $8500 on a no reserve auction previously. Buy-it-now has been lowered to $9495 from $10495. Links updated. -dc
How much does "star power" add to the resale value of a bike? I've always wondered that, as this is not the first 888 posted on RSBFS that has been signed by Doug Polen (here is another one). Personally, the thought of someone getting near my beloved bike with a magic marker brings up arguments of justifiable homicide, but for others the draw of a famous signature brings added value and distinction.
This particular 888 looks to be in decent shape given the mileage – 16,000+, meaning that somebody actually rode the thing! As RSBFS readers might know from my previous posts, I'm not a big believer in buying a bike and storing it for future value. For me the value is in the ride, and this 888 has certainly returned some value to the owner.
There are a few mods listed in addition to the Doug Polen signature. Again, the jury is still split on what value these mods add. If this were a sub-1,000 mile bike, then I would say the mods would detract from the collectability of the bike, and thus the value. However given the mileage, the added displacement differentiates this bike from other higher-mileage examples, and may actually help the value. What do you RSBFS readers think?
From the seller:
1993 Ducati Superbike 888 desmoquattro
Doug Polen Autographed.
16904 miles
Engine upgrade (916cc) @ 16238 miles.
Crankcase / Cylinders / Pistons / Crankshaft
Complete light weight Clutch
Heavy duty Race cylinder STUDS / Valve Job
All gaskets & seals replaced.
New Michelin Pilots @ 16681 miles
All maintenance and upgrades done at Fast by Ferracci from 2005 to present.
The 888 was an evolution of the ground-breaking 851, and itself became the jump-off point for the iconic 916. There is plenty of performance here to keep up with more modern machinery, and it is hard to argue with the good looks bestowed upon this series of bikes.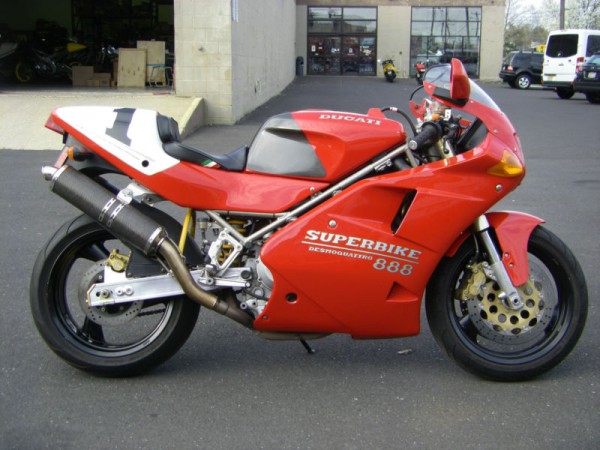 This auction started out in the $5k range and is currently up to $8,500 with light bidding. There is no reserve in sight, so this one is going to a new home at market value at the end of this auction. For your chance to jump into the fray, click the link and jump over to the auction. Good luck!!
MI