Warning!
This post is in our archives. Links in this post have been updated to point to similar bikes available to bid on eBay.
Every post will be sent right to your inbox every morning when new posts are made. We will never sell our list or spam you. Plus you can click links to bid or buy right from the email and skip the site entirely. Subscribe to Rare SportBikes For Sale today!
Update 9.24.21: This bike has SOLD! Congratulations to buyer and seller. -dc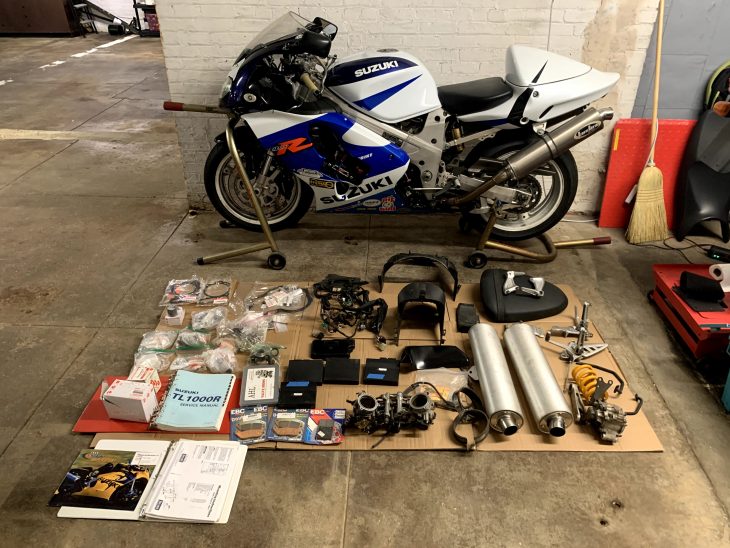 Craigslist and Facebook Marketplace will cough up examples of Suzuki's thundering, hairy-chested v-twin superbike bruiser if you really look, but they're almost never worth a second glance. Generally, they're wrecked, stretched, rattle canned or all three, and more often than not have been without a title since the Bush administration. The 1999 Suzuki TL1000R you see here is none of those things. In fact, if you're looking for one, this might be your stop.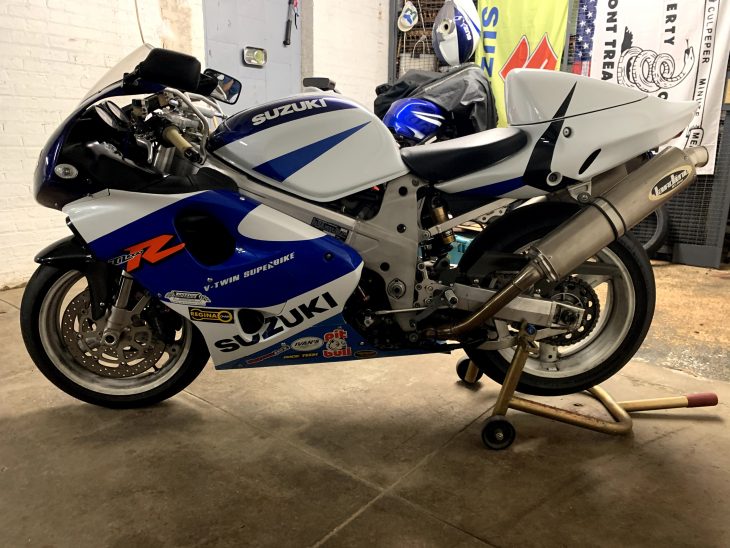 It's a two-owner bike that has been ridden enough to show it was maintained and the bugs were duly dealt with. It looks clean enough to eat off of, and has been treated to an Ohlins rear damper, in place of the notorious factory piece. The seller says it has Penske springs front and rear. It also has Jardine exhaust cans, switched cooling fans, a Power Commander and a toggle switch for diagnostics. The paperwork for the suspension work is present, and the bike comes with a shop manual.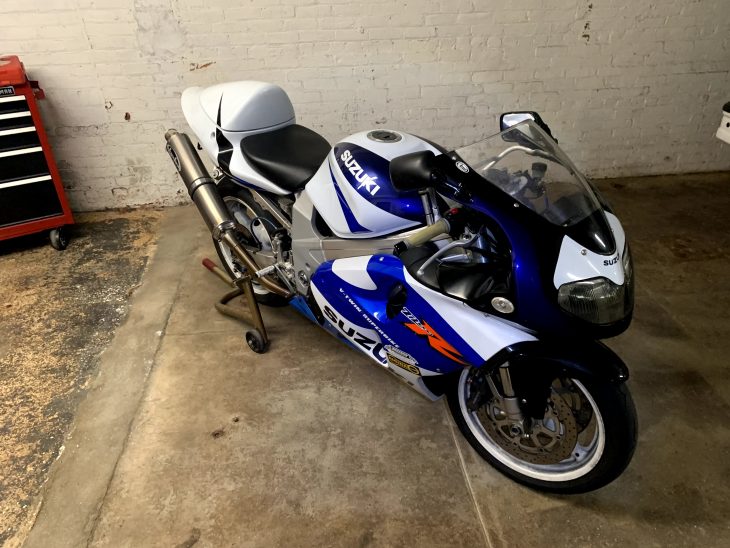 The TL1000R's history as a race bike is, excuse the pun, checkered, as it didn't quite measure up to contemporary Ducatis and Honda's RC51 when it came time to put up or shut up. But the bikes don't look like anything else on the road at the time, and are known as wonderful, brawny streetbikes and track toys. There's more than enough power to get yourself into serious trouble, but none of the peakiness of an inline four.
From the seller:
I have 1999 Suzuki TL1000R I am looking to sell. I am only second owner and previous owner was a Suzuki mechanic so it has been adult owned it's whole life. I have Ohlin's dampener with Penske spring in back, and Penske racing springs up front. Jardine pipes, upgraded grips, a toggle switch in back that will read the problem codes as well as an auxiliary switch to keep the fans on while bike is turned off to cool oil. I recently rebuilt the original clutch so that is new. I also installed a new drive shaft seal as well as the pushrod seal (the pushrod seal is from an SV1000 and installed backwards…much better fit than the original part as this was a known oil leak issue). Also included are 2 head gaskets, 2 fuel pumps, a crank case gasket, full additional wiring harness and CPU's, and a full set of shims for the bike. (not cheap stuff). It has just shy of 29k miles. I also have all original parts for it including the rotary dampener and springs, original muffler and additional items for maintenance. It will come with the full mechanic book as well as paperwork for suspension upgrades. It has been very well taken care of and runs perfectly with the power commander.
Seller Tim is asking $7,000 for this beast, which is an immaculate, two-owner machine that represents the pinnacle of the nameplate.